This post may contain affiliate links. If you buy thru these links, we may earn a commission at no additional cost to you.
---
St. Louis Cathedral is one of the most popular, most photographed landmarks in New Orleans.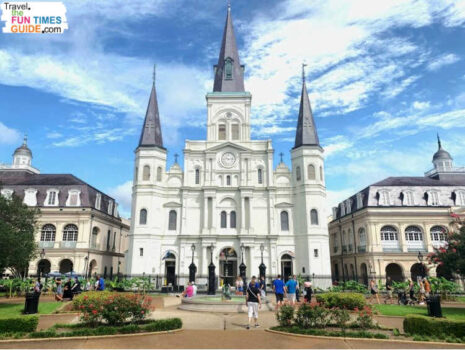 It's also among the top destinations on the list of things to see and do in New Orleans.
What's it like to visit St. Louis Cathedral?
Is it okay to attend Mass or take photos at St. Louis Cathedral?
How should you dress when going to this historic church?
As a lifelong Catholic who has attended Mass at St. Louis Cathedral and visited "The Big Easy" several times, I'd love to share my personal tips, tricks, and insights on visiting this famous landmark in New Orleans.
Reasons To Visit St. Louis Cathedral
Whether you're a cradle Catholic like me or a non-believer who appreciates art and culture, St. Louis Cathedral is one of the attractions in New Orleans you should visit.
It's such an iconic landmark and is the oldest continuously operating cathedral in the United States.
It dates back to 1718 — when the first Catholic church was built at the site during the establishment of the city of New Orleans by French settlers.
The first church was a small, wood-frame structure that was replaced by a larger, brick sanctuary in 1727.
That church was destroyed in a fire in 1788. Construction on a new church began the following year.
Extensive rebuilding began in 1850 to further expand St. Louis Cathedral into the church that now proudly stands in New Orleans adjacent to historic Jackson Square and near the French Market.
It's one of the most popular churches in the United States — even Pope John Paul II visited St. Louis Cathedral in 1987.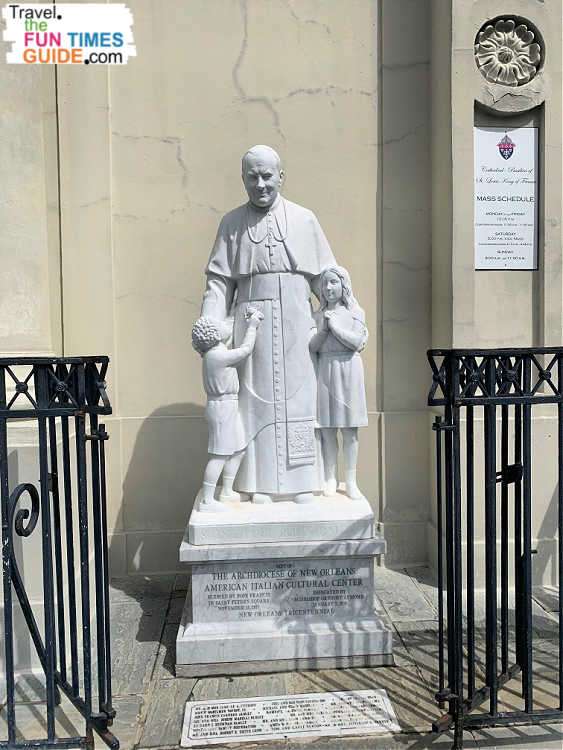 The modern-day St. Louis Cathedral is named for King Louis IX of France ("Saint Louis," or "Louis the Saint").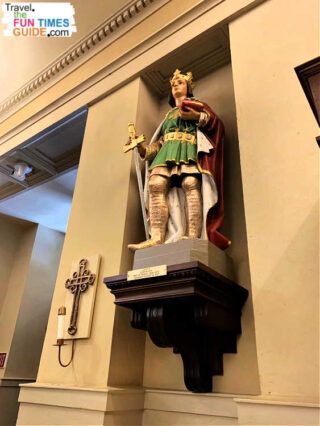 It features Spanish colonial and French neo-Gothic architecture and a soaring interior filled with stained glass and artistic murals that seemingly reach to the heavens.
Things To See & Do At St. Louis Cathedral In New Orleans
There are plenty of things to see and do at this New Orleans landmark!
What is it like attending Mass at St. Louis Cathedral?
Mass times at St. Louis Cathedral can be found on the church's website.
The church does see a lot of tourist traffic and thus many visitors come in shorts, flip-flops, and T-shirts. But it's most appropriate to attend Mass wearing clothes that are business casual… or nicer.
Masses usually last about 1 hour to an hour and 20 minutes.
On some occasions, Mass can last longer. For example, Easter Vigil Masses and Christmas Eve Midnight Masses can exceed 90 minutes — and it's recommended to arrive early for these special Masses.
Not sure what to do during Mass?
If you aren't Catholic or haven't been to Mass in a long time, then you may not know (or remember) when to stand, sit, or bow. And that's OK… You can just follow along with others in attendance or participate in your own reverent way.
Is communion offered during Mass?
All in attendance are invited to walk down to the priest, deacon, or eucharistic minister during communion.
Active, practicing Catholics who are in communion with the church may receive the Eucharist.
Others are invited to cross their arms over their chests in the form of an "X" to receive a special blessing.
Can you take photos during Mass?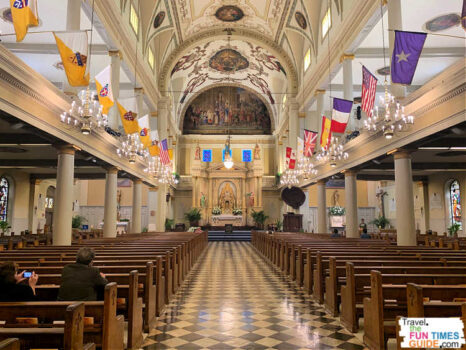 Lots of people want to take photos of Mass at St. Louis Cathedral!
You are generally free to take photographs inside and outside of St. Louis Cathedral — as long as Mass is not going on.
Snapping photographs of the inside of the church during Mass is prohibited out of respect for the sacredness of the Mass and those in attendance.
Can you go behind the altar at St. Louis Cathedral?
Some of the most ornate elements of St. Louis Cathedral are found near the altar.
However, unless you're a priest, deacon, or have special permission you should never go behind the altar of a Catholic church.
The altar is where the remembrance of the Last Supper happens. It's also where Catholics believe the transubstantiation of bread and wine to the body and blood of Christ occurs during the course of special rites at Mass.
Can you get married and baptized at St. Louis Cathedral?
Yes!… Many people get baptized or get married at St. Louis Cathedral every year.
Of course, St. Louis Cathedral is a popular destination for receiving these sacraments — so you should contact the church as soon as you can to apply and prepare for these events to take place at St. Louis Cathedral.
Are there tours of St. Louis Cathedral?
I like taking my own self-guided tours of St. Louis Cathedral.
For a small donation, you can pick up a brochure of the church that shows you where you can see all the highlights of the church and why they are important.
St. Louis Cathedral also offers guided tours for larger groups.
Can you buy gifts & souvenirs at St. Louis Cathedral?
Just inside the cathedral near its entrance is a small gift shop where you can buy all kinds of special souvenirs and mementos — including: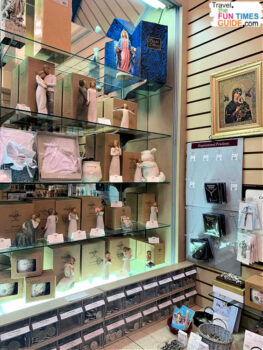 Prayer cards
Medals
Statuettes
Crucifixes
And other items (sacramentals)
I've purchased many things here for family and friends over the years to take back home — and I've even purchased a few things to keep for myself.
Those who wish to have these religious items blessed by a priest may do so for free. (Just remember, you're not supposed to sell anything that has been blessed.)
Are there ghosts at St. Louis Cathedral?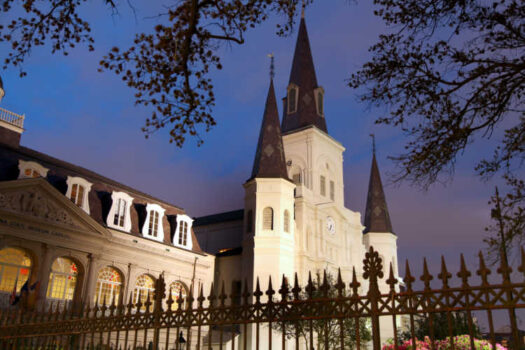 Some say that St. Louis Cathedral is haunted — no surprise in a city that legend says is literally crawling with ghosts.
Among the ghosts said to be lurking in St. Louis Cathedral are those of Father Antonio de Sedella, a man also known as Père Antoine. He ministered to the city's most disadvantaged residents. His body is interred at St. Louis Cathedral.
Fr. Antonio de Sedella is believed to have been seen walking an alley named in his honor adjacent to the church and near the altar during Christmas Midnight Mass.
Another ghost apparently seen at St. Louis Cathedral is that of a friar known as Père Dagobert — whose chants of the Kyrie may be heard on rainy days.
Admission And Hours For Visiting St. Louis Cathedral
St. Louis Cathedral is open from 9AM to 4PM seven days a week — with Mass at 12:05 every day.
How much is it to visit this popular New Orleans landmark?
It's free to visit St. Louis Cathedral in New Orleans, but it's recommended to give a donation in an amount of your choosing.
There are many opportunities to give a small donation to the church, including:
Paying a nominal fee to light a votive candle
Picking up a self-guided tour brochure
Buying something at the gift shop
St. Louis Cathedral is located at Jackson Square — at 615 Pere Antoine Alley, New Orleans, Louisiana, 70116.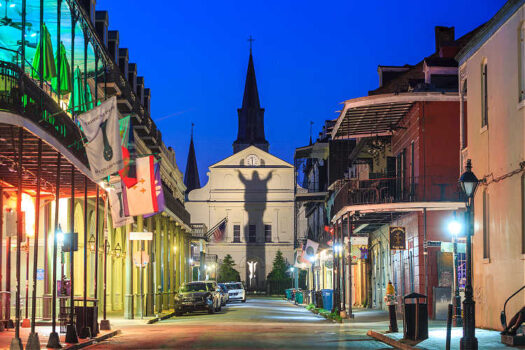 So now I'm curious, which of these things are you planning to do when you're there?…
Take a quick walk inside St. Louis Cathedral
Light a votive candle inside the church
Attend Mass at St. Louis Cathedral
Get baptized at this church
Get married at St. Louis Cathedral
Like this post?

Save it

to read again later… or share with others on Pinterest!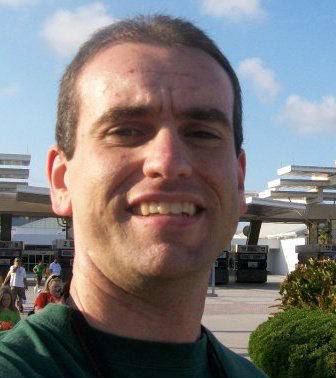 I'm a Florida native, a roller coaster junkie, and a frequent traveler. (Long road trips are my favorite.) Born and raised in Tampa, I grew up visiting Busch Gardens Tampa Bay. I authored the book Busch Gardens Tampa Bay: Images of Modern America, which details the colorful history of the Busch Gardens theme park. As a local historian, I've also written about other popular landmarks and attractions for a variety of publications. Here, on this Travel Guide, I like sharing little-known facts and fun stuff about all the places I've been — so you will have a good idea of what those places are like and what you should know before you go. I especially enjoy helping others plan fun trips… on a budget!