This post may contain affiliate links. If you buy thru these links, we may earn a commission at no additional cost to you.
---
I always wanted to visit New Orleans, so when a recent business trip took me through Louisiana, you could probably guess where I spent a few hours.
Yes, I said a "few" hours, because that's all my tight schedule allowed me — 3 or 4 hours on the way to my destination and about 3 or 4 more hours on the way back.
But I still had plenty of fun!
With so many things to do in New Orleans, you might be wondering where to start — especially if you don't have much time.
My short trip through New Orleans gave me enough time to…
Of course, I could've done a lot more if I had more time, and I'd love to go back someday and revel in the Mardi Gras parade.
But I ended up finding a lot of fun things to do in New Orleans — even if you only have a few hours to spend there.
Here are my top 5 tips to help you get the most out of your trip to New Orleans:
#1 — Park in a central location.
I parked my car near Woldenberg Riverfront Park, just steps from Jackson Square. This was a very convenient spot, but I paid a princely sum to park there — more than $20 to park each time.
I could've saved money by parking elsewhere, but I really wanted to be close to the French Quarter and get around on foot without having to walk miles to get to and from my car.
The money I would've saved cruising around looking for street parking or paying less money for a less convenient parking spot was not worth losing valuable (and limited) time in New Orleans. So, I bit the bullet and parked in the premium area.
Remember, I visited New Orleans on a spur-the-moment stop along an I-10 road trip. Perhaps if I had more time, I could've done a little more planning, maybe even reserving a parking space ahead of time for a discount.
Here are some good websites that can help you find parking in New Orleans:
#2 — Visit New Orleans landmarks early in the day.
While I probably could've saved a bundle on parking if I had more time to plan my trip (though, my gosh — where I parked was so convenient), something I did do right was hit all the landmarks I wanted to go to early in the day, before the crowds got there.
Getting to see the landmarks before the crowds came out was really important.
I couldn't linger too long in any one spot, because, as you'll recall, I was on a whirlwind trip through New Orleans and only had a few hours.
I got to Cafe Du Monde around brunch. There was a bit of a line, but it moved quickly.
I was able to complete my self-guided tour of the New Orleans Mint building — which houses exhibits on both the facility's history as a U.S. Mint and the city's jazz legacy — in about 1 hour.
I could've spent much more than just an hour there, because I love coin collecting and music. But I had to move on.
I covered Jackson Square by foot in about 15 minutes, taking lots of great photos of the famous Andrew Jackson statue, St. Louis Cathedral, and the other historic buildings of the French Quarter.
I popped by a jazz bar to hear a band play a song or two, and walked up and down Decatur, Chartres, Royal, St. Peter, and St. Ann Streets to get a little bit of street scene flavor.
Finally, I headed up to Steamboat Natchez — because what's a trip to The Big Easy without at least seeing a classic steamboat?
A drive through downtown brought me right up to the steps of the Superdome, and I drove by plenty of New Orleans cemeteries, most of which have crypts.
#3 — Explore all of the free things to do in New New Orleans.
On a budget? There are plenty of free things to do in New Orleans.
Most of the places I stopped by were sight-seeing destinations. The Louisiana State Museum extension at the Old U.S. Mint building is free, and so too are occasional jazz concerts held there.
Visiting Jackson Square is free, and so are many of the street festivals throughout the French Quarter.
I did a little searching and found more free things to do in New Orleans:
#4 — Plan your visit around rush hour gridlock & game traffic.
My first foray into New Orleans brought me to the Crescent City on an NFL Sunday — coincidentally on the same day my Tampa Bay Buccaneers were playing the New Orleans Saints on "Who Dat" territory.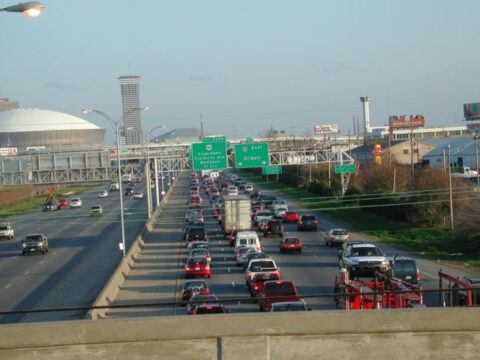 Traffic was backed up heading into New Orleans along I-12 for miles right near the stadium. I ducked off the interstate and proceeded to the French Quarter using back roads and lesser-travelled byways.
The lesson I learned right then and there? If I have a choice, perhaps avoid areas near the Superdome on game day.
The same also goes for rush hour traffic. When I came back through New Orleans returning home from my business trip, it was a Tuesday. By about 4 PM, traffic was horrendous along the interstates.
If you can help it, by all means don't repeat my mistake concerning traffic!
#5 — Walk (don't ride) through the French Quarter.
If you know where you want to go and don't have a lot of time to get from Point A to Point B, I recommend that you take taxis, buses, or trollies to get where you want to go.
But if you're mainly sightseeing like I was on my last trip to New Orleans and you don't really have many specific landmarks you want to see, then I suggest doing what I did: walk everywhere.
Especially if you're going through a place like the French Quarter, where every window has something interesting to see and virtually each doorway has something inviting you in.
I think I would've seen less than what I did if I hailed a cab or hopped aboard a trolley — because I ended up doing a lot of spontaneous pop-ins to places just to experience a bit of the flavor.
Would I have taken mass transit if I had a bit more of a New Orleans itinerary? Most likely yes.
And most definitely yes if I wanted to see much more of the entire city.
More Things To Do In New Orleans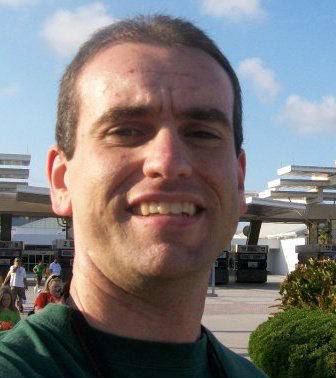 I'm a Florida native, a roller coaster junkie, and a frequent traveler. (Long road trips are my favorite.) Born and raised in Tampa, I grew up visiting Busch Gardens Tampa Bay. I authored the book Busch Gardens Tampa Bay: Images of Modern America, which details the colorful history of the Busch Gardens theme park. As a local historian, I've also written about other popular landmarks and attractions for a variety of publications. Here, on this Travel Guide, I like sharing little-known facts and fun stuff about all the places I've been — so you will have a good idea of what those places are like and what you should know before you go. I especially enjoy helping others plan fun trips… on a budget!