This post may contain affiliate links. If you buy thru these links, we may earn a commission at no additional cost to you.
---
I'm not a girly girl who cares about how my hair looks every time I take off the motorcycle helmet.
After all, I'm plenty used to dealing with messy Jeep hair.
But soon after getting our new Harley Davidson motorcycle, I realized that I would need to figure out a way to keep my bangs from sneaking out from under my helmet and slapping me in the face throughout the entire ride.
Worse than that…
All of the flyaway hairs that refuse to stay tucked up underneath the helmet actually feel like sharp knives when they're hitting your face at high speeds!
Seriously.
Summer Motorcycle Hair Options
For anyone with medium to long hair (especially if you have layers), the best solution is a simple stretchy headband!
The wider the better — to cover more of your hair and head.
The thinner the material the better – to fit underneath your helmet without feeling too tight.
These days, I never ride without a headband. And I never have flyaways that escape!
TIP: My all-time favorite headbands to wear under my motorcycle helmet are the knotty band bling
styles by That's A Wrap. I have 8. I love 'em! Some have bling, some don't. When I'm feeling really blingy, I wear a custom headband made by my friend Julie at GemzByJules.
Cold Weather Motorcycle Hair Options
When the temperatures are cooler, I wear this thin fleece headband instead because it can be used to cover your ears at the same time. (Although a regular headband itself can be pulled down to do the same thing.)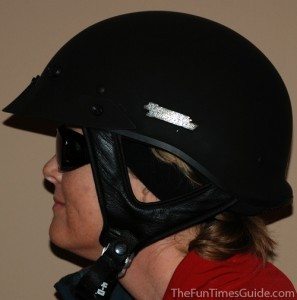 When it's really cold outside, then a thin fleece balaclava works even better than a simple headband because it covers your entire head, including all of your hair.
The only downside is your helmet fits really tightly on your head. On a long right, it could start to feel uncomfortable — unless your helmet isn't all that tight to begin with.
Tip: The knotty band
bling style headbands mentioned above can serve double-duty and cover your ears when riding in colder weather. Because they're so thick and wide, you can pull them way down over your ears to block the wind and keep your ears warm!
Tips For Ponytail Wearers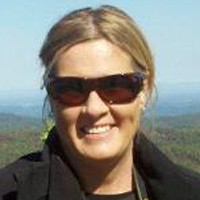 The Goody stay put elastics hold a ponytail in place better than any other type of ponytail holder I've tried. I'd say there's zero chance of these falling out while motorcycling.
If you're going to wear a ponytail, just make sure the elastic band itself rests lower on your head (below your helmet) rather than higher on your head (and concealed by your helmet), otherwise you'll have a killer headache from the added pressure under the helmet.
If your hair is super long, and your ponytail is too, then a hair glove might be a better option. It doesn't slide out or wear out.
Other Hair-In-The-Wind Tips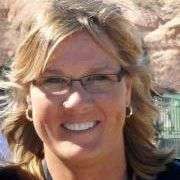 As a lifelong traveler, I like to help people find unique ways to do things that will save time & money — so I write about "outside the box" Travel Hacks that most wouldn't think of. I'm SUPER organized and I love to pack! I've lived in 6 different states (Florida, Indiana, New York, Ohio, Tennessee, and Texas) and have visited every other state in the U.S. — except Hawaii. (Can you say bucket list?) I've been on several different cruises, airplanes, and boats in my life and I currently enjoy the outdoors by bicycling, motorcycling, Jeeping, RVing, camping, or just walking my dogs. My favorite "hobby" is riding on the back of our Harley-Davidson Road Glide traveling cross country — which we usually do at least once each year. We even rode from Tennessee to Alaska once! When I'm not on the road, you will find me at the corner of Good News & Fun Times as publisher of The Fun Times Guide (32 fun & helpful websites).