This post may contain affiliate links. If you buy thru these links, we may earn a commission at no additional cost to you.
---
Wondering about fun things to do in Asheville, NC and the best time to visit Asheville?
There's no doubt about it, Asheville is an incredible place to see beautiful fall color!
I happen to know — because my fiancée and I visited this North Carolina mountain city to see fall foliage during Asheville's peak colors in October.
But what we've also discovered about this city is that it's more than just a place to see some gorgeous fall leaves. It's also a destination for charming holiday fun in the winter, extravagant spring festivals, and there are lots of summer fun things to do in Asheville, too!
It's pretty easy to see why Asheville is known as America's Happiest City.
Let's explore what makes Asheville — and its millions of visitors — so happy, year-round…
WINTER In Asheville Brings Holiday Lights & Christmas Cheer
Our trip to the charming city of Asheville, NC took us there during the transition between its fall color splendor and early preparations for Christmas — a time of the year when the city lights up with color of a different kind from corner to corner!
Here are some fun things to do in Asheville during the winter months…
Biltmore Village is where winter magic fills the air. In this quaint, rustic area neighborhood conveniently located only a couple miles away from downtown Asheville, traditional holiday charm keeps spirits bright and warm in the wintry atmosphere.
One of my favorite places in Biltmore Village is Olde World Christmas Shoppe at 5 Boston Way.
It's tucked away in a tudor building in the northeastern side of Biltmore Village. They have everything most folks remember from Christmases of yore — and a lot of holiday novelties you probably haven't seen before!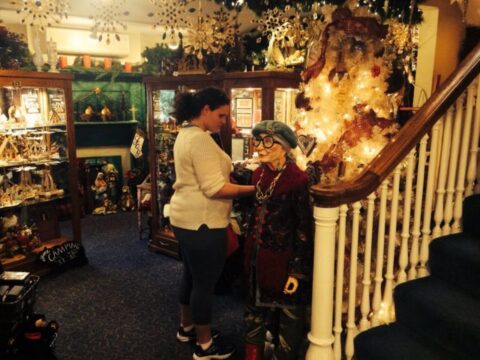 Just down the street at the Biltmore Estate is its annual Christmas festival.
Christmas at Biltmore draws tens of thousands of revelers from all around to the historic, Gilded Age landmark that was built by George Washington Vanderbilt from 1889 through 1895.
Did You Know?… The Biltmore Estate encompasses more than 6,000 acres of mountain land and includes the nation's largest, privately owned mansion. It is 178,926 square feet in size — or nearly twice as huge as the larger "big box" stores!
At the heart of the Christmas at Biltmore celebration is a 35-foot-tall Frasier fir Christmas tree.
The 3-story-tall tree lights up the Biltmore's banquet hall itself — an astounding 70 feet in height.
Just as Vanderbilt originally decorated his tree back in the day, the Biltmore Christmas tree includes 500 lights, 500 ornaments, and 500 packages.
Biltmore is a great place to enjoy the holiday season in Asheville, but winter fun can be found elsewhere in this mountain community, too.
Downtown Asheville, NC is decorated in wall-to-wall Christmas lights, and the stores there have plenty to offer holiday shoppers.
Here's a list of the top 25 things to do in downtown Asheville.
If you're hoping to find a really unique way to spend a day in the Asheville area, hop aboard The Polar Express train ride on the Great Smoky Mountains Railroad about 1 hour away.
This memorable train trip takes you on a round trip more than 1 hour long through the picturesque Smoky Mountains, disembarking and arriving from the Bryson City Depot. (The Polar Express trains typically run from mid November through the end of December.)
SPRING In Asheville Blooms With Flower Festivals & Color At The Biltmore Estate
After the Christmas season ends and as winter really ramps up at the start of the year, folks throughout the region are already getting excited for the next big thing: spring.
Spring color in Asheville comes in just about every hue imaginable!
Here are some fun things to do in Asheville during the spring months…
The warmer weather brings blooms of virtually every sort, size, color, and variety throughout the surrounding Blue Ridge Mountains.
Trips along the Blue Ridge Parkway are free and highly recommended if you want to take an incredible photo tour of some of the most beautiful mountain scenery in the United States! You'll enjoy these 5 spring blooms on your drive along the Blue Ridge Parkway.
See what's blooming when along the Blue Ridge Parkway.
The Biltmore Estate is the virtual epicenter for spring color there — with Biltmore Blooms. More than 75,000 flowers paint rainbows of color throughout the Asheville landmark, making the Biltmore Estate one of the most beautiful spring destinations in the United States!
If Biltmore Blooms isn't your cup of tea, you might try pairing some coffee with the doughnuts you'll find at the nearby Carolina Donut Festival — which is held in April and includes the 5K Donut Dash, a beauty pageant, a doughnut-eating contest, and plenty of arts & crafts.
You can also raise a toast at the Beer City Festival — which takes place during Memorial Day weekend in May and brings together more than 30 brewers, live music, and lots of fun.
SUMMER In Asheville Brings Relief From Humidity & Heat Elsewhere
Summers in Asheville are splendid!
Why else did Vanderbilt (who constructed the Biltmore Estate in the late 1880s and 1890s) choose Asheville for his sprawling mansion? It's said that Vanderbilt chose the city as his location for a summer estate because he wanted a "little mountain escape."
Tongue-in-cheek irony aside, the Biltmore Estate may not be so little, but Asheville certainly is a summer mountain escape.
It's where many of my friends in Florida go to escape from the summertime heat and humidity in the Sunshine State. And for many in the eastern United States, Asheville is only a day's drive away!
For those who visit Asheville in the summer, plenty of good times await.
Here are some fun things to do in Asheville during the summer months…
Summer is the time for street fairs in Asheville — where you'll find arts & craft festivals, music fests, farm tours, and so much more.
Here are the top 50 summer festivals in Asheville, North Carolina.
One of the most popular events in the region during the summer is Asheville Art in the Park, which takes place every 3 weeks.
If you're in the area during early July, you'll want to enjoy some red, white, and blue at the Mile High Fourth — which takes place in Banner Elk and Beech Mountain, about 90 minutes northeast of Asheville. The 2 towns bring together thousands for arts, crafts, food, music, and (of course) fireworks!
In nearby Bryson City, Freedom Fest offers food, music, crafts, and a 5K event, followed up with one of the biggest fireworks shows in the Smoky Mountains.
If you want to take a trek over over the rainbow, then hitch a ride on the Wizard of Oz Train Ride. This awesome 2-1/2-hour train ride takes you down the Yellow Brick Road and includes a voyage to Munchkinland and the Emerald City.
The last hurrah for summer in Asheville is Labor Day weekend, which offers a plethora of events throughout the region. VegFest, hosted by the Asheville Vegan Society, unfolds in Pack Square Park during Labor Day weekend. Meanwhile, the Living Asheville Arts Festival on Lexington Avenue lures thousands to enjoy some culture under the sun.
Shindig on the Green, a free weekly summer concert in Pack Square Park, wraps up on Labor Day weekend and is a great way to say bon voyage to a summer in Asheville.
If you like a dose of history with a hearty helping of barbecue, you might head about 20 miles west of Asheville to the city of Canton, which hosts its annual Labor Day event — known as the oldest Labor Day festival in the South. Music, concerts, a car show, parade, craft expo, and food trucks greet the crowds on this holiday weekend.
FALL In Asheville Is Ideal For Leaf Peepers
Wow, the year surely passes by quickly, huh? We're already talking about fall. And fall is what helped put Asheville on the map.
More than 100 types of deciduous trees and lofty elevations help make Asheville one of the prettiest places to catch fall foliage in the United States.
Here are some fun things to do in Asheville during the fall months…
On this trip, we travelled only about 20 miles of the Blue Ridge Parkway, but it's fun to take the entire path — 469 miles through North Carolina and Virginia, linking Great Smoky Mountains National Park to Shenandoah National Park.
There's much more than fall colors to enjoy in Asheville during the autumn months.
Fall is when Asheville unrolls dozens of events and activities. From pumpkin parties to harvest festivals and music fests to art fairs, there are plenty of things to do in and around Asheville in fall!
The Biltmore Estate provides guided tours through the fall foliage at the mountainside estate, and a bevy of beautiful fall plantings help brighten the spacious spread even more. Tours of the vineyards, wine tastings, meet-and-greets with chefs, and much more await when you visit the Biltmore in the fall.
Downtown Asheville is the setting for Oktoberfest, which combines local eclectic flair with Bavarian traditions — and plenty of beer, too!
In mid October, the HardLox Jewish Festival (also downtown) brings Jewish food and traditions together with music, dancing, and art for a one-of-a-kind cultural experience.
We've discovered many surprises in Asheville, and you're sure to as well. If you've been there before, then you know what I mean! And if you've never been to this North Carolina destination, then now's a great time to plan a trip there — it's a fun place to be all year round!
More Info About Asheville
In addition to the links I've included above, here are some other resources to help find fun things to do in Asheville, NC: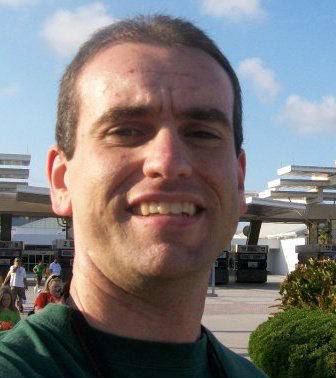 I'm a Florida native, a roller coaster junkie, and a frequent traveler. (Long road trips are my favorite.) Born and raised in Tampa, I grew up visiting Busch Gardens Tampa Bay. I authored the book Busch Gardens Tampa Bay: Images of Modern America, which details the colorful history of the Busch Gardens theme park. As a local historian, I've also written about other popular landmarks and attractions for a variety of publications. Here, on this Travel Guide, I like sharing little-known facts and fun stuff about all the places I've been — so you will have a good idea of what those places are like and what you should know before you go. I especially enjoy helping others plan fun trips… on a budget!