This post may contain affiliate links. If you buy thru these links, we may earn a commission at no additional cost to you.
---
Planning to visit the historic Gettysburg Civil War battlefield landmark in Pennsylvania?
My wife and I have now been there twice together. We always feel so moved visiting this solemn historic landmark in Gettysburg.
Our road trips through Pennsylvania sometimes move quickly. But one reason we like traveling there by car (instead of a plane) is we can stop and see and do things in places like Gettysburg — and that's something you can't do when traveling by air!
On our first trip to Gettysburg years ago, we had only about an hour to stop in and visit this Civil War site in Pennsylvania.
On our recent trek, we had a little more time to spend there. Not as much as we would've liked, mind you — but enough time to see and do a little bit more in Gettysburg this time.
About Gettysburg, Pennsylvania
Gettysburg itself is one of the most important Civil War landmarks.
It's where the South and the North clashed in one of the biggest battles of the war in the first three days of July 1863.
There were more than 50,000 casualties before the Union prevailed victorious in the Battle of Gettysburg.
While the war is more than a century and a half in the past, the air still hangs heavy over Gettysburg — with the death, chaos, and uncertainties surrounding the fate of the Union's and its people.
There's a surreal feeling walking the grounds at Gettysburg, knowing what had occurred there during those bloody days in the Civil War.
Monuments to the fallen and the wounded dot the landscape:
One of the most prominent landmarks at Gettysburg is the Pennsylvania Monument — which was built in 1910 and stands 110 feet tall:
You can walk up a spiral staircase to an observation deck atop the Pennsylvania Monument:
And get a lay of the land from the top:
A short guard wall surrounding the observation deck on top of the Pennsylvania Monument features small plaques — which show the distances to nearby landmarks and cities:
Back on terra firma, there are many other landmarks to view at Gettysburg Civil War site in Pennsylvania, including Codori Farm (seen here in the distance):
So, how in the world are you going to see all that there is to see at Gettysburg in just one day?…
There's so much to take in at this Pennsylvania Civil War battleground!
Fortunately, there are ways to see much of what Gettysburg has to offer in a single morning or afternoon.
Here are my best tips…
Take A Walking Tour Of Gettysburg Battleground
On a recent trip to Gettysburg, my wife and I decided to do a self-guided walking tour.
We focused on the heart of the Gettysburg Civil War site — where many of the monuments and farms iconic to this landmark are located.
It's the perfect short afternoon tour at your own pace…
Start at the Gettysburg National Military Park Museum and Visitor Center:
First, walk a trail from the back of the Visitor Center out past Leister Farm / Meade's Headquarters to Hancock Avenue — where a row of monuments to various regiments and soldiers from different states greets you:
---
Next, take this path down to the State of Pennsylvania Monument:
Then, meander down Pleasonton Avenue on a trail back to the Visitor Center — where we checked out some of the exhibits there:
A path further west takes you to Confederate Avenue — where monuments memorializing the military efforts and figures from Florida, Virginia, North Carolina, and other places can be found:
This walking tour was free, and there was no admission charge for us to take this self-guided visit of Gettysburg.
However, it's always a good idea to check with the National Park Service before your visit — just to see if there's anything unique going on and if any fees are involved.
What About The Gettysburg Auto Tour?
My wife and I have not yet been on the Gettysburg self-guided auto tour, which would be another fantastic way to explore this historic Pennsylvania Civil War battleground!
Some self-guided driving tours of Gettysburg do cost money. The price varies, depending on which one you choose.
Still, this would be a great way to see much of Gettysburg in a day without having to walk across the bulk of the battlegrounds — as my wife and I did.
Gettysburg Ranger Tours & Sightseeing Walks
Other great options for touring Gettysburg in a day are taking advantage of the National Park Service ranger tours and sightseeing tours.
Some of these programs to do cost money.
These tours are perfect for Civil War buffs, history fans, and for anyone who wants to find out more about this historic battleground directly from the experts.
Gettysburg Virtual Tour
Can't visit Gettysburg in person, but still want to explore this Pennsylvania Civil War site?
Check out the Gettysburg virtual tour hosted by the National Park Service.
With the Gettysburg virtual tour, you can visit this landmark from the comfort of your own home or just about anywhere else.
Also, checking out the Gettysburg online tour would be a great way to plan your next visit to the national park!
---
---
Other Places To Visit Near Gettysburg
We had lunch at the cafeteria inside the Visitor Center.
I also sat with Abraham Lincoln, who was president during the Civil War and delivered his famous Gettysburg Address nearby:
There are many cool exhibits and interactive experiences at the Gettysburg National Military Park Museum and Visitor Center.
In addition to the Gettysburg Civil War site, there many other excellent landmarks to check out in the vicinity.
Like Ike?
Not too far from Gettysburg Battlefield is the Eisenhower National Historic Site — where you can explore the farm of Dwight D. Eisenhower, a celebrated World War II general and the 34th president of the United States.
Eisenhower served from 1953 through 1961 — during the height of the Cold War — and was honored on the Eisenhower dollar coins of the 1970s.
Other neat places to check out nearby include: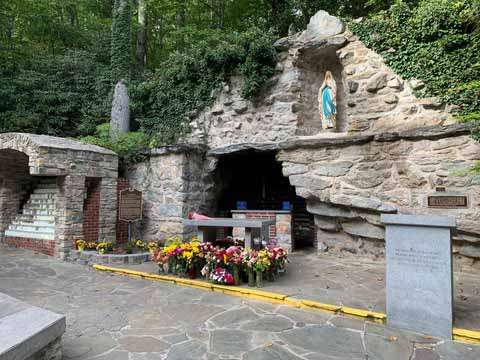 ---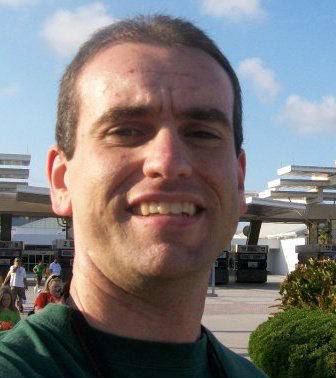 I'm a Florida native, a roller coaster junkie, and a frequent traveler. (Long road trips are my favorite.) Born and raised in Tampa, I grew up visiting Busch Gardens Tampa Bay. I authored the book Busch Gardens Tampa Bay: Images of Modern America, which details the colorful history of the Busch Gardens theme park. As a local historian, I've also written about other popular landmarks and attractions for a variety of publications. Here, on this Travel Guide, I like sharing little-known facts and fun stuff about all the places I've been — so you will have a good idea of what those places are like and what you should know before you go. I especially enjoy helping others plan fun trips… on a budget!