This post may contain affiliate links. If you buy thru these links, we may earn a commission at no additional cost to you.
---
I love to take road trips — so it probably doesn't surprise you that I've also enjoyed driving over some of most the famous bridges in the United States.
I'm lucky to live near one of the most famous bridges in the world (the Sunshine Skyway Bridge in Florida, which I talk about below), and I often include a trek over it during my leisurely Sunday drives.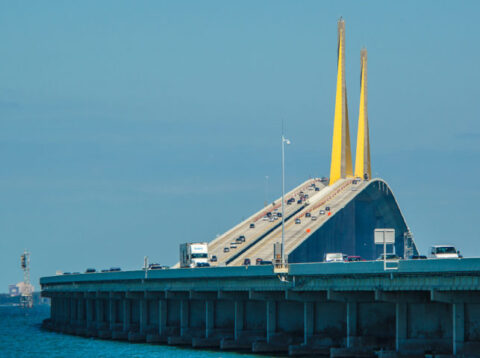 There are also a few other bridges that I've had the privilege of driving over — and several others that I've not been able to cross yet but hope to someday.
The following list of 10 U.S. bridges includes many that you have heard of and probably a few that you are less familiar with.
Chances are, you've crossed over 1 or 2 of these famous bridges yourself. You might want to add some of the others to your bucket list!
#1 – Brooklyn Bridge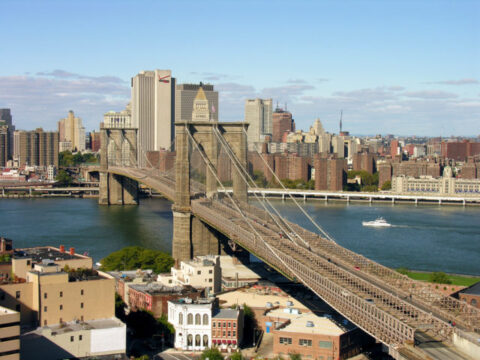 The Brooklyn Bridge, which was completed in 1883 and connects Manhattan and Brooklyn by spanning the East River in New York City, is arguably one of the most famous bridges in the eastern United States.
The Brooklyn Bridge is one of the oldest suspension bridges in America. It measures 5,988 feet long, and its longest span is 1,595 feet.
New York City's Brooklyn Bridge - 2 Minute Tour
Little-known facts about the Brooklyn Bridge:
#2 – George Washington Bridge
Another New York City bridge that is a must-see for all road travelers, the George Washington Bridge spans the Hudson River and connects New Jersey and the borough of Manhattan.
This bridge has a total length of 4,757 feet and a maximum single span of 3,609 feet.
Originally, when the double-decker suspension bridge opened in 1931, it had just 1 level. However, as the U.S. interstate system was being developed, a second level was added to the George Washington Bridge in 1962 — and the bridge became part of Interstate 95, which connects Florida to Maine.
The last time I traveled over this bridge (in 2000), the World Trade Center and Empire State Building could be seen peeking over the Manhattan skyline to the east and south. It's one of the most memorable U.S. bridges I've driven on.
The world's largest free-flying American flag, measuring 90 feet long by 60 feet wide, now hangs off the George Washington Bridge in honor of 9/11 — as seen here.
https://youtu.be/qyxbfHnB2zA?t=38m51s
Little-known facts about the George Washington Bridge:
#3 – Delaware Memorial Bridge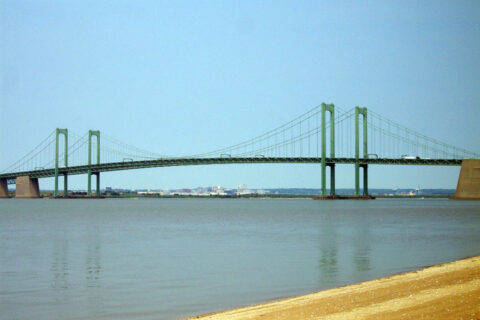 Crossing the Delaware River and connecting Wilmington, Delaware to south New Jersey, the Delaware Memorial Bridge is another grand bridge that belongs to Interstate 95.
The Delaware Memorial Bridge was originally opened in 1951 as a single span, but in 1968 the current westbound span was completed.
This steel suspension bridge has a maximum span of 2,150 feet and is 10,796 feet long.
Each year, the Delaware Authority and Bay Authority Police escort approximately 450 drivers with acrophobia across this bridge.
Delaware Memorial Bridge southbound
Little-known facts about the Delaware Memorial Bridge:
#4 – Chesapeake Bay Bridge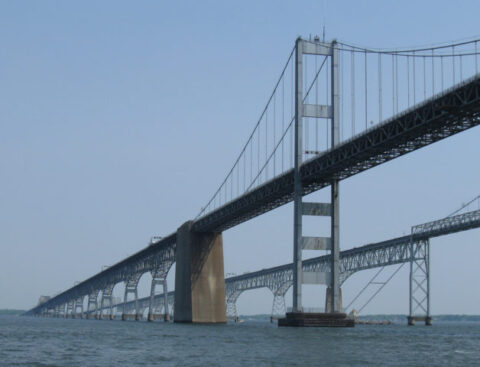 The Chesapeake Bay Bridge was built in 1952. It's also called William Preston Lane, Jr. Memorial Bridge — in honor of the man who served as Maryland's governor when the bridge was originally dedicated.
This bridge connects the eastern and western shores of Maryland. It was expanded in 1973, when the current westbound span was constructed.
The Chesapeake Bay Bridge — which is roughly 5 miles long and 186 feet at its highest point — has long been considered one of the scariest bridges in the world. Why? When it storms there (and violent storms aren't uncommon in eastern Maryland), it can be nearly impossible to see any land when you're on top of the bridge! Thankfully, there is a Chesapeake Bay Bridge driving assistance service available for those with gephyrophobia (a fear of bridges).
Chesapeake Bay Bridge Tunnel Virgina Beach Drone Phantom 3 & OSMO
Little-known facts about the Chesapeake Bay Bridge:
#5 – Golden Gate Bridge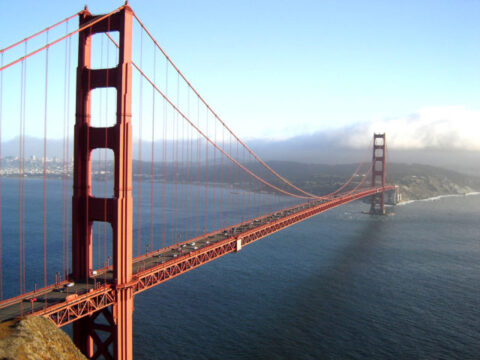 If the Brooklyn Bridge is the most popular bridge on the East Coast, then the Golden Gate Bridge easily takes the top spot among the most famous bridges on the West Coast.
The Golden Gate Bridge was opened in 1937 and has been designated as one of the Wonders of the Modern World by the American Society of Civil Engineers.
The main span of the bridge measures an impressive 4,200 feet. It was the longest suspension bridge in the world until 1964 — when New York City's Verrazano-Narrows Bridge opened.
One irony that many people note about the Golden Gate Bridge is that, despite its name, the bridge isn't actually golden in color. It's called the Golden Gate Bridge because it spans the Golden Gate strait — which is a 1-mile wide channel between San Francisco Bay and the Pacific Ocean. For the record, the Golden Gate Bridge is painted in a color called International Orange.
What Do You Know About the Golden Gate Bridge?
Little-known facts about the Golden Gate Bridge:
#6 – Sunshine Skyway Bridge
It's convenient for me that one of the most famous bridges in the U.S. stands in my proverbial backyard: Tampa, Florida.
The current Sunshine Skyway Bridge was opened in 1987, but its construction was prompted by tragedy.
On May 9, 1980, the Summit Venture freighter crashed into the pylons of the old Sunshine Skyway Bridge — partly destroying the bridge and sending cars, trucks, and even a bus into Tampa Bay waters below. Sadly, 35 people died on that stormy, tragic day.
The newer Sunshine Skyway Bridge is a concrete cable-stayed bridge that is 29,040 feet long, has a 1,200-foot main span, and has been called one of the Top 10 bridges in the world.
Sunshine Skyway Bridge - St Petersburg, FL
Little-known facts about the Sunshine Skyway Bridge:
#7 – Seven Mile Bridge
Connecting peninsular Florida with the Florida Keys, the Seven Mile Bridge is an iconic structure that is heavily traveled by tourists who want to visit the Conch Republic.
The original Seven Mile Bridge was built during 1909-1912, but the span used by motorists today was finished in 1982.
Most of the original bridge is still intact and is largely used as a fishing pier, though it is disintegrating at a rate faster than the State of Florida can afford to maintain it.
Florida Keys: Overseas Hywy & 7 Mile Bridge Aerial
Little-known facts about the Seven Mile Bridge:
#8 – Mackinac Bridge
Pronounced like "Mackinaw," the Mackinac Bridge was opened in 1957 and connects the Lower and Upper peninsulas of Michigan.
This phenomenal suspension bridge is more than 26,000 feet long and has a main span of 3,799 feet.
While several U.S. bridges in the Eastern Hemisphere have since eclipsed the Mackinac Bridge's anchor-to-anchor span distance, it still is the 3rd longest suspension bridge in the United States and 15th longest bridge in the world!
Like a handful of other famous bridges in America, the Mackinac Bridge Authority has a drivers assistance program available for those who are uncomfortable driving their car, motorcycle, bicycle, or snowmobile across the bridge.
Crossing the Mackinac Bridge Northbound
Little-known facts about the Mackinac Bridge:
#9 – Tacoma Narrows Bridge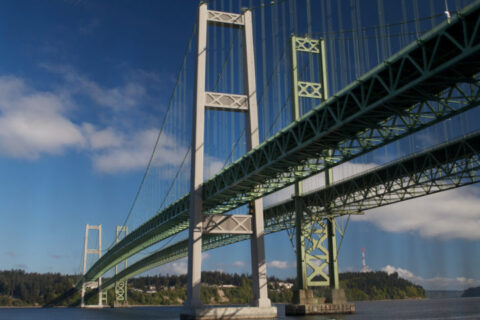 Remember that old film of a bridge flailing in the wind and collapsing into the water? That was the Tacoma Narrows Bridge. It collapsed only 4 months after its July 1940 opening in Washington state.
Several engineering flaws led to the bridge's demise under 42 mph winds that rocked the road deck — which wasn't designed well enough for high-speed winds.
In 1950, a replacement bridge was constructed and now carries only westbound traffic. The eastbound span opened in 2007. Both main spans are 2,800 feet long and are the 5th longest suspension bridges in the United States.
Interstate 705 in Tacoma, WA & the Tacoma Narrows Bridge
Little-known facts about the Tacoma Narrows Bridge:
#10 – Ambassador Bridge
Feel like taking an international road trip? Why not jump aboard the Ambassador Bridge in Detroit, Michigan?
Opened in 1929, the Ambassador Bridge is a suspension bridge with a 1,850-foot-long main span. It actually takes those driving into the United States north.
Not only does the Ambassador Bridge make travel quicker between the United States and cities in eastern Canada (such as Toronto), but it is also a vital trade route between the United States and Canada.
More than 10,000 commercial vehicles cross this bridge on a typical weekday.
Ambassador Bridge filmed with DJI Phantom 2 Drone, Part 2 (connects Detroit, USA to Windsor, Canada)
Little-known facts about the Ambassador Bridge:
Fun Facts About Other Famous Bridges
In addition to the famous U.S. bridges links I've included above, here are some good resources for a few more unique bridges in America (and beyond):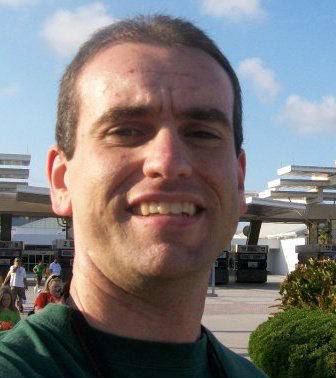 I'm a Florida native, a roller coaster junkie, and a frequent traveler. (Long road trips are my favorite.) Born and raised in Tampa, I grew up visiting Busch Gardens Tampa Bay. I authored the book Busch Gardens Tampa Bay: Images of Modern America, which details the colorful history of the Busch Gardens theme park. As a local historian, I've also written about other popular landmarks and attractions for a variety of publications. Here, on this Travel Guide, I like sharing little-known facts and fun stuff about all the places I've been — so you will have a good idea of what those places are like and what you should know before you go. I especially enjoy helping others plan fun trips… on a budget!