This post may contain affiliate links. If you buy thru these links, we may earn a commission at no additional cost to you.
---
Amish Lancaster County, Pennsylvania is a living time capsule.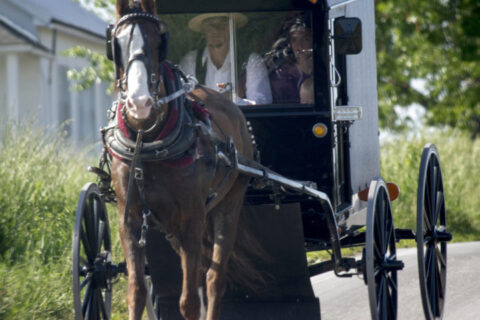 While the Lancaster Amish people are known for living in the ways of yesteryear, they are also very welcoming of modern-day tourists.
On my previous trip to Amish Lancaster County, I got to:
Share the roads with covered, horse-drawn carriages
Drive by farms being plowed by livestock
Visit landmarks lit by kerosene lamps
There are many fun things to do in Lancaster Pennsylvania, and some of these you simply can't miss if you want to really immerse yourself in the classic Amish experience.
Here are 7 places in Amish Lancaster that I think every visitor must see…
Dutch Haven
One of my very first stops as I cruised into Amish Lancaster was this cute, windmill-bedecked roadside tourist stop.
Dutch Haven is a post-war landmark is known for many things – including shoo-fly pie and whoopie pie.
Did You Know?… Shoo-fly pie is a molasses pie topped with soft crumbs, and a whoopie pie is a dessert sandwich made from 2 soft chocolate cookies stuffed with rich whipped cream.
They even offer FREE shoo-fly pie just for stopping in!
It was so tasty, I bought plenty more. (I'm sure they sell a lot of shoo-fly pie this way.) Let this be a fair warning… you will walk out of Dutch Haven with more tasty goodies than your dietitian would ever approve of.
But you're not in Amish country to diet — at least, I'll say, I certainly wasn't.
Dutch Haven has an incredible bakery filled with pleasant, helpful staff who made my stop there very enjoyable. But there's a lot more to check out at Dutch Haven than shoo-fly pie, whoopie pie, and other tasty treats.
There are also locally made Amish crafts, such as wooden furniture, glass ornaments, and artwork.
I like to think of Dutch Haven as the unofficial Amish Lancaster gift shop. So, whether you're buying mementos for yourself or items for friends and loved ones afar, be sure you stop by.
A free piece of shoo-fly pie is probably waiting for you!
Amish Village
You'll really get a taste of the Amish way of life when you visit the Amish Village.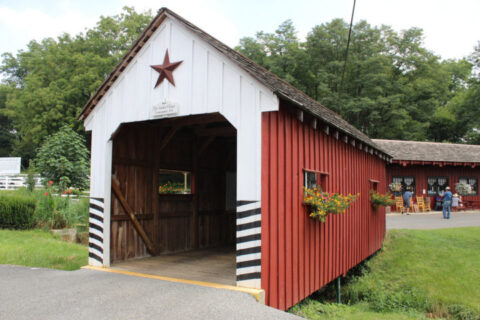 This unique, multimodal Amish tour gives you an inside-out look at daily life for the folks who live in this rustic area of Lancaster, Pennsylvania.
This 12-acre attraction includes a tour of an authentic Amish property that includes a 1-room schoolhouse, smokehouse market, a blacksmith shop, and a barn, and other rustic attractions.
There's also a 25-minute farmhouse tour that shows the ins and outs of Amish agricultural practices. Aspiring milkers and butter churners, be sure to take thorough notes!
Amish Fun Fact: The Amish are among the fastest-growing populations in the world. Between 1989 and 2012, their numbers in the United States and Canada more than doubled from 100,000 to 251,000.
Buggy Rides At Kitchen Kettle Village
Jam and relish lovers take delight in the Kitchen Kettle Village – where you can buy fresh, home-cooked goods right from the source.
In addition to selling delicious Amish jam and relish, the Kitchen Kettle Village is well known for its horse-drawn buggy tours.
You can choose from different types of buggy rides through Amish country, including:
A 4-mile country buggy ride through an actual Amish farm
A 5-mile covered bridge tour
The 60-minute ride Amish farm tour
The covered bridge tour takes you through some of the Dutch Lancaster County's dozens of kissing bridges.
Yes, that's right — kissing bridges. They're called that because many couples enjoy strolling covered bridges by foot and sharing a kiss or even a canoodle!
Old Windmill Farm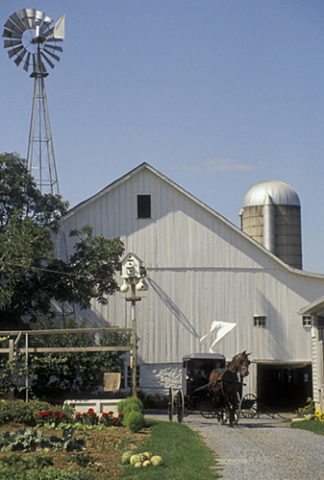 Who doesn't love a good ol' country windmill?
I know I certainly do! And you'll see one at the Old Windmill Farm in Amish Lancaster.
The Old Windmill Farm is a dairy farm that offers tours of their milking, farming, and other agricultural operations.
You can bottle-feed a calf, savor homemade candy, and even make new fury friends at a petting zoo.
Seasonal offerings include hay rides, beautiful flowers, and delicious produce.
Amish Farm & House
History comes alive at the Amish Farm & House – billed as the first Amish tourist attraction in the United States, where tours have been given since 1955.
But the history doesn't stop there…
The Amish Farm & House sits on property given to colonial governor John Evans by Pennsylvania founder William Penn in 1715 – back before the Amish even arrived in the United States!
What you'll see when visiting this fascinating Amish landmark:
A house that is more than 200 years old
Tours that take you around this pastoral paradise
Professional Amish artisans who offer their unique crafts for sale
There's also a splendid gift shop where you can peruse the wares of nearly 60 local Amish and other vendors.
The Amish of Lancaster PA, a Day Trip to Gettysburg plus other Lancaster attractions
Jacob's Choice Amish Movie
Being Amish isn't easy.
At least that's the experience young Jacob Fisher has in this film about a young Amish man who must choose between carrying on with the way of life his family has known for generations or choosing to embrace the modern ways.
The struggles of growing up Amish are real, as Jacob shows us in this 45-minute movie.
The movie is shown in a unique movie theater with 3-dimensional visual elements and special effects.
Amish Experience In-Person Tour
Nestled between the towns of Bird In Hand and Intercourse is the Plain & Fancy Farm, where the Amish Experience awaits.
At the Amish Experience, you'll enjoy guided tours of the Fisher family – the fictional Old Order Amish family featured in the Jacob's Choice movie that you can also enjoy at the landmark.
In the house are appliances driven by compressed air, plain clothes wardrobes, and freshly canned foods – all of which make you feel right at home in Amish country.
Adjacent to the Fisher Homestead is a 1-room schoolhouse where you can learn how 8 grades are taught in a single room.
More About Amish Lancaster PA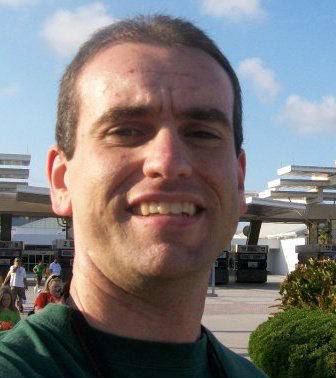 I'm a Florida native, a roller coaster junkie, and a frequent traveler. (Long road trips are my favorite.) Born and raised in Tampa, I grew up visiting Busch Gardens Tampa Bay. I authored the book Busch Gardens Tampa Bay: Images of Modern America, which details the colorful history of the Busch Gardens theme park. As a local historian, I've also written about other popular landmarks and attractions for a variety of publications. Here, on this Travel Guide, I like sharing little-known facts and fun stuff about all the places I've been — so you will have a good idea of what those places are like and what you should know before you go. I especially enjoy helping others plan fun trips… on a budget!