This post may contain affiliate links. If you buy thru these links, we may earn a commission at no additional cost to you.
---
they We were fortunate to go on vacation in Aruba with friends in November.
UPDATE: We went again, 6 years later — in December. See details at the end of this post.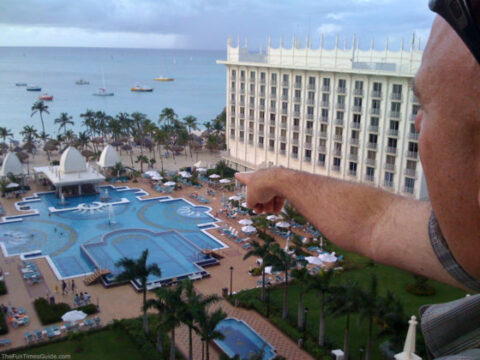 It was one of those all-inclusive Aruba vacations that included:
Airfare
Ground transportation to and from the airport in Aruba
7 days and 6 nights at the RIU Palace (pronounced Rio) — an all-inclusive resort that's located on the beach (Palm Beach) at the far north (or west) end of the island
All beverages (including alcohol of every size, shape and flavor — even a fully stocked bar and refrigerator in the room)
All food (round the clock) available at restaurants, buffets, and 24-hour room service with full menus and desserts
Complimentary sun loungers in the pool and parasols on the beach (yeah, kinda trivial… but the experience of drinking while lounging in the pool or at the built-in pool bar were so cool!)
Here are over 6,000 reviews of the RIU Palace hotel & resort.
We went on these 2 trips to Aruba with different friends each time.
A First Time For Everything

I had never stayed at an all-inclusive resort before. In fact, every time someone mentioned "all-inclusive" in the past, my mind always went to Sandals. I've never been to a Sandals resort, but somewhere along the line I'd heard that Sandals had become overly commercialized and over-hyped. I was hopeful that Aruba all-inclusive vacations didn't have the same bad rap. (They didn't… and still don't.)
The same way I think about Sandals is kind of how I characterize Carnival cruises — where everything is available to you for free, but the employees aren't really happy with their jobs and the customers are treated like nuisances rather than "guests". (At least that's how things were on the Carnival Cruise I went on — even though I still had a good time. My experience was completely different when I went on a Royal Caribbean cruise.)
So, I didn't know what to expect when we began planning our first of several Aruba all-inclusive vacations. (Yep, we are planning our 3rd Aruba vacation right now!)
One thing's for sure… after staying at my first all-inclusive resort in Aruba, I'm 100% convinced that I would choose an all-inclusive resort over an all-inclusive cruise — if given the option again. We enjoyed the "all-inclusive" things on our trips to Aruba that much!
Must read: Top 10 Reasons To Visit Aruba and 10 New Reasons To Visit (Or Revisit) Aruba
What's Good To Drink In Aruba?
The free drinks are so plentiful that you never tire of drinking the same thing twice.
That said, Jim and I each found our "favorites" and we stuck to those most of the trip.
These days, if someone simply mentions one of the ingredients, our mouths water!
Jim's Favorite: Aruba Ariba:
rum (3/4 oz of 151 proof)
vodka (3/4 oz)
banana liqueur (1/2 oz)
orange liqueur (1/2 oz)
fruit punch (2 oz, or pineapple + cranberry juices)
triple sec (only our bartender in Aruba added this; not standard)
This is an Island favorite — served by bartenders all over Aruba.
Lynnette's Favorite: Coco Rosa:
vodka
coconut cream
granadina syrup
lemonade
The Coco Rosa appears to have been concocted by the bartenders at the RIU Palace Hotel & Resort in Aruba.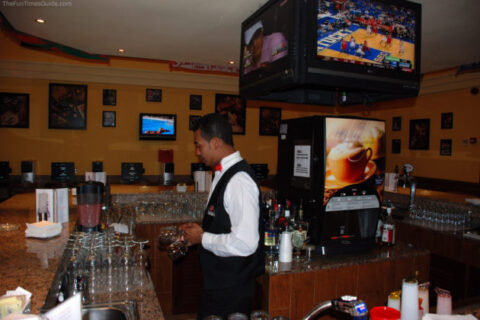 Check out this list of Aruba cocktails and the Riu Palace list of cocktails… Yum!
What About The Money In Aruba?
You may be inclined to convert your U.S. money over to Aruban money (Florins) as soon as you hit the ground after your flight to Aruba — BUT DON'T!
We did, and we found it nearly impossible to spend their Aruban money anywhere. No joke. They prefer U.S. money, and they all have the conversion rates in their heads when dealing with tourists.
Some (if not most) places in Aruba will simply not accept Aruban Florins. They'll pass up the sale instead. I know, it seemed absurd to us too! But it happened to us more than once. It's as if only the locals use Aruban money — although not in the touristy areas. (For what it's worth, the prices they changed in U.S. dollars all seemed quite fair to us.)
Everyone from Aruba that we asked said that 99% of the tourists simply use their own money, rather than converting it to Aruban money. This surprised us. But then again, we don't get out of the country  much — perhaps this is standard in tourist areas worldwide.
We needed some money to spend on our Aruba vacation, so here's what we ended up doing (since we had already converted several hundred dollars at the Currency Exchange place at the Aruba Airport)…
Jim sat at the blackjack table at the casino in our hotel. He gave them his $700 worth of Aruban money, and they gave him the U.S. dollar equivalent in chips. Jim played for a few minutes, and then cashed out. Wa-lah, we were back in possession of our U.S. dollars once more!
What About Using Debit And Credit Cards In Aruba?

Credit cards are accepted everywhere in Aruba, without hesitation. But everyone we dealt with specifically asked for Visa or Mastercard. They were very reluctant to take American Express.
We used our Mastercard instead of our AMEX 3 separate times for a grand total of $747 (U.S). As a result, Mastercard subsequently charged us a $32 "foreign currency exchange fee" for the privilege of using our Mastercard in Aruba that month. Ugh. (I believe it was a percentage of the total amount we spent.)
We also used the ATM machine located in our hotel twice. Not only did the machine charge us on the spot (just a couple of dollars each time), but our own bank also charged us some crazy amount for those transactions (something close to $10 each, if I recall correctly).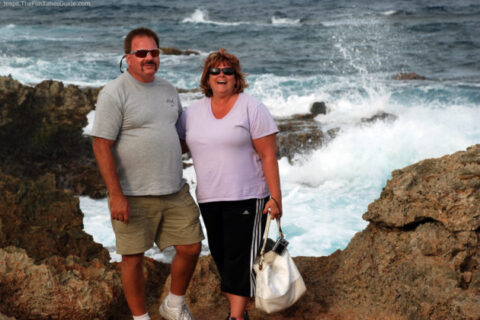 Things To Do In Aruba On The Water

We rented jet-skis one afternoon for $50/hr per person (eek!). The price was a tad higher because we utilized the services of a local boat cabbie who picks you up at your hotel's beach, drives you (via boat) to the part of the island where their jet-skis are located, and then boats you back to your hotel. The fast boat ride there & back was actually half the fun!
My most memorable water fun adventure in Aruba was the deep sea fishing trip that we did on our second-to-last day there.
I've never been deep sea fishing before — even though I've been in boats and on the water a lot. I didn't really fear getting seasick beforehand, but I decided to take a Dramamine pill an hour before we set sail anyway, and then again moments after we boarded. (That was Mistake #1 — because you should take Dramamine several hours prior to any seasick-prone adventures!)
The morning of our afternoon deep sea fishing trip, the skies were dark and rainy — and it seemed the sun would never shine. We ventured onboard the boat ("Lucky Star"), with rain slapping us in the face and the boat rocking to and fro from the waves.
As we got into deeper water, the captain sped up even faster — thinking we actually liked all the wave jumping! Perhaps most tourists do, but we didn't really. They didn't speak English, so it was hard to communicate to them that we weren't especially enjoying it.
About 30 minutes into the trip, I asked where the best place would be "should I get sick or something". Within moments, those 2 Dramamine pills had worked their way up — along with all of the breakfast I'd enjoyed from the morning's buffet.
I must've created a lot of chum for the fish, because immediately after I got sick, Jim's fishing line started whirring at fast speed — he had a huge fish on the line!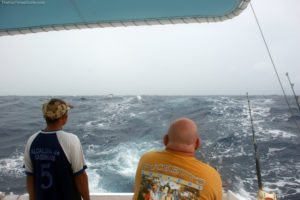 So I kept busy creating more chum, then applauding and photographing his fine catch, then adding more chum, and so on.
Even though I'd feel fine for 10 minutes at a time, I eventually got the dry heaves, and no vision of the horizon could calm my stomach. Each time I thought I felt fine, it turned out I didn't.
Unfortunately, after Jim caught his big fish, he started creating his own chum. At this point, the non-English speaking first mate starts hosing both of us down with salt water (from the hose that's typically used to wash the blood from fish off the boat). He was trying to keep us cool, otherwise, we'd become dehydrated and overheat. But it was slightly annoying — especially since I had my $1,000 camera around my neck!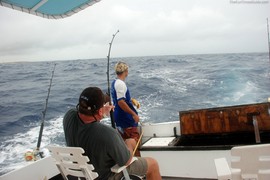 Next in the fast-paced stream of activity onboard the boat… our buddy Terry caught a humongous fish! It was a few pounds heavier than Jim's, and just as exciting to watch him reel in.
At this point, Jim and I could barely focus on the "fun" part of all this. (We were still having fun, I kid you not! But our stomachs were not cooperating.)
Our friends looked over at us and then at the captain — and without pause said, "Could you please take us back to shore?"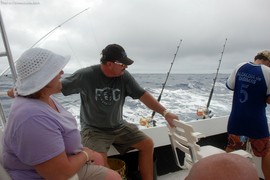 We motored on back to the hotel, much slower and with much less wave-jumping action than we had ventured out on. All in all, it was a great adventure! And I was fine as soon as we hit dry land.
We ended up forfeiting 3 of our 4-hour deep sea trip (that we pre-paid for!). But the smiles returned to everyone's faces once we stepped food on dry land and we went on with our day.
In case you're wondering, the Lucky Star was something like a 30-foot boat, and in the middle of the ocean we were tearing up the incredibly high seas (along with wind & rain). It looks extremely calm in the photo below because it was — close to shore. The hotel beach where they picked us up and dropped us of was in a little inlet. Oh, and the fish the guys caught were 5-foot Wahoo in the 70-pound range.
To give you some idea of how rough the water was:
We had every bit of that… and more! Most of the time, they said we were experiencing closer to 10 foot seas or 20 foot seas. Plus, it was incredibly windy and rainy on this day.
Two hours later, we all went in town and bought lots of jewelry!
Some Things You Should Know Before You Go To Aruba
Aruba is only 19 miles long and 6 miles wide — for a total of 70 square miles. The entire Island can be seen in one full day by car.
The RIU Palace Hotel & Resort (like most of the major hotels in Aruba) is located 2-1/2 miles from "downtown" and 6 miles from the airport — at the small but  "touristy" north (or west) end of the Island.
Our cab fare from the Aruba airport was $20 (U.S.) to the high-rise hotels. At the time, we didn't know that ground transportation was included in our Aruba vacation package deal. Which was actually one of the downsides to this trip — we never received our introductory package in the mail prior to traveling, so we just had to wing it until we got there. (UPDATE: 6 years later, the cab fare to the same place was $28.)
All of the cab fares are pre-set by the Aruban government. They don't use cab fare meters. Interestingly, they don't post the rates in public — but the cabbies will show you the cab fare rates, if you ask.
The first thing we learned: Aruba is "One Happy Island, Mon." Just ask