This post may contain affiliate links. If you buy thru these links, we may earn a commission at no additional cost to you.
---
Millions of people enjoy seeing the fall foliage in Asheville, North Carolina and other New England states every autumn.
They're among the top fall foliage destinations in the United States! So it's little wonder that hotels, cabins, and other types of lodging throughout New England and all along the Blue Ridge Parkway in North Carolina are usually booked solid from late September through mid October.
But what do you do if you want to see some amazing fall colors and can't get to Asheville, North Carolina specifically — or New England in general — this year?
There are so many wonderful places where you can enjoy watching the fall leaves as they transform from shades of green to an astounding rainbow of reds, golds, yellows, oranges, and other autumn hues.
The great news is that there are dozens of awesome places to see autumn colors. (Psst… there's even fall foliage in Florida — where I live.) So no matter where you are, there's bound to be a good location near you where you can catch autumn in all of its colorful glory.
Here are 8 fun places that are definitely worth visiting to see the fall leaf colors this year: (in no particular order)
Denver, Colorado
The Mile High City is a fantastic place to take in some incredible fall scenery. In fact, Denver experiences fall leaf colors longer than just about any other city in the United States — making fall in Denver a great bucket list item!
There are 5 climate zones within a 2-hour driving distance of Denver — meaning it's possible to see fall foliage in the Denver area from mid September through mid November.
Pocono Mountains, Pennsylvania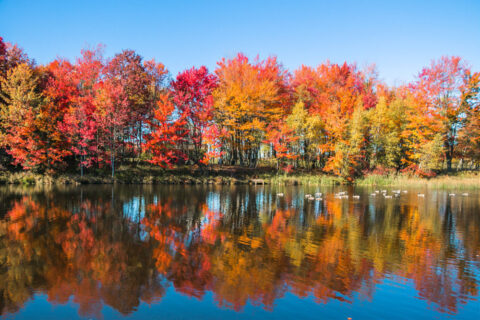 The Pocono Mountains in northeastern Pennsylvania may be known as a lovers' paradise, but it's also one of the most beautiful places to see fall foliage!
The region covers 2,400 square miles, incorporates 127 different kinds of trees and shrubs, and spans 3 fall color zones. That means there are several opportunities throughout mid September into mid October to see fall foliage in the Poconos. 
Florida Panhandle 
In case you didn't know… there actually is fall foliage in Florida! One of the best places to see the fall colors in Florida is in the state's panhandle region — which is the northern part of the state bordering Georgia and Alabama.
One of the most beautiful places to see colorful fall scenery in the Florida Panhandle is from the towering bluffs of Torreya State Park in the town of Bristol. There, peak fall foliage is from mid October to mid November.
Williamsburg and Jamestown, Virginia
Nothing beats crunching leaves along the historic brick roads of Colonial Williamsburg and historic Jamestown in Virginia. Something about the quaint, brick and wood frame buildings from centuries ago sets a warmth that creates the perfect backdrop for a crisp autumn day.
The fall color is incredible throughout Virginia in October. In the Tidewater region, peak fall foliage is from mid October to early November.
Eastern Sierras of California
Variable elevations in the Eastern Sierras of California make it possible to enjoy sweeping vistas of fall foliage there from mid September to mid October.
An array of tree species that include aspen, willow, and cottonwood shower a spectacular range of fall colors throughout the craggy landscape. The fall scenery and panoramic views are unmatched anywhere else.
Yellowstone National Park in Wyoming, Montana, and Idaho
Yellowstone National Park covers nearly 3,500 square miles — just imagine a fall landscape nearly twice the size of Delaware! That's what Yellowstone National Park has to offer from mid September to early October.
Yellowstone autumn leaf peepers have plenty to see in there.
Mountains, valleys, streams, and other natural features create an endless variety of backdrops and settings to see the Yellowstone fall colors in all of their glory.
Michigan
Fall foliage lasts only a few weeks in the great state of Michigan, but that's enough time to gulp in some of the most delicious autumn colors you'll find anywhere.
Hikers, bikers, kayakers, and all fans of the great outdoors will lavish in Michigan's fall leaf colors from mid September through early October.
There are so many places in Michigan for leaf peepers to take in the colorful fall scenery — including beaches, forests, lakes, streams, and seemingly endless of miles of trails and roads.
The Ozarks in Arkansas, Missouri & Oklahoma
A lot of folks outside the Great Plains and Mid South may not think of the Ozarks when planning fall foliage trips.
Yet, fall in the Ozarks (a mountainous region primarily in Arkansas, Missouri, and Oklahoma) is filled with jaw-dropping, colorful autumn foliage.
To see fall color in the Ozarks, I recommend taking a mountain drive — which makes it easy to see sweeping vistas of the reds, purples, oranges, and yellows that appear annually throughout the region from mid October through late October.
Even More Locations With Colorful Fall Scenery
In addition to the 8 locations I've mentioned above, here are some other places enjoy beautiful fall autumn colors: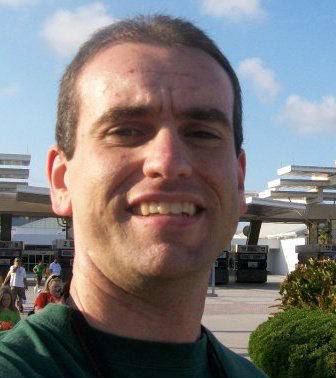 I'm a Florida native, a roller coaster junkie, and a frequent traveler. (Long road trips are my favorite.) Born and raised in Tampa, I grew up visiting Busch Gardens Tampa Bay. I authored the book Busch Gardens Tampa Bay: Images of Modern America, which details the colorful history of the Busch Gardens theme park. As a local historian, I've also written about other popular landmarks and attractions for a variety of publications. Here, on this Travel Guide, I like sharing little-known facts and fun stuff about all the places I've been — so you will have a good idea of what those places are like and what you should know before you go. I especially enjoy helping others plan fun trips… on a budget!