This post may contain affiliate links. If you buy thru these links, we may earn a commission at no additional cost to you.
---
We've been to the Sturgis Motorcycle Rally several times. And we're going again this year.
---
The first time we went, I wasn't sure what to expect. I mean, you hear all about the rough and rowdy parts of Sturgis. But you seldom hear about the low-key 'normal' aspects of this annual motorcycle event.
I can tell you there's a lot more to enjoy at Sturgis than drinking.
Here are my best tips for newbies going to Sturgis Bike Week for the very first time…
First Impressions Of Sturgis
For starters, hubby and I are not really into activities with big crowds — especially as big as Sturgis.
Honestly, the first time we went to Sturgis, we thought we would drive through once and then move on to other parts of South Dakota — because we figured it wasn't going to be all that enjoyable for us since we aren't avid partiers.
---
So we had very simple goals our first time attending the Sturgis Motorcycle Rally. We wanted to:
Get the bike washed – after riding it all the way from Tennessee
Walk through the vendor booths – we were hoping to see fun new motorcycle gadgets
Ride all of the great motorcycle roads in the area – worth doing any time of year
Get the obligatory Sturgis patch or pin – proof that we were there
In the end, we were surprised by how much we enjoyed the downtown area and the off-site areas we visited — Full Throttle Saloon and Buffalo Chip.
But all the great riding in the area was truly the best part!
The Black Hills are filled with tight twisties, 45 to 55 mph speed limits, and quaint little gas stations and convenience stores. This place is a large reason why Sturgis has evolved into such a big rally. The Black Hills National Forest is gigantic and spreads through the South Western part of the state … The majority of the fun is riding. That's another thing that makes Sturgis unique from other rallies. There are tons of people, but luckily there are plenty of miles of empty roads to explore.

RideApart
What Makes Sturgis Unique
If you haven't been to Sturgis Bike Week before and you don't know if you want to go, you can rest assured that Sturgis is (for the most part) an orderly, well-patrolled event with a lot of security officers on hand at all times (see stats below).
Each year, the Sturgis Police Department hires officers from the 8 surrounding states just to help during the Sturgis Motorcycle Rally.
If you've ever been to Daytona Bike Week, it's similar to that — but Sturgis is much bigger and better organized. Oh, and there are a lot more places to ride, and lots more things to do! We like Sturgis Bike Week much more than Daytona Bike Week.
What makes Sturgis unique as a rally is the fact that there are a handful of locations where most of the music and drinking takes place — away from the downtown Sturgis area.
So if you're not into all the partying, then you can just hang out in the downtown area and still fully enjoy the Sturgis Rally.
From morning til night during Sturgis Bike Week, you'll find literally thousands of motorcyclists enjoying the sights and sounds of downtown Sturgis.
Truthfully, it's a good thing that there are all of the off-site places to go — because it helps to spread out the 500,000 or so rally attendees!
Did You Know? Sturgis Police Chief Jim Bush said that the average age of a biker attending the Sturgis Rally is between 50 and 60 years old.
What Downtown Sturgis Is Like During The Rally
Downtown Sturgis is where most of the Bike Week vendors are. Each off-site location also maintains its own list of Sturgis vendors. For example, here are the Black Hills Harley-Davidson vendors and the Buffalo Chip vendor list.
You will probably enter downtown Sturgis on Lazelle Street — it's the main cruising strip that goes through the middle of town.
Throughout the rally, you will likely find yourself riding through town several times to enjoy the breeze, show off your ride, park for the downtown activities, and to get to the off-site bars & music venues.
Main Street is blocked off to non-motorcycle traffic beginning the Saturday before the Sturgis Rally. In addition, the side roads are closed for many blocks — on both sides of Lazelle Street — in order to accommodate all of the vendors and all of the motorcycle parking.
The stores and shops that line the side streets downtown Sturgis are open and selling things that motorcyclists would enjoy — like jewelry, leather goods, and of course t-shirts. Each time we go to Sturgis, we find a lot of unique souvenirs and gifts in those stores (and from the vendors too).
A Word About Sturgis T-Shirts & Memorabilia: The longer you wait to buy it, the lower the price will be. I've seen, firsthand, the drastic mark-downs in the last few days of the Rally on things like leather purses, hairbands & bandanas. Still, the discounts on those things don't even come close to the bargain prices for Sturgis t-shirts. You'll easily find 6 for $40 t-shirt specials everywhere you look in those last 2 days! (Yep, we ended up with way too many t-shirts.)
There are plenty of bars and restaurants right there in downtown Sturgis as well.
You can spend anywhere from an hour or two downtown… to an entire day!
With all the motorcycles that you see passing by and all the people that you see wearing whatever it is that they're wearing, you can bet that you'll have plenty to see in the downtown area.
And with all the stores, vendors, bars, and restaurants … you'll also have plenty to do in the downtown area as well.
---
Where To Park At Sturgis
The side street that runs parallel to Lazelle Street is Main Street — which serves as motorcycle parking for several blocks. You can park your bike there (for FREE) for as long as you like!
If you don't want to park with thousands of other motorcycles next to you, you can also park on just about any other side street downtown for free.
---
Parking is never an issue at Sturgis — either downtown or at the off-site venues like Buffalo Chip, Broken Spoke, or Iron Horse Campground — because the parking areas are clearly marked and there are people directing traffic, as necessary.
By the way, I'm told that they tow any motorcycles left parked overnight on Main Street. So if you're leaving your bike downtown, just make sure it's in a tow-free area.
While parking is free at Sturgis, most of the "area attractions" are not — like Crazy Horse, Mount Rushmore, state parks, and national parks.
Every state park or monument was around $10 to enter/park. We traveled to Mount Rushmore, Sylvan Lake (at the end of Needles Hwy) and Crazy Horse Memorial, which all charged admission. The bars on the outside of town charge admission due to the acts playing.

RideApart
When To Arrive At Sturgis
We've always arrived in the middle of Rally Week or the weekend following the Sturgis Rally, and there has always been plenty going on — more than enough to make our Sturgis Motorcycle Rally experience complete.
---
But I'm told there's even more activity that takes place during the weekend before the official Sturgis Rally dates each year. So if you want to take in the full Sturgis Rally experience, plan to attend the weekend before!
No matter when you arrive, Sturgis is a relatively tame event — for the most part. It's much calmer than I had imagined. Sure, things get loud and obnoxious at the off-site venues sometimes, but it's far less rowdy than I was initially led to believe.
Now when I think of Sturgis, I don't think about loud drunken partying anymore. Instead, I think of:
the wide variety of vendors
the many country roads to ride
the fun things to do that never seem to get old
the bars & restaurants (even in the downtown area)
---
Watch for deer and cops. Both come out around sunset. The police force in town seem to make their bonuses during this week. Often camped between the bars on the outskirts of town, like Full Throttle and Buffalo Chip, where it's a 35 mph speed limit. They're in heavy force looking for drunk riders and speeders. Don't even so much as roll through a stop sign or run 5 mph over the speed limit.

RideApart
Where To Stay
Friends of ours always register a year in advance to get the best deal on hotel rates in Deadwood, which is 20 minutes from Sturgis — because they enjoy gambling in the downtime. Yes, it's still expensive to stay there, but they like staying relatively close to all the activity, without camping.
Deadwood is definitely a great place to stay, if you can afford the hotels during Sturgis Rally Week. We checked into it once and the Holiday Inn was $500 a night! I guess if you're splitting that cost with a bunch of people, then it might make sense — but not for us.
We stayed at the Franklin Hotel once, but it wasn't during Rally Week.
There are also lots of biker-friendly campgrounds in every direction just outside of Sturgis. I haven't stayed at any of them (yet), but I would guess that the closer you stay to Sturgis and the off-site venues, the rowdier those campgrounds might be at night.
We've always stayed in Hill City, South Dakota (20 minutes from Rapid City, SD). It's about 1 hour from downtown Sturgis, but to be honest it doesn't really seem that far away because there are bikers staying nearby everywhere you look.
---
For the best rates, I recommend staying 45 minutes to 1 hour away from Sturgis itself. And don't think that you'll be too far away from the action — no way! All of the hotels and campgrounds are still filled with Sturgis bikers, trust me.
The best part… the best Black Hills riding isn't in downtown Sturgis anyway. It's way out here in the beautiful countryside — 45 minutes to 1 hour away in every direction from Sturgis. So if you stay on the outskirts, you won't have to fight traffic and you can enjoy more leisurely motorcycle rides through the Black Hills every day.
In fact, it's well-known that motorcycle activities don't just take place at Sturgis during Rally Week anymore. They say the Sturgis Motorcycle Rally extends all the way from Hulett, Wyoming to Hot Springs, South Dakota each year — with downtown Sturgis being the epicenter. As you're passing through various towns, it's pretty cool to see something going on motorcycle-wise in practically every town within an hour-and-a-half radius of Sturgis!
This is where we stay: Whispering Winds Cottages & Campgrounds. It's about $150 a night for a cabin type duplex set-up. The rooms are small, but super clean. And it's always really quite. Their entire property is well-landscaped, and you can tell the family that owns this place really cares about it. Oh, and they have covered parking for motorcycles — which is handy because it has rained (I mean stormed) every single time we've gone to Sturgis! The only downside is the gravel driveway.
Speaking Of Rain…
Since I touched on the fact that it has stormed every time we've gone to the Sturgis Motorcycle Rally (and times we were in town when the rally wasn't going on too), I figure it's worth talking a little more about the weather there.
Well… it's HOT!
Every year, it's been crazy hot — so pack your thinnest and breeziest attire.
I've found that a thin undershirt layer, with a white long-sleeve layer on top, is cooler than riding in a t-shirt. White, because it reflects rather than absorbs heat. Long-sleeve, to prevent windburn. You can always wet the long-sleeve layer if it's unbearably hot.
The rain storms in Sturgis are brutal — in terms of rain, dark skies, wind, lightning, and thunder. So if you're camping, make sure your tent is secure before you leave it that day — just in case high winds pass through!
---
Sturgis Packing Tips
You definitely want to bring rain gear for your motorcycling riding around Sturgis.
The rain jacket can also double as your windbreaker — because morning and evening temps in Sturgis tend to be chilly.
The only other "unique" thing I can think of to pack is a pair of silicone earplugs. I've used them for years to keep the cold wind out of my ears — during morning and nighttime riding. (I also use them to block out my husband's snoring at night — whether we're at home or traveling!)
The ear plugs, by the way, do double duty as post-partying equipment, because I suspect wearing them is the only way to get any sleep in the campgrounds.
If we want to travel light (just the 2 of us and our gear on 1 motorcycle), then we usually ship a box to our Sturgis hotel ahead of time — filled with the clothes and gear we'll need while we're there.
You can also ship stuff to the downtown Sturgis Post Office. They'll hold any packages for you that are 70 lbs or less each for 30 days. (Make sure you put your return address on the package, just in case you don't actually make it to Sturgis for some reason.)
Our box usually includes:
Anything we couldn't fit on the bike at the last minute
Things we knew we wouldn't need until we got to Sturgis (other people ship their camping gear)
Then, after Sturgis is over, we pack up our dirty clothes and any souvenirs (and t-shirts!) that we bought, and ship it all back home. (We just buy a new empty box for a few dollars at the UPS store. The Post Office has boxes too. There's even a UPS Store booth at the Black Hills Harley-Davidson Store!)
We've shipped our stuff from the UPS Store in Spearfish and from the Post Office in Deadwood. There are plenty of other Post Offices and UPS Stores in the area as well.
If you prefer to wash your clothes while you're at the Sturgis Rally (rather than shipping them home dirty like we do), there's one laundromat in downtown Sturgis, one in Lead, and a few in Rapid City.
Must See Photo-Ops At The Sturgis Motorcycle Rally
In addition to taking fun pictures of the crowds, group selfies of you & your friends, and all of the attractions you visit, here are some of the more unique photos that I'm glad I took at Sturgis:
Crazy Horse Memorial – seeing this close up (yes, we paid the $5 per person to go in) has had a lasting affect on me. It was started in 1948, and it won't be done in our lifetime, but it's a true testament to perseverance, dedication, and devoting your life to something that you're passionate about. We came back for the nighttime Crazy Horse Light Show. You can also take a bus ride to the base of the mountain (at certain hours) and watch them blast the rock (on certain days).
All Roads Lead To Sturgis – a fun sign at the Knuckle Saloon on Main Street
Badlands at sunset – Badlands is a fun drive, but it can get a little monotonous because it's so wide open. Kick things up a notch by riding through Badlands during sunset. At that time, shadows are dancing off the rocks, and the skies are deeply colorful.
Iron Mountain Road/Highway 16A – there are a few places along the way where you can see Mt. Rushmore from unique viewpoints — like in the foreground as you're motorcycling thru a tunnel and through the trees at a roadside pull-off. Those are the types of "hidden gems" that I like to photograph!
Did You Know? Rainbow Curve is the deadliest stretch of road in Sturgis. (If you're taking Highway 14A/Boulder Canyon Road from Deadwood toward Sturgis, after you pass the Boulder Canyon Golf Course, you'll soon see Rainbow Curve. It's 3.3 miles from I-90.)
More Sturgis & Motorcycle Packing Tips
Like this post?

Save it

to read again later… or share with others on Pinterest!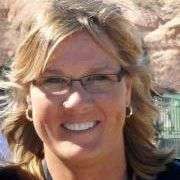 As a lifelong traveler, I like to help people find unique ways to do things that will save time & money — so I write about "outside the box" Travel Hacks that most wouldn't think of. I'm SUPER organized and I love to pack! I've lived in 6 different states (Florida, Indiana, New York, Ohio, Tennessee, and Texas) and have visited every other state in the U.S. — except Hawaii. (Can you say bucket list?) I've been on several different cruises, airplanes, and boats in my life and I currently enjoy the outdoors by bicycling, motorcycling, Jeeping, RVing, camping, or just walking my dogs. My favorite "hobby" is riding on the back of our Harley-Davidson Road Glide traveling cross country — which we usually do at least once each year. We even rode from Tennessee to Alaska once! When I'm not on the road, you will find me at the corner of Good News & Fun Times as publisher of The Fun Times Guide (32 fun & helpful websites).