This post may contain affiliate links. If you buy thru these links, we may earn a commission at no additional cost to you.
---
SteelStacks in Bethlehem, Pennsylvania stands as a tribute to the region's industrial past and serves as the backdrop for a vibrant arts and culture scene today.
I was recently on a road trip through Pennsylvania when I stopped by this hulking landmark.
It's the former home of Bethlehem Steel — one of the nation's largest steel-manufacturing companies.
Bethlehem Steel Stacks History
Today, all is quiet at the old Bethlehem Steel mill, a now-defunct business whose roots dated back to the 1850s and was founded as a new company in 1904. But from 1873 through 1995, countless tons of steel were produced at this site for everything from great ships and tanks to bridges and skyscrapers.
Much of the steel made by Bethlehem wound up in some amazing landmarks you've probably heard about and maybe even visited — including:
The Golden Gate Bridge in San Francisco
The George Washington Bridge in New York City
The Empire State Building in New York City
Madison Square Garden in New York City
Yes, Bethlehem Steel was one of the nation's great bridge and ship builders!
History Comes Alive Here
It's pretty fascinating, walking up along the massive blast furnaces that still stand on the site today, to think about how important this place once was to building the America we know today.
At one time, more than 31,000 people worked here. Today, the blast furnaces are cold and the steel mill is silent — but the story of the Bethlehem Steel company is amazing. If you're quiet enough, you can almost see and hear the ghosts of thousands of men and women proudly operating the red-hot machinery.
A visit to SteelStacks transports you through a serene, haunting, amazing journey into the Lehigh Valley's manufacturing past — a time and place in American history that so many still pine to see resurrected.
While SteelStacks is a popular tourist destination enjoyed by history buffs and photographers, it's also the backdrop for concerts, weddings, art festivals, and many other fun community events and activities.
Here's everything you want to know about visiting and enjoying SteelStacks in Bethlehem, PA…
SteelStacks is a 10-acre campus dedicated to arts, culture, family events, community celebrations, education and fun. Once the home plant of Bethlehem Steel, the second largest steel manufacturer in the nation, the site has been reborn through music and art, offering more than 1,000 concerts and eight different festivals annually. —SteelStacks.org
My Tour Of Bethlehem Steel Stacks
Bethlehem Steel was once one of the largest employers in Eastern Pennsylvania. But after closing the steel plant there in 1995, the company went defunct in 2003. Aside from SteelStacks, the Bethlehem Steel legacy is quietly fading away into America's past.
Even the company's former headquarters building, the Martin Tower, was demolished in 2019 to make way for progress in the Pennsylvania city of Bethlehem. The Martin Tower was built in 1972 and at 21 stories and 332 feet in height was the tallest building in the Greater Lehigh Valley.
Martin Tower - Controlled Demolition, Inc.
Thankfully, the mountainous blast furnaces didn't succumb to a similar fate as the Martin Tower. They still stand tall and proud along the Lehigh River.
My Photos Of The Old Bethlehem Steel Plant
Today, visitors to SteelStacks will find a few relics from Bethlehem Steel's glorious past.
Yes, you've got the iconic abandoned factory standing tall above the 10-acre SteelStacks campus. But there are also a few other things you might not notice at first.
Such as the red, white, and black flag with the Bethlehem Steel logo on it: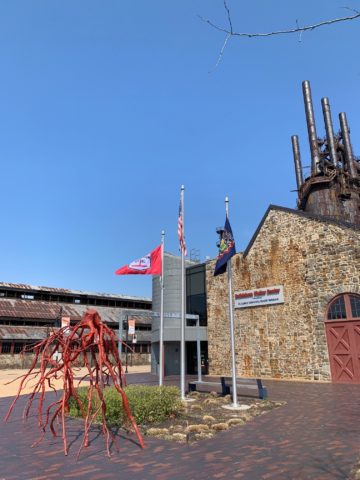 Or the I-beam emblazoned with the words "Bethlehem Steel" near a back door at the visitor center:
Or the many vintage photos and memorabilia inside the visitor center honoring the glory days at Bethlehem Steel:
Keep walking past the Visitor Center from the main guest parking lot and you'll get a closeup of the Bethlehem steel stacks:
Check out how tall these massive furnaces are:
Good golly, look at the size of those pipes:
They appear to have led across the Hoover-Mason Trestle pedestrian walkway and into this long building with several flywheel-driven machines. Think of all the steel products these old relics helped make:
And to operate all of this machinery, Bethlehem Steel needed lots of power. It looks like they used to run power into the steel mill by use of these old towers, which still have power line insulators hanging off them:
This large pipe once ran along several of the furnaces:
Now we're looking down an old catwalk. I wonder what it led to:
Now we're looking down into the bowels of the cathedral-like blast furnace structure. Crazy… I wonder what it was like working down there:
If only those walls could talk:
And check out this adjacent narrow-gauge railroad along the Hoover-Mason Trestle:
The Hoover-Mason Trestle provides a feast for the eyes of photographers who want to get up close to the abandoned Bethlehem Steel factory. And it's also teeming with life throughout the year, as this informational placard explains:
Walk a little further along the Hoover-Mason Trestle and you reach the other end of SteelStacks. Now we're looking back in the direction of where this journey began at the Visitor Center:
Goodbye, Bethlehem Steel
Did you know the song "God Bless America" was played when Bethlehem Steel snuffed out the last heat from the basic oxygen furnace?
This photo and accompanying captions from an information placard on the end of the Hoover-Mason Trestle put a human face on this massive abandoned steel plant:
The photo of those men at Furnace C was taken on November 18, 1995 — the last day of operations at Bethlehem Steel in Pennsylvania. And, it wasn't just the end of the factory, it was the end of an era in the Lehigh Valley. But it probably didn't come as a shock for many. By the late 1970s and early '80s, the writing was on the wall… Steel plants and many of the other manufacturing jobs that people in eastern Pennsylvania had relied on for generations were on the way out.
Ever hear Billy Joel's 1982 hit "Allentown"? So, the title is a shout-out to the neighboring Pennsylvania city of Allentown. But if you pay attention to the lyrics, you'll hear plenty of allusions to Bethlehem Steel and the end to a way of life in the Lehigh Valley:
Billy Joel - Allentown (Official Video)
Things To See & Do At SteelStacks
It's OK to shed a tear for yesteryear while you're here, but turn that frown upside down. New life abounds at the abandoned Bethlehem Steel company site!
The PBS-39 Public Media center stands just across from the heart of the SteelStacks campus:
And SteelStacks hums with art and culture:
While paying homage to the past:
There are many indoor and outdoor venues at SteelStacks where all kinds of events are held throughout the year, including:
Free and ticketed concerts
Comedy shows and workshops
Classes and workshops
Movies and film classes
Dance performances
Yuengling Oktoberfest 5K
Arts and crafts festivals
Family programs
My Tips For Visiting SteelStacks
Planning a trip to SteelStacks?
Here are some good things to know before you go:
Admission to SteelStacks is free, but some of the events are ticketed. Be sure to check out the SteelStacks schedule of events for information on ticket prices and any other fees.
Except for during special events, crowds are normally pretty thin from the late fall through early spring — a good time for photographers to get some great shots of the scenery at the old Bethlehem Steel plant without having to dodge other tourists.
A lot of folks stop by SteelStacks to take photos of the blast furnaces or to check out an event. But don't forget to stop by the visitor center — not only are there great old photos of Bethlehem Steel there, but there's also a short film profiling the history of the company and steel manufacturing in Bethlehem.
Attention, photographers: the Bethlehem Steel blast furnace complex is generally situated in an east-west orientation, with most photo-taking opportunities along the south side of the landmark. For most folks like me who enjoy taking recreational shots, lighting and such aren't really a big deal — but the shadows from some of the metal beams and pipes played some funky tricks on me in getting nice closeups of the abandoned plant in the late afternoon sun. Professional shutterbugs take note… and bring along all the right filters, lenses, and flash bulbs for the job!
What Else Is Nearby?
In addition to touring the Bethlehem Steel blast furnaces, there are many other fun things to do in and around the SteelStacks entertainment and arts campus:
ArtsQuest Center at SteelStacks is a performing arts palace that hosts all kinds of programs virtually each and every day. Located adjacent to the PBS-39 Media Center, there's a cinema, community stage, and art exhibits at ArtsQuest — along with a variety of shops and cafes.
Just a few steps away from the main SteelStacks campus is the National Museum of Industrial History. This Smithsonian affiliate is where you can explore how America was built on the backs of companies like Bethlehem Steel. But it's not just about steel mills — it's about all forms of industry in America.
If you and Lady Luck get along well enough, just a couple blocks away is the Sands Casino Resort. I didn't try my hand at gambling away my meager fortunes, but it looks like a fun place to "steel" some winnings. Sorry for the rusty pun.
Like this post? Save it to read again later… or share with others on Pinterest!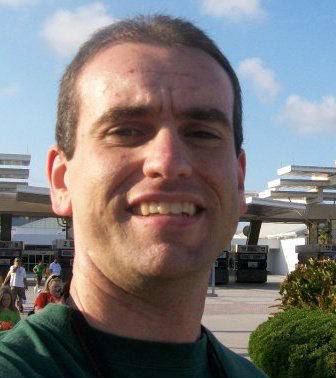 I'm a Florida native, a roller coaster junkie, and a frequent traveler. (Long road trips are my favorite.) Born and raised in Tampa, I grew up visiting Busch Gardens Tampa Bay. I authored the book Busch Gardens Tampa Bay: Images of Modern America, which details the colorful history of the Busch Gardens theme park. As a local historian, I've also written about other popular landmarks and attractions for a variety of publications. Here, on this Travel Guide, I like sharing little-known facts and fun stuff about all the places I've been — so you will have a good idea of what those places are like and what you should know before you go. I especially enjoy helping others plan fun trips… on a budget!