This post may contain affiliate links. If you buy thru these links, we may earn a commission at no additional cost to you.
---
Wow… blast from the past!
After I got an email from Lucie, someone I used to work with at the Gulf Breeze Zoo, I got all reminiscent and decided to The Zoo's website to see what's going on there these days.
To my surprise, The Zoo's website wasn't working.
This is a pretty big deal, as The Zoo was fairly well connected in the world of media & marketing… so for them not to have an active website definitely signaled that something was up.
Some Google searches have shed some light on what's happening at the Gulf Breeze Zoo…
Turns out, The Gulf Breeze Zoo has been through some troubled times, and they're still dealing with a number of challenges at this point.
First and foremost, they changed their name from The Zoo at Gulf Breeze to The Zoo Northwest Florida, then back to The Gulf Breeze Zoo.
Here are some pictures from The Gulf Breeze Zoo.

 
For the record, I left The Gulf Breeze Zoo in the year 2000. (This is what people were saying about The Zoo back then.)
But it certainly does my heart some good to learn that those I was closest with have gone on to pursue the things they are most passionate about — while still remaining grounded in Zoo life.
Pat Quinn (my former boss who is still listed as "founder and director emeritus of The Zoo in Gulf Breeze, Florida") is continuing his great wildlife tours in Africa, Peru, and the Galapagos Islands. It's something he's been doing for over 30 years. He's also on the board of directors for the Zoological Association of America.
This is a photo that Pat and Donna Quinn sent me as a Christmas card one year. They were enjoying one of their many safaris!
Jean Benchimol (Assistant Director of The Zoo when I was there) is now the Director at the Capron Park Zoo. And she's still leading safari tours all over Africa, Costa Rica, the Galapagos Islands, Madagascar, Ecuador, Peru, and Venezuela.
I'm certain that if Jean ever saw this photo, she'd be cussing me because she hated having her picture taken. You can't even find pictures of her on her own Zoo's website… That's why this one's so classic!
UPDATE: I got an email from Jean soon after I wrote this post. All is well in Jean's world. Her thoughts on the above photo: "You are right… I hate that picture. But thanks for thinking about me…" Jean and I have since connected on Facebook.
Lucie Easley (a staff member at The Zoo) shared "joint custody" of Kera with Jean Benchimol when it came to taking Kera home at night when she needed round-the-clock care.
Today Lucie is volunteering at the Center For Great Apes, a chimp and orangutan sanctuary in Central Florida. That is, when she's not at work for the Navy in Pensacola.
UPDATE: See comments below.
Susi Robichaux (who did Marketing & PR for The Zoo) is another co-worker from the zoo that I'd love to touch base with. I've wondered for years where Susi ended up after leaving The Zoo at Gulf Breeze.
I trust that she's enjoying a lucrative career in marketing these days. Susi… I'd love to hear from ya.
UPDATE: Susi and I have since connected on Facebook. Yep, she's still in marketing!
More Animal News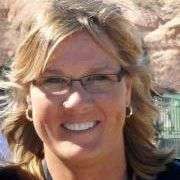 As a lifelong traveler, I like to help people find unique ways to do things that will save time & money — so I write about "outside the box" Travel Hacks that most wouldn't think of. I'm SUPER organized and I love to pack! I've lived in 6 different states (Florida, Indiana, New York, Ohio, Tennessee, and Texas) and have visited every other state in the U.S. — except Hawaii. (Can you say bucket list?) I've been on several different cruises, airplanes, and boats in my life and I currently enjoy the outdoors by bicycling, motorcycling, Jeeping, RVing, camping, or just walking my dogs. My favorite "hobby" is riding on the back of our Harley-Davidson Road Glide traveling cross country — which we usually do at least once each year. We even rode from Tennessee to Alaska once! When I'm not on the road, you will find me at the corner of Good News & Fun Times as publisher of The Fun Times Guide (32 fun & helpful websites).