This post may contain affiliate links. If you buy thru these links, we may earn a commission at no additional cost to you.
---
The United States is one of the greatest nations for visiting amusement parks. There are so many to visit here!
I should know, as I've visited many of them in several states and love each amusement park for different reasons.
I live in Florida, a state that is the home of Orlando — the Theme Park Capital of the World.
So, as you've probably guessed, I visit many of the local amusement parks on a fairly regular basis.
Let me say for the record that I love the Orlando parks, including:
As well as a host of others
However, there are also many other great amusement parks in the United States. And that's why I wanted to share a list of some of the best in the nation aside from those located in Orlando, Florida.
7 Top Amusement Parks
According to the International Association of Amusement Parks and Attractions (IAAPA), there are some 400 amusement parks and attractions in the United States ranging in size from mom & pop operations in small towns to large theme parks on the scale of Walt Disney World.
Each amusement park offers it own brand of entertainment. Some cater to young children and families while others pursue thrill seekers. Others try to appeal to the masses, offering a little bit of everything.
If you're hoping to plan a trip to an amusement park soon but aren't sure which one to choose, my list of 7 great amusement parks below can help.
I know, I know… there are many, many great amusement parks that are not on this list below.
So, what's my criteria for determining why these are the 7 amusement parks you've got to visit? My picks are based on:
My personal experience
Awards these amusement parks have won
Their historical or cultural importance
Check out this list of 7 amusement parks and let me know if you agree. Please tell me… What are your top picks? Here are mine:
#1  Cedar Point – Sandusky, Ohio
Deservedly dubbed the roller coaster capital of the world, Cedar Point has 17 roller coasters — many of which currently hold records, or once did.
Some of the iconic roller coasters at this award-winning amusement park include:
Cedar Point is open during the standard amusement park summer season.
They also host HalloWeekends, which occurs on select nights throughout September and October.
#2  Lake Compounce – Bristol, Connecticut
Opened in 1846, Lake Compounce is the oldest continuously operating amusement park in the United States. It sprawls across 332 acres.
There's plenty to see and do at this historic amusement park, including these 3 roller coasters:
Wildcat, a wooden roller coaster that was built in 1927
Boulder Dash, a unique wooden roller coaster built entirely on the side of a mountain
Zoomerang, a boomerang-style roller coaster that inverts riders a total of 6 times while subjecting them to 120-foot drops
There are more than 40 other rides and a host of shows and attractions for guests of all ages.
Lake Compounce is open May through December.
#3  Busch Gardens – Williamsburg, Virginia
Busch Gardens Williamsburg opened in 1975 and has been for decades named America's Most Beautiful Theme Park, according to the National Amusement Park Historical Association.
Not only does Busch Gardens Williamsburg feature an enchanting Old World Europe theme, but it is set on nearly 400 gorgeous acres of rolling terrain.
It also boasts several great roller coasters, including:
Loch Ness Monster, which features the first and now only interlocking vertical loops
Apollo's Chariot, built in 1999, still ranks among the best roller coasters in the United States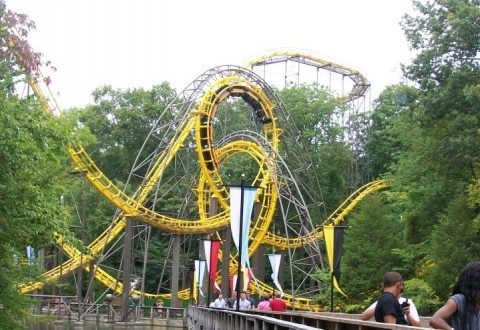 Busch Gardens Williamsburg is open continuously during the traditional summer season and also hosts Howl-O-Scream and Christmastown during select days from September through December.
#4  Busch Gardens – Tampa, Florida
A sister park of Busch Gardens Williamsburg is Busch Gardens Tampa.
This African-themed, year-round park opened in 1959 and is the older of the 2 currently operating Busch Gardens parks.
In addition to being a sanctuary for hundreds of exotic, rare, and endangered animals, Busch Gardens Tampa is the home of dozens of thrill rides, roller coasters, and attractions including:
Like its Williamsburg sister, Busch Gardens Tampa offers Howl-O-Scream and Christmastown.
#5  Six Flags Magic Mountain – Valencia, California
Rising above Valencia, California are the steep hills and terrifying loops of the roller coasters at Six Flags Magic Mountain. This 262-acre amusement park opened in 1971.
In 1976, Magic Mountain opened Great American Revolution (now just Revolution), which is the first modern roller coaster to feature a vertical loop.
Today, Revolution is just one of 18 roller coasters — currently the most roller coasters at any single theme park in the United States.
Magic Mountain operates on a full summer schedule and is open on select days during the rest of the year for events such as Fright Fest and their Christmas-season Holiday in the Park.
#6  Kennywood – Pittsburgh, Pennsylvania
Kennywood is a classic American theme park that opened in 1898. It still has structures that were built in the early 1900s.
It's one of the most iconic amusement parks in the United States, having become designated as a U.S. National Historic Landmark in 1987.
Three of the 6 roller coasters at Kennywood were built in the 1920s. These include:
Today, Kennywood is home to a wide range of attractions, including high-speed modern roller coasters, family rides, shows, and restaurants.
The park is also famous for its Nationality Days and Community Days, which are annual events celebrating the diverse cultures of Pittsburghers including:
Italian Americans
Polish Americans
Hungarian Americans
Irish Americans
Croatian Americans
Greek Americans
And many others
Kennywood also hosts Phantom Fright Nights during the Halloween season.
#7  Dollywood – Pigeon Forge, Tennessee
Located in the Great Smoky Mountains is Dollywood, an amusement park named for the entertainment icon Dolly Parton.
The park opened in 1961 and was called Silver Dollar City before being renamed Dollywood in 1986.
Expanding from humble roots, Dollywood is now a 290-acre entertainment and resort complex that attracts 3 million visitors each season.
Dollywood consists of a water park and a theme park with 7 roller coasters, including:
Wild Eagle, which is America's first wing roller coaster
Thunderhead, a massive wooden roller coaster situated between 2 mountains that's referred to as the wildest ride in the woods
Both Dollywood parks are open from March through December.
Before You Visit An Amusement Park…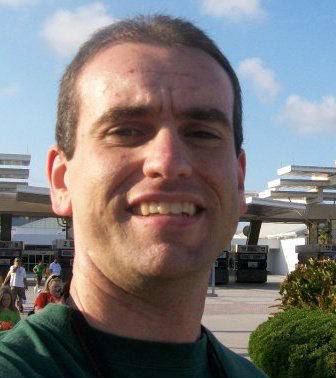 I'm a Florida native, a roller coaster junkie, and a frequent traveler. (Long road trips are my favorite.) Born and raised in Tampa, I grew up visiting Busch Gardens Tampa Bay. I authored the book Busch Gardens Tampa Bay: Images of Modern America, which details the colorful history of the Busch Gardens theme park. As a local historian, I've also written about other popular landmarks and attractions for a variety of publications. Here, on this Travel Guide, I like sharing little-known facts and fun stuff about all the places I've been — so you will have a good idea of what those places are like and what you should know before you go. I especially enjoy helping others plan fun trips… on a budget!