This post may contain affiliate links. If you buy thru these links, we may earn a commission at no additional cost to you.
---
Maps and luggage are the 2 main things that could be deal-breakers for any multi-day motorcycle trip.
You have to know where you're going, and you have to get a minimal amount of stuff there.
Following are all of the other things that should be on your motorcycle trip checklist…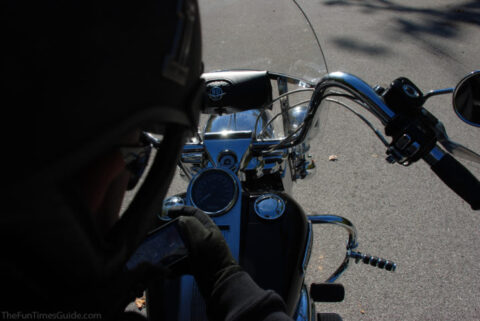 How We Packed For Our First Motorcycle Trip
Since we were staying in hotels (rather than camping) on our first long-distance motorcycle ride, Jim and I were more than happy to leave some of the "extras" behind on this trip if we needed to. But, as it turned out, we didn't need to!
Not wanting to spend much money on our very first multi-day motorcycle trip, I did my darndest to squeeze just the bare necessities into our 2 saddlebags (which are not nearly as large as I initially thought) and 1 crossbody purse-type bag that I was willing to wear in order to tote all of the smaller odds & ends (toiletries, maps, phones, camera, etc).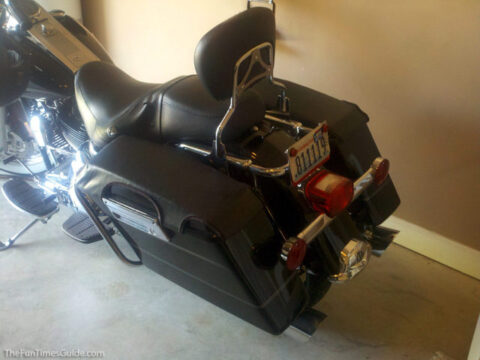 I believe we quite possibly could have done it — with each of us wearing the same pair of jeans all 4 days and by limiting other things. Fortunately, I didn't have to prove it.
At the last minute, we decided that a quick trip to the nearby Harley store to get some real motorcycle luggage made more sense. Cha ching! But we both agree it was the best money we've spent toward motorcycling so far.
Best Motorcycle Luggage
We got this Harley-Davidson Touring Bag and we absolutely love it!
Here's why:
It's got zippered expandable sides — to hold souvenirs & all of that poorly packed "stuff" that gets tossed in the bag by the end of the trip.
It's got 3 large zippered compartments, plus 2 smaller mesh compartments — to hold items of all sizes. (The zippers are heavy-duty, they open very smoothly, and the zipper pulls are large enough for gloved fingers.)
It comes with a detachable water-resistant cover — in case it starts raining. (The zipper seams are waterproof too.)
It's got reflective piping on the front and sides — every little bit helps you be seen by other drivers that may be crossing your path!
It has a huge elastic/spandex band (or pocket) that goes over the sissy bar to keep the bag in place on your luggage rack — which makes mounting and removing the bag a cinch. (Plus it has 2 snap-clips and 2 velcro bands for extra security.)
It's got lots of rings so you can strap on (or clip on) extra bags, packs, and doo-dads. (We didn't need them on this trip, but we took bungee cords along just in case.) TIP: Never strap one piece of luggage to another — they must always be attached to something solid on the bike instead.
It's super-duty, yet lightweight. It seems incredibly durable and rugged, yet light enough to carry up stairs to your hotel room. (Believe it or not, they also make motorcycle luggage with wheels and a roller-handle just like regular luggage.)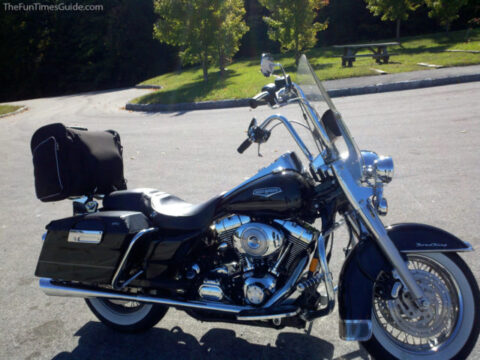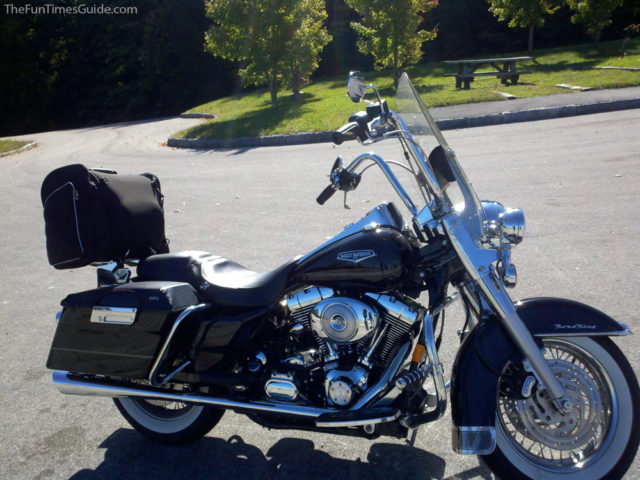 What To Pack In Your Saddlebags
Initially, we had planned to get some Harley saddlebag liners for the bike. Other people speak very highly of them — because they're the quickest and easiest way to get what's inside your saddlebags to your hotel room (or wherever you're staying).
TIP: Be sure to pack all of your items in the saddlebag liners while they are already situated inside your saddlebags. Otherwise, they'll never fit if you try to stuff them in after you've packed them!
If we hadn't purchased the luggage bag for the seat back / sissy bar, we probably would have bought the saddlebag liners. But now that we have the big luggage bag, the saddlebag liners aren't really a necessity for us any longer — especially since the things we keep in there (all the time, including on multi-day trips) aren't the type of things that we need to take into the hotel (or cabin, or tent) with us.
We use our saddlebags to hold these things:
2 rainsuits (we each have a Firstgear Rainman jacket and Firstgear Rainman pants which have heat-resistant material from the knee to the ankle — highly recommended!)
2 heated jackets (1 for each of us) and 2 pairs of gloves (while we each have summer gloves and winter gloves, we also want a pair of waterproof gloves eventually)
1 motorcycle cover ( invaluable at keeping the morning dew off your seat and handlebars)
2 water bottles
1 baseball cap (so I can enter public places with messy hair; not necessary for Jim… he's bald)
2 microfiber cleaning cloths for dusting the bike
1 tool set
1 small ziploc freezer bag filled with first aid type stuff (bandaids, neosporin, tweezers, benadryl, aspirin, wet wipes, etc.)
Motorcycle Checklist For Multi-Day Trips
Before deciding exactly what to pack for our first long distance motorcycle trip, I consulted with a number of friends who ride — as well as experienced riders on motorcycle forums — in order to create a first draft of the ultimate motorcycle checklist that I planned to use and revise over time.
Then, after we returned home, I fine-tuned that list by adding and subtracting some things — now that I knew for sure what we really need on multi-day rides and what we don't.
Here's what our long distance motorcycle checklist looks like now (in addition to the items in our saddlebags, mentioned above)…
These are the bare necessities on a motorcycle trip:
Make sure the bike is in good shape – check brakes (plenty of brake pad before you leave), check tires & shocks (air pressure), clean windshield (RainX will keep bugs from sticking and rain will bead off). Here's how to do your own bike safety inspection.
The givens – ID, cash, insurance & roadside assistance info, motorcycle key, phone/camera/charger, maps/directions, sunglasses & rain/night goggles, luggage, helmet, gloves, riding shoes, and clothing worn on the first day.
Clothing (packing light) – take 1 extra pair of pants, 2 or 3 changes of shirts (consider layering them & switching up the layers on different days), socks can be worn 2 days each, change underwear daily, something to sleep in, and a jacket.

Depending on the length of your trip, you may need to do laundry. If so, consider packing your own powdered laundry detergent in ziploc bags or taking small sample sizes which will be cheaper than buying detergent on-site. UPDATE: While I've heard great things about using laundry sheets on the road, I take laundry pods and a roll of quarters.
Take the smallest/thinnest garments that compress the best. (Polyester is your friend on the road! It's lightweight, packs small, and dries quickly!) Ziploc bags keep clothes dry and organized — especially socks, undies, sleepwear.
When buying new garments, consider Under Armour and similar garments with wicking properties. It works wonders in summer and winter temps — plus it's thin, light, and packs small.
3 thin shirts are warmer, lighter, and more flexible than 1 thick hooded sweatshirt. In cool summer temps, a fleece vest or pullover keeps you "warm" without making you "hot" and is easy to layer.
Your rain jacket (kept in the saddlebag) can be your go-to jacket for nighttime rides and whenever temperatures drop a bit. In the winter, pack an extra fleece jacket as well as warm gloves and a neck warmer.

Headwear – ponytail holders, skull cap (to wick sweat in summer, keep warm in winter), bandana (to keep bugs off your face at high speed, mild warmth in cool temps), headband (to keep flyaways from slapping you in the face). UPDATE: I used to wear basic wide elastic headbands, but now I prefer That's A Wrap headbands!
Tools – adjustable wrench, allen wrenches, screwdriver (to remove the seat), portable air compressor, and other motorcycle tools
Notepad & pen – I use a small leather flip notepad with pen that fits in the palm of my hand to jot turn-by-turn directions when we don't use a pre-printed route
Toiletries (hotels have shampoo & soap) – toothbrush, toothpaste, deodorant, comb/brush, lotion for dry skin, chapstick for dry lips, kleenex travel pack (or just tuck a couple of them somewhere on the bike)
Prescription meds – anything you regularly take, as well as a couple of ibuprofen and cold tablets just in case (I toss a few ibuprofen and cold tabs into my prescription pill bottle, rather than taking separate bottles/packages of meds on the trip.)
Extra bags – ziploc bags, plastic shopping bags & 1 larger garbage bag (to keep things organized and dry if rain enters the forecast, and to use for dirty laundry)
How to pack for a motorcycle trip, Part Two
Here are a few additional tips and things worth considering before you go on your first long-distance motorcycle ride.
And I recently created this list of 20 things you might not think to pack.
We have lots more fun Motorcycling Tips & Adventures and an awesome Motorcycling Pinterest Board with unique ideas, tips, and motorcycle pictures from around the web!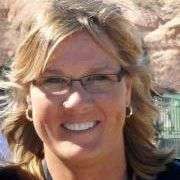 As a lifelong traveler, I like to help people find unique ways to do things that will save time & money — so I write about "outside the box" Travel Hacks that most wouldn't think of. I'm SUPER organized and I love to pack! I've lived in 6 different states (Florida, Indiana, New York, Ohio, Tennessee, and Texas) and have visited every other state in the U.S. — except Hawaii. (Can you say bucket list?) I've been on several different cruises, airplanes, and boats in my life and I currently enjoy the outdoors by bicycling, motorcycling, Jeeping, RVing, camping, or just walking my dogs. My favorite "hobby" is riding on the back of our Harley-Davidson Road Glide traveling cross country — which we usually do at least once each year. We even rode from Tennessee to Alaska once! When I'm not on the road, you will find me at the corner of Good News & Fun Times as publisher of The Fun Times Guide (32 fun & helpful websites).