This post may contain affiliate links. If you buy thru these links, we may earn a commission at no additional cost to you.
---
Longwood Gardens in Kennett Square, Pennsylvania has long been on my list of must-see attractions near Philadelphia. I finally had a chance to visit!
Longwood Gardens is one of the nation's oldest, largest, and most popular botanical gardens.
Founded in 1906 by the Du Pont family (of industrial fame) and covering nearly 1,100 acres, Longwood Gardens attracts more than 1 million visitors each year.
Guests come in droves — not just because of the stunning array of horticultural diversity and beauty of the gardens year round, but also for the wide range of special events hosted by Longwood Gardens each year:
Flower shows
Gardening demonstrations
Carillon recitals
Horticultural and performing arts events
Christmas light displays
Horticultural courses
Kids classes and events
I happened to be visiting the Philadelphia area for work and had an extra day to myself — so this was my chance to finally check out Longwood Gardens.
It was early April. The daffodils were up, cherry trees were in full bloom, and lilacs were showing vibrant color.
What better time of year to pay my first visit to one of the nation's most beautiful botanical gardens?
Directions To Longwood Gardens
Located just 30 miles from Philadelphia, Longwood Gardens is open year round.
The gardens are open 365 days a year, but the best times to visit are either mid-April through mid-October or during the holiday season. Christmas is a magical time to visit Longwood Gardens. ~Uncovering PA
For your GPS, the address for Longwood Gardens is:
1001 Longwood Road
Kennett Square, PA 19348
Driving to Longwood Gardens is pretty easy. Getting there isn't bad during most weekends and anytime before or after regular weekday rush hour traffic.
Here are parking tips and driving directions to Longwood Gardens.
My Tips For Visiting Longwood Gardens
I spent a good 4 or 5 hours at Longwood Gardens — and I would've stayed longer if I didn't have to get back to tend to a couple of work duties that popped up on my phone during the day. (Remember, this was a business trip I was on!)
Fortunately, Longwood Gardens offers memberships with year-round complimentary admission. And as it turns out, a lot of the folks who where there on the day I was are regulars who visit the gardens throughout the year to enjoy the various events and watch the 4 seasons colorfully play out.
Good to know before you go to Longwood Gardens
Get there in the morning — That's when butterflies, birds, and other wildlife are out doing their thing.
Don't be shy — I love history and gardening, and this place is the nexus of both. I really enjoyed talking with some of the gardeners and other staff onsite and asking them questions about this and that. They seemed perfectly happy to answer my questions and chat with me.
Get a map and prioritize what you want to see and do — If you hike quickly, you can see a lot in one day. But if you'd rather stop and smell the roses (See what I did there?), then you're only going to have enough time in one visit to see or do a few things. This Longwood Gardens map will help you plan your time there.
Plan your trip to Longwood Gardens according to the weather — I visited on a mild day, but I wouldn't want to have gotten stuck out in the meadow during a summertime thunderstorm. Longwood Gardens is a big place, so if the weather is changeable on the day of your visit, make sure you have a poncho or umbrella handy for the rainier days, a cardigan or sweater for those cooler spring and autumn days, and plenty of money for hot coffee or cocoa on cold winter days!
Wear sunscreen — The weather was mild (high temps around 60 degrees) during my trip, but the sun was really beating down on me, especially when I was walking the meadow trail. I didn't get burned because the sun was lower in the sky. But summertime? Ooof… I would've been a tomato!
Get a Longwood Gardens membership — It's a great way to support this Pennsylvania landmark and receive free admission and privileges to special events. There are various types of memberships available at many affordable price points. If I move to the Philadelphia area (or spend more time in the region), I'm going to become a member.
Plan ahead for Longwood Gardens events — If you're visiting to attend a concert or other special event, it's best to check the website to see if there are separate charges, mandatory reservations, or other special requirements. Many of their special events are booked way in advance!

Photos Of Longwood Gardens
I happened to have Monday free, so I decided to go then. I figured that being a weekday, there would be fewer people than if I went on a weekend day.
I arrived at 10 a.m. and was surprised to find the main parking lot seemed nearly half full. This place was hopping… early!
I bought my ticket, got a map, and then made my way through the guest entrance building — walking into a beautiful courtyard area surrounded by trees, grassy open areas, and lots of smiling faces.
On this day, it seemed that most of the people visiting were young families and seniors. But there were a few others there by themselves and in their 30s like me. So Longwood Gardens clearly draws a diverse array of people.
My first stop was the conservatory…
Conservatory Photos
This large building in the back of the gardens is one of the world's largest and grandest greenhouses — with more than 4,500 types of plants and trees.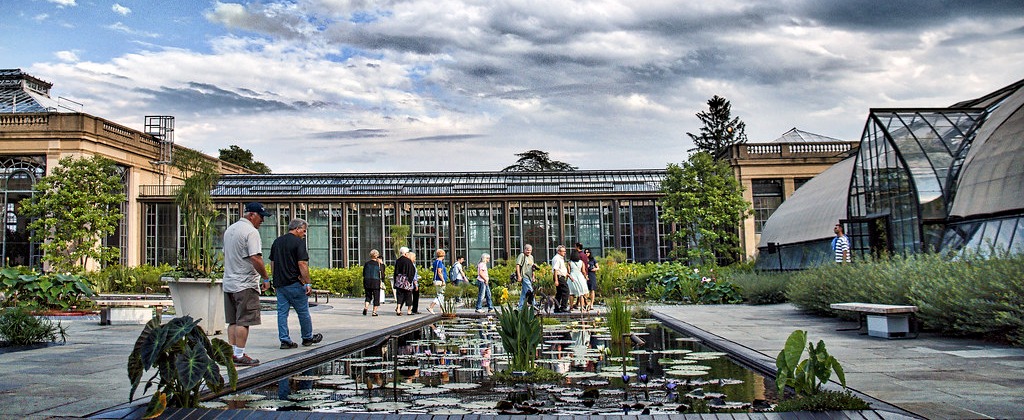 I wove my way through the conservatory, filled with themed room after themed room of plant species from all over the world.
The collection of bonsai trees is beyond anything I've ever seen before. So many types. So many sizes. Some only a few years old, others more than a century old. Crazy!
Here's a glimpse of one very small part of the bonsai collection in the Longwood Gardens conservatory…
Next, there's the palm room — a room that feels particularly warm and humid! And the glorious East Conservatory — one of my favorite rooms in the entire place!
Chimes Tower Photos
Next on my list was the carillon tower. Chimes Tower is a 61-foot-tall landmark that Pierre du Pont built in 1929.
I love carillon towers… There's something beautiful about the warm sound of bells chiming out pretty music and classic tunes.
And you don't have to wait long before you get to hear the bells ring out the time or play short tunes throughout the day. Longwood Gardens even hosts carillon concerts!
What's neat, too, is getting to walk inside the tower. There's a cool spiral staircase that takes you halfway up the tower to a landing at the top of an adjacent hill. And you can even ring a small carillon bell — the type that rings out music at Longwood Gardens.
Photos Of The Fountains
The conservatory and carillon tower are 2 of the main landmarks at Longwood Gardens. But this Pennsylvania attraction has also made a name for itself with the many fountains throughout the garden.
As it happened, the Longwood Gardens fountains were dry during my visit. It was, after all, a weekday and sort of in-between seasons. So now I've got yet another reason to return to Longwood Gardens — to see those fountains!
View the Longwood Gardens Fireworks & Fountains schedule.
Even without the fountains operating, the Italian Water Garden (one of the big draws at Longwood) is beautiful.
Here are some photos from others who've seen the Longwood Gardens fountains in operation:
Meadow Garden Photos
One of the more recent additions to Longwood Gardens is the meadow garden. This 86-acre space, which opened in 2014, showcases a natural landscape and demonstrates how plants, people, wildlife, and landscape co-mingle.
Here's my Spring pic of the meadow garden:
And here's a Fall pic of the meadow garden:
The meadow garden is a unique space at the Pennsylvania gardens — which is otherwise largely a mixture of formal spaces.
This rolling terrain has a trail running roughly along the perimeter of the meadow. Along the path is a treehouse, pollinator garden, and meadow house with artwork and photography celebrating the biodiversity of the garden.
Du Pont House Photos
The home of Joshua Peirce was built in 1730. It's the oldest structure at Longwood Gardens.
This stately Federal-style home has been expanded and remodeled many times. Pierre du Pont bought the home from the Peirce family in 1906 and soon remodeled the home. In 1914 he modified part of the home with the construction of a conservatory — the first built at the Longwood Gardens.
I really enjoyed touring the home, which is decorated much as it would have been while du Pont was living here during the first half of the 20th century.
Other Things To See At Longwood Gardens
Longwood Gardens is filled with SO many nooks and crannies…
The topiary garden near the main conservatory is a wonderment for the eyes!
The Canopy Cathedral near the Italian Water Garden is a feast for the soul… and you can even go up inside!
The Bottom Line
Longwood Gardens is the kind of place I wish I lived closer to.
I'd certainly bring friends, family, and visiting relatives here if I resided in the Philadelphia area.
I can't wait to go back to see these botanical gardens during the fall and at Christmas! (The awe-inspiring Longwood Gardens Christmas show takes place from November through January each year — it always sells out.)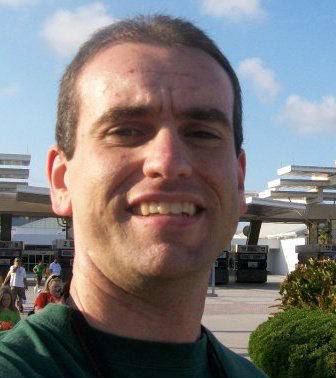 I'm a Florida native, a roller coaster junkie, and a frequent traveler. (Long road trips are my favorite.) Born and raised in Tampa, I grew up visiting Busch Gardens Tampa Bay. I authored the book Busch Gardens Tampa Bay: Images of Modern America, which details the colorful history of the Busch Gardens theme park. As a local historian, I've also written about other popular landmarks and attractions for a variety of publications. Here, on this Travel Guide, I like sharing little-known facts and fun stuff about all the places I've been — so you will have a good idea of what those places are like and what you should know before you go. I especially enjoy helping others plan fun trips… on a budget!