This post may contain affiliate links. If you buy thru these links, we may earn a commission at no additional cost to you.
---
On our multi-day motorcycle trip to East Tennessee and Western North Carolina, we used this map of Scenic Road Trips in the Smoky Mountains all 4 days.
It really made planning our daily motorcycle routes a breeze!
Technically, this map is considered "Part 1" of the Southeast Regional Scenic Touring Maps series by Mad Maps.
Why We Like Mad Maps For Motorcycle Trip Planning
This one map covers 4 popular motorcycle riding areas:
Middle and East Tennessee
Western areas of North Carolina
Northern areas of Georgia
Most of Kentucky
…and includes turn-by-turn directions for a number of motorcycle loops in each of those areas.
Thank goodness it's water-resistant and tear-resistant — because this is one map that we will be using over and over again on future motorcycle trips to East Tennessee and North Carolina.
We used to drive there in our Jeep Wrangler at least twice a year, but now we look forward to exploring the same areas — and more — on our Harley.
Other Motorcycle Maps We Use A Lot
In addition to this Smoky Mountains map, we also have the Southeast Part 4 Map: Indiana, Illinois, Tennessee & Kentucky by Mad Maps.
Soon, we'll be adding the Southeast Part 3 Map: The Carolinas to our collection, as well.
And I'm sure we'll eventually be getting a few of the MadMaps Harley maps too — like this Route 66 Harley Davidson Great Roads Map and a few more.
Mad Maps also has an app with 975 of the best motorcycle rides in the U.S.
You can bet the next time we make our way to North Carolina / East Tennessee on our motorcycle, we'll definitely be referring to these Tail of the Dragon maps. (Here are some photos from our motorcycle trips to ride the Dragon.)
In addition to the Mad Maps mentioned above, Butler motorcycle maps and America Rides Maps are also very good. I'd especially like to check out the America Rides Maps for motorcycling around the Smoky Mountains.
NOTE TO SELF: Here's where you can find them while out on the road.
How To Create Custom Motorcycle Maps
Looking for the best motorcycle trip planner? Us too!
Before we left home, we wanted to create custom motorcycle routes that incorporated only portions of some of the loops we found on the Smoky Mountains map — so we could plot our own unique route from Middle Tennessee into East Tennessee.
We spent a couple of hours researching, exploring, and experimenting with a few mobile apps and online programs. While it's clear that you can plot your own routes using Google Maps, unfortunately there is no way to get voice-guided turn-by-turn directions using a custom map at this time. (They say that this will be probably be available soon!)
Here's how to plan and follow a Google Maps route on motorcycle with your phone.
Here are some good sites for finding (and plotting) your own motorcycle rides:
Another great site for planning motorcycle routes is Best Biking Roads. They have a mobile app too. This video shows how the app works on an Android phone:
BestBikingRoads.com : Android Motorbike Rides App Best Biking Roads (v1.2)
My Thoughts About Motorcycle Map Holders…
Carrying and reading the motorcycle maps is a whole other issue.
There were several times on our multi-day motorcycle trip that I wish Jim had been able to glance at the map while we were stopped at lights or pulled over on the side of the road.
However, for the first 2 days of our trip, we kept the map in the outside zipper pocket of our luggage bag (yep, behind us… on top of the tour pack). So we had to stop, and I had to get off the bike each time we wanted to check the map — which was a pain. But I wasn't wearing a jacket, and I didn't really have anywhere else to keep the map while we were riding.
During the times when I was wearing a jacket, we folded the map such that only the portion we were interested was visible and then tucked that into my jacket's chest pocket. This was also somewhat of a pain for me to retrieve the map each time we had a question about a turn — because the map is paper and paper maps tend to unfold and flutter in the wind! (Not to mention the fact that I had to wear my eyeglasses the entire day just so I could read the map if we should have a last-minute question about a turn.)
A better solution for us would be one of 2 things:
A way for me to carry the map while on the bike — folded compactly in such a way that I could read the portion we're most interested in — without worrying about the map flying out of my hands or coming unfolded.
A way for Jim to glance at the map without either of us having to get off the bike, and without having to worry about the map coming unfolded or flying away. Again, being able to fold the map in such a way that he could read the portion we're most interested in at the time.
Based on our frustrations with unfolding, refolding, and keeping maps from flying away on the motorcycle, the following motorcycle map holders might be worth considering — because they're made specifically for motorcycles! These motorcycle map holders adhere to the bike's gas tank with super-strong magnets:
I've also considered making my own pocket map holder using a sturdy see-through plastic/vinyl sheet of some sort. I'm thinking along the lines of a really thick clear page protector — similar in size to those used in day planners.
TIP: On this particular trip, I sometimes used an app called CamScanner to take a photo of the exact portion of the map we were most interested in for that particular leg of the trip. That way, we could just zoom in to the "photo" of the map that was stored on our phone in order to see things on the map even closer while we were on the bike. The app produces higher quality and more detailed images than a typical camera app. It basically turns your phone into a photocopy scanner and creates images as PDF's which you can then save, share, or upload to the cloud.
Other Good Motorcycle Apps
My final tip is to take a few minutes before you even leave home to store some important apps (and links to certain sites' homepages) as shortcuts on your mobile phone.
In addition to the CamScanner app mentioned above, these are the apps we use the most on long motorcycle trips:
We have lots more fun Motorcycling Tips & Adventures and an awesome Motorcycling Pinterest Board with unique ideas, tips, and motorcycle pictures from around the web!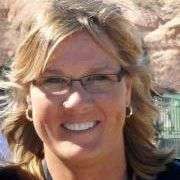 As a lifelong traveler, I like to help people find unique ways to do things that will save time & money — so I write about "outside the box" Travel Hacks that most wouldn't think of. I'm SUPER organized and I love to pack! I've lived in 6 different states (Florida, Indiana, New York, Ohio, Tennessee, and Texas) and have visited every other state in the U.S. — except Hawaii. (Can you say bucket list?) I've been on several different cruises, airplanes, and boats in my life and I currently enjoy the outdoors by bicycling, motorcycling, Jeeping, RVing, camping, or just walking my dogs. My favorite "hobby" is riding on the back of our Harley-Davidson Road Glide traveling cross country — which we usually do at least once each year. We even rode from Tennessee to Alaska once! When I'm not on the road, you will find me at the corner of Good News & Fun Times as publisher of The Fun Times Guide (32 fun & helpful websites).