This post may contain affiliate links. If you buy thru these links, we may earn a commission at no additional cost to you.
---
I love to explore waterfalls and check them off my bucket list — any time I can find someone to hike with me. In my younger years, I would attempt any adventure on my own without hesitation. But it's different now that I have my toddler son with me every step of the way.
On one of his days off, my husband agreed to join me on a hike to Spruce Flats Falls last summer. This was during a time when my son would still ride in his baby hiking carrier.
If you've got a toddler, here's my review of the Osprey Poco Child Carrier vs. the Kelty Pathfinder Hiking Baby Carrier.
With so many waterfalls in our area to choose from that we have yet to see, there are still a few favorites that I want to re-visit — and this is definitely one of them!
Where Are Spruce Flats Falls?
Spruce Flats Falls is located in the Great Smoky Mountain National Park, which is only 6 miles from Townsend, Tennessee (where we like to go tubing).
Spruce Flat Falls is actually not on any official park map — but it still gets a fair share of all the Great Smoky Mountain visitors. I discovered Spruce Flat Falls by using the AllTrails app, and I was thrilled to find that it's only 30 miles from my house!
My husband and I have driven through the Great Smoky Mountain National Park several times. Plus, even more times on our motorcycle trips. We were quite surprised at the location of the trailhead — because it took us down a road we had never been down, even though we had passed that road many times before.
Directions To Spruce Flats Falls

Coming from Townsend, TN:
At the "Y" intersection, turn right on Laurel Creek Road (heading towards Cades Cove).
Shortly after that, make the first left and follow the signs towards the Great Smoky Mountains Institute at Tremont.
Drive another couple of miles, and then make a left towards the Institute.
There is a bridge to cross before entering a small parking area. (The parking area also has a restroom and a gift shop / information center.)
From the parking area, walk up the gravel road a short distance and turn left just before reaching the large dormitory building. (Thankfully, there are signs to help show the direction, too.  The trailhead is located just a short distance from the building.)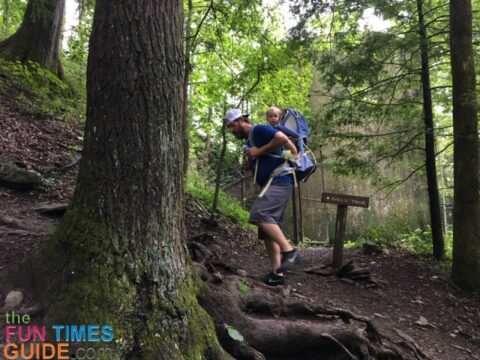 Hiking Spruce Flats Falls Trail
The hike to the waterfall definitely requires some effort.
It's almost a 1.5-mile round trip, with ascending and descending parts.
The hike is rated as "moderate" — because some portions of the trail are rocky and progressively steep. There are also uneven, exposed tree roots.
It probably took us 30 minutes to hike to the falls carrying my son in his hiking carrier.
We reached the highest point at about a half-mile in (towards the falls on the trail).
From there, the trail started descending towards the falls.
TIP: The steep ups and downs are something to keep in mind if you plan to hike the trail with younger kids or someone with walking issues. When the trail goes down, it becomes more rugged and rocky.
The thought of the difficult hike back crossed our mind several times, as we got closer to the falls. But in the end, the scenic trail and picturesque waterfall — with the bonus swimming hole — is definitely worth the trip!
Hiking to Spruce Flats Falls - Great Smoky Mountains - Feb 2018
Viewing The Spruce Flats Waterfall
The overall waterfall cascades down the hill in multiple (separate) tiers.
It has a 30-foot drop!
Some of the water lands in a nice sized swimming hole at the bottom of the falls, and the rest continues on before spilling into a prong of the Little River (the same river where River Rat Tubing is located).
My Tips Before You Go To Spruce Flats Falls
Here are a few things to consider if you're planning a trip to Spruce Flats Falls:
#1 – No dogs are allowed.
Our dogs go everywhere with us — but they're not allowed on the Spruce Flats Falls Trail, regardless of being on a leash.  So they had to stay home on this day. In fact, there are only a couple of Smoky Mountain hiking trails that dogs are allowed on. If you're traveling with your dog through the Smoky Mountains, here's where dogs are allowed.
#2 – The hike (with some time spent at the swimming hole and the falls) took us approximately 2 hours.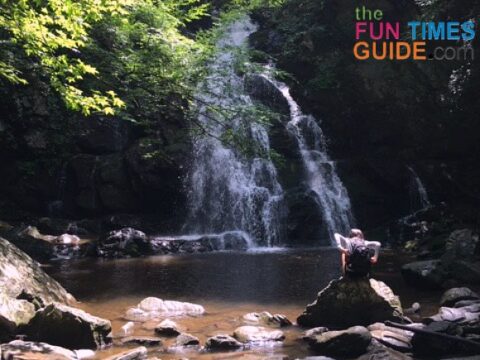 It is approximately 3/4ths of a mile from the trailhead to the falls. It's a 1.5-mile round trip.
#3 – I would suggest packing a lunch, snacks, and water to enjoy at the falls and swimming hole — especially if you're traveling with smaller children.
Always remember to pack out what you packed in.
#4 – Wear appropriate hiking shoes — because the trail varies in terrain and difficulty.
I like to wear hiking sandals that also allow me to step in water without having to deal with squishy wet shoes or packing an extra pair of shoes. I just never know when I'm gonna want to jump in some water — especially in East Tennessee, because it's so hot!
#5 – Wear fast-drying clothing or swimwear under your clothes — so you can reward yourself with a dip once you arrive at the falls.
#6 – Keep a close eye on small children — because there is so much flowing water, in addition to rocky areas and steep drop offs.
#7 – Apply some bug repellent before you venture onto the trail.
If you like natural insect repellents, one of our favorites is Bug Soother. I actually love the sweet smell!
#8 – If you like to hike with a walking stick or pole, don't forget to bring it.
This is definitely a trail where a walking stick is a useful aid — especially with all of the exposed tree roots that are easy to trip over.
#9 – Expect mud on the trail.
You'll also notice increased water flows, after a fresh rain.
#10 – The Spruce Flats Falls Trail is open year round.
This includes the restroom facilities. In fact, the restroom is always accessible — regardless of the gift shop / information center hours.
The Bottom Line
I've seen reviews from fellow hikers who've seen bears and snakes on the Spruce Flats Falls Trail. Since the trail is located in the Great Smoky Mountain National Park, you really need to be prepared for just about anything!
I have been very lucky to not have any close encounters with snakes or bears on my Smoky Mountain hikes, but I definitely will be packing some bear mace or something for protection as we continue to explore our East Tennessee backyard.
I hope you found this article helpful and that you plan to visit Spruce Flat Falls if you're ever in the Great Smoky Mountain area.
Here are my tips for finding toddler-friendly and dog-friendly hiking trails.
Like this post? Save it to read again later… or share with others on Pinterest!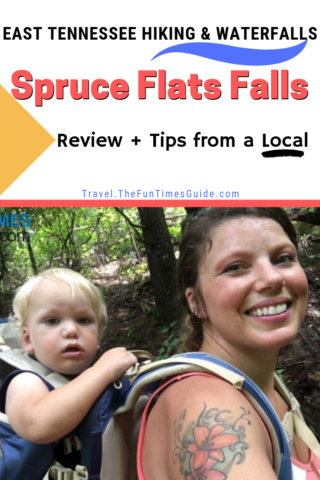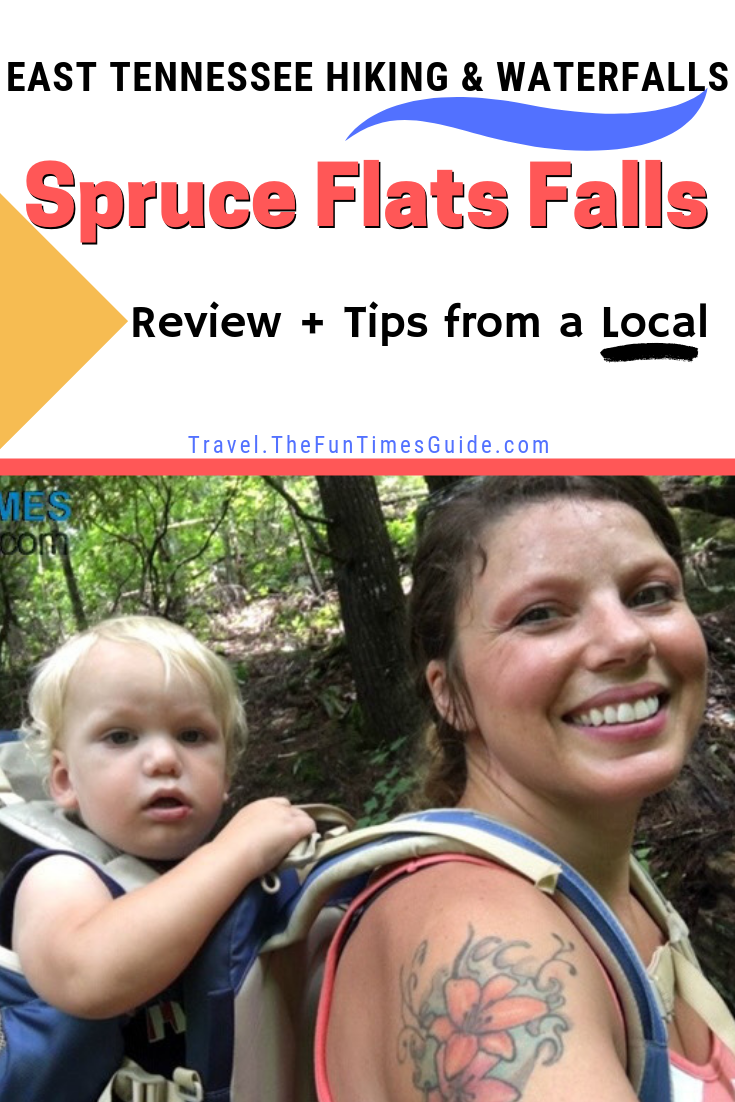 Until my son was born a few years ago, I was a diehard motorcycle enthusiast who traveled the globe. As a Marketing Specialist and Brand Ambassador for Harley-Davidson for over a decade, I lived and worked all over North America. Now, grounded as a first-time mom, I share my love for outdoor adventure with my son and extended family in the Smoky Mountains… and beyond. I hope you find my travel tips and recommendations helpful!