This post may contain affiliate links. If you buy thru these links, we may earn a commission at no additional cost to you.
---
Before our baby came along, my husband and I lived a life of ultimate freedom and adventure. We were quite the motorcycle enthusiasts who would travel to epic places on our Harley-Davidson motorcycles.
For us, anytime behind the handlebars was a chance to either see something really cool, relieve stress, get inspired, and/or gain clarity.
We weren't the only ones in our family unit who enjoyed the feeling of the wind in our face. Most times when we were on our motorcycles, we had our 2 biker dogs in tow, too!
Today, I'm going to tell you about the 2 motorcycle trailers that we've used for our dogs — both are pull-behind trailers:
One is a basic luggage trailer for motorcycling that we used when we only had 1 large dog (Dyna).
The other is a motorcycle luggage trailer with air ride suspension that we used for 2 large dogs after we adopted the second one (General).
See how we created a custom dog motorcycle trailer so we could take our pets on the road with us…
Our First Biker Dog: Meet Dyna
Let me tell you about my original furbaby — who is a cool, black dog named Dyna.
Dyna is a true biker dog. She is all heart, loyal, trusting, and gives it her all.
She has logged 40,000 miles riding in a tow-behind trailer during her career as a biker dog!
She has ridden to all 4 corners of North America — including some pretty spectacular rides which are on many motorcyclists' bucket lists (like the Dragon, the Cherohala Skyway, the Million Dollar Highway, Zion National Park, and the Grand Canyon, to name a few).
My husband and I worked as Harley-Davidson marketing specialists all over North America for the first few years of our dating and marriage. We have been motorcycle enthusiasts for well over a decade. Our job entailed riding motorcycles for a living and being true brand ambassadors for Harley-Davidson. We lived, worked, and toured from city to city with Deeley Harley-Davidson — all the while towing our personal 40-foot fifth wheel Jayco toyhauler as our home.
We rescued Dyna the biker dog while on tour and working a motorcycle event in Thunderbay, Ontario Canada. We had a few days off in between shows and sometimes we would have time to ride and tour the area on the company demo motorcycles. On this particular day, after seeing Dyna's picture on a dog adoption flyer, we had a different purpose in mind. We headed over to the shelter to meet the most adorable Black Lab pup — who had been wandering the streets and was finally picked up on Fisher street. The shelter named her Fisher, but we renamed her Dyna because she didn't look like a Fisher to us… and she would need a better name if she would be representing the Harley-Davidson brand.
We signed the adoption papers, and we were off to work an event the very next day with our new D.O.G. When we decided to add a touring, working D.O.G. (Director of Greetings) to our public world, it only made sense to add "biker dog" to her resume.
We started researching ways to get Dyna to ride motorcycles in some capacity. We knew having her ride on the motorcycle would be completely out of the question and absolutely dangerous. I know many dog owners who choose to ride with their dog on the motorcycle with them — and it is obviously something which works for them, but we had other plans.
I was always in love with the thought of a side car — until I rode a motorcycle set up with one and realized it completely changes the handling of the ride itself. So a sidecar configuration was out of the question!
The only other option was a pull-behind trailer for our dog.
We found a single-axle, egg-shaped luggage trailer called the "Speedster" from Honky Trailers. (They are no longer in business, but their trailers can still be found on Craiglist sometimes.) We ordered the trailer and had it shipped to Canada — without even knowing if Dyna would agree to ride in it.
My husband installed the hitch, hooked up the trailer, put a custom harness on Dyna, loaded her up into our new motorcycle dog trailer, and then started the motorcycle.
Dyna was relatively calm throughout the whole process and didn't show any signs of stress. My husband did several laps with Dyna in tow around a gigantic parking lot where we had been staying outside of Toronto.
Dyna's custom harness was a regular dog harness attached to a swivel-head double leash with both ends clipped to an eye hook on the inside of both sides of the motorcycle dog trailer. Dyna could sit, lay down, turn around, lean either way, but couldn't physically jump out.
Once we felt comfortable with her calm demeanor, we decided to head out on the highway with her. Dyna did great! And the rest of the story is history.
---
Well… until we found ourselves living and working in Memphis, Tennessee and decided to complicate our life by rescuing our second biker dog!
Our Second Biker Dog: Meet General
We rescued General at a boat launch on the Mississippi River in Shelby Forest. He was abandoned there, according to the Park Ranger, and had been there for days.
You wouldn't know by the biker dog he is today, but he was not a natural motorcycle dog. He actually rode backwards the day my husband rescued him. He had no confidence and would cower at just about everything.
After a vet check, we found out that he was full of hookworms, heartworms, and had a tendency to destroy things. We quickly discovered why someone left him down by the river, as we shelled out thousands of dollars toward his health and appetite for destruction!
It's a good thing he was a loveable meathead and just so darn good looking with his one blue eye — because he managed to get a ride as a biker dog instead of a ride back to the river.
Now, we needed to get a completely different trailer to accommodate both biker dogs.
Our Pull-Behind Motorcycle Dog Trailer For 2 Large Dogs
This is how we ride motorcycles with two 65 lb. dogs in tow:
#1 – Pull-behind trailer — the Bushtec performance trailer (the Roadstar standard model) has air ride suspension. We feel bad for towing Dyna all those years with a non-suspension single-axle trailer. I think General entered our lives to save her and upgrade her suspension. This motorcycle dog trailer has 21 cubic feet of storage — which provides ample room for both Dyna and General.
The Roadstar has a locking lid (because it's designed for luggage), so it required some customization. Our good friends at Don's Auto Upholstery in Memphis, TN cut 2 holes — so each dog would have their own space to look out when they weren't lying down inside the trailer. Don's Upholstery also provided us with a snap cover to cover the holes — either at night when parked at a hotel or when using the trailer for just luggage.
#2 – Hitch and wiring to the motorcycle — I pulled my dogs with a 2009 CVO Harley-Davidson Road Glide. Trust me, the Bushtec is the best trailer on the market, pulls like a dream, and you rarely ever feel it behind your motorcycle!
Bushtec also sells trailer hitches for almost any make of motorcycle.
#3 – Packing for motorcycle dogs — any trip or outing with the dogs requires preparation. I like that the Bushtec has a cooler right in front of the trailer. I keep water and a dog water dish in the cooler — so it's readily available for the dogs at every stop. I also keep dog treats in a Ziploc bag, too. Inside the motorcycle tour pack or saddlebag, I keep pet waste bags, tennis balls, and the double leash — that we use during stops.
I tend to get them on a leash as soon as they are out of the trailer. I always keep an extra collar handy too — because it makes for an easy clip to the trailer wheel, if I need to tie them up briefly while I go into a gas station store.
#4 – Memory foam bed — we put a memory foam dog bed in the bottom of the motorcycle dog trailer for both of them to share while seated inside the trailer.
Unlike the single-axle motorcycle trailer we used to have, both dogs ride in the Bushtec motorcycle trailer unharnessed. They are basically in there on their own volition. It requires a lot of trust and knowing our dogs — because they could easily jump out in traffic, but they never have.
#5 – Rugs — We keep 2 faux fur rugs inside the motorcycle dog trailer at all times. They are the perfect size for each dog to lay on while at a rest stop (during lunch breaks, fuel stops, etc).
These rugs are especially great if there's no grass nearby and all asphalt — which can be hot (in the summer) and hard for them to lay comfortably on. We always look for a shaded place with grass for them to have a rest from motorcycle riding.
#6 – Cooling dog vest/warm dog coat — Even though you are moving on a motorcycle in open air, it's easy for a dog to overheat — especially in our Tennessee climate. To compensate, in really hot temperatures we always try to stop wherever there is a body of water and let the dogs take a dip to cool down. A cooling vest (kept in the trailer's cooler) also works when you want to cool down the dog. We like the Ruffwear cooling vest.
Here in Tennessee, we often have 40-degree temperature fluctuations in a single day! Their cooling dog vests work great in the summer months. I try to keep the dogs comfortable in cooler temperatures, too — with dog coats and/or extra blankets.
#7 – Dog goggles — Not all dogs will tolerate these, but here is my opinion on them…
Dyna used to wear her Doggles all the time when we first started motorcycling with her. We loved the way they looked, and we felt having her wear them was the best way to protect her eyes. She tolerated them for awhile, but they eventually became a nuisance — and then more of a safety hazard. You see… the goggles would get bumped on her face when she would tuck down in the trailer on long highway stretches. Then, the goggles would end up halfway in her eye with no way for her to correct them until I could pull over to assist her. We determined that pulling over on the side of a highway to fix goggles for the dog was just not a safe practice. We decided to stop using them and have never had an issue with either of our dogs' eyes.
We tried the Doggles one time on General, and he wouldn't have any part of it! I would recommend using dog goggles if your biker dog will tolerate them and if the dog is within arm's reach for you to safely correct them on your dog's face.
---
Hotels — Pet-friendly hotels are required on overnight trips. Sometimes there is an extra fee, but it is way cheaper than a boarding kennel or doggy day care. Plus, our dogs have a lot more fun on the motorcycle trips!
The Bottom Line…
I sure miss motorcycling and looking back in the mirror at my 2 biker dogs' faces.
Writing this article and looking at all of our family adventures on the motorcycles brought back so many fond memories.
I know our dogs miss motorcycling too — especially the boy dog, General. But our motorcycling days are on a temporary hold until baby gets a little older.
Yep, our adventure keeps unfolding with new additions to the pack!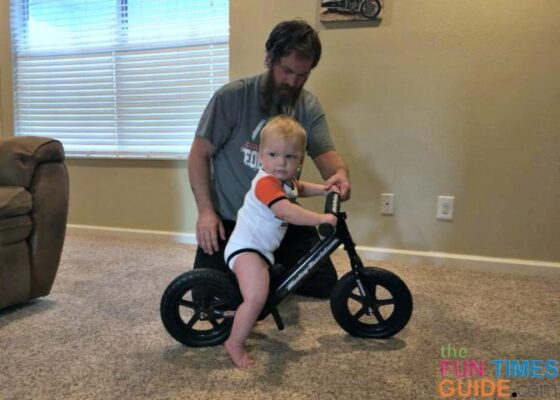 Motorcycling with a baby is certainly more tricky, but we are a family who loves to ride. These days, to keep the family together and the adventure real, we all ride in our Jeep — until we can get back on 2 wheels.
Over the years, our biker dogs have been mentioned and photographed in a few biker magazines (including Southern Biker and HOG Magazine) and on business Facebook pages (Bushtec, 129 Slayer, and US129 are 3 that we know of).
But their real claim to fame is the lives they touch and the smiles they bring when fellow motorcyclists actually ride alongside them!
In all of our travels, people from all walks of life are instantly drawn to our biker dogs and will immediately strike up a conversation — either about the motorcycle dog trailer or about our dogs. They will ask to take a picture, if the dogs can have a treat, if they can pet the dogs, etc.
Dyna and General have a real gift of instantly turning frowns upside down, when people suddenly realize what they are actually looking at… 2 hardcore biker dogs who love to ride motorcycles!