This post may contain affiliate links. If you buy thru these links, we may earn a commission at no additional cost to you.
---
Looking for things to do in Central Florida? Trying to find some really fun, cheap Florida attractions?
Believe it or not, they do exist!
I'm a native who loves exploring my home state of Florida — and writing about it.
Lately, folks who know I'm a travel blogger have asked me about the best things to do in Florida without spending tons of money. So, I thought I'd share my insider tips for the best budget-friendly landmarks and destinations in Central Florida here.
Since I do a lot of traveling, I've discovered tons of cheap attractions in Florida that are really exciting and unique!
18 Affordable Central Florida Attractions
Florida is a pretty big place. By car, it's like traveling from Jacksonville to Philadelphia on Interstate 95 to get from Pensacola in the northwestern part of the state down to Key West!
That's why I'm keeping this post focused on a reasonably manageable (yet thorough) list of 18 cheap Florida attractions within about 90 minutes of Orlando — which is one of the most heavily traveled tourist destinations in the world.
If you choose to visit any of the places I've included on this list, you'll pretty much stay within 45 minutes or so of the Interstate-4 corridor. That's the main east-west highway through Central Florida that spans these attraction-filled cities: Daytona Beach on the east coast, Tampa on the west coast, and Orlando which is smack-dab in the middle.
You might be wondering if I've included beaches, amusement parks, museums, or even FREE stuff in Florida.
The answer is yes! My list caters to virtually everybody — except those who are planning on visiting major Florida theme parks. (I've written before on some clever ways to get amusement park discounts.)
For today, I'm sticking to this list of cool, affordable Central Florida attractions.
NOTE: Given the ever-changing nature of Florida ticket pricing, be sure to check the website for each of the attractions that you plan to visit — to see the latest admission prices.
Harry P. Leu Gardens
1920 N. Forest Avenue
Orlando, Florida
This 50-acre botanical gardens near downtown Orlando is a reprieve from the crowds typically associated with Florida theme parks and attractions.
Harry P. Leu Gardens was donated to the City of Orlando in 1961 and includes the picturesque Leu House Museum — where you can explore life at the turn of the 20th century.
Free parking, self-guided tours of the gardens at your leisure, and guided tours of the museum are included in the price of admission.
Gatorland 
14501 S. Orange Blossom Trail
Orlando, Florida

What is one of Florida's oldest parks? It certainly isn't Walt Disney World — which opened in 1971.
Gatorland, a 110-acre theme park and wildlife preserve in Orlando, was built in 1949 and remains one of the state's most iconic landmarks.
Gatorland is certainly one of the cheap Florida attractions that is rich with history! It also features thousands of gators, a petting zoo, a free-flight bird aviary, an alligator breeding marsh, a zip line ride (for an additional fee), and free parking.
Mixon Fruit Farm
2525 27th Street E.
Bradenton, Florida
Ask someone what they think of when you mention Florida and chances are you'll soon hear "oranges" as a reply.
Florida largely built its Sunshine State image on the sunny citrus fruit that is seen in vast groves — ranging from the Everglades to the south and the Gainesville area in the north.
Oranges produce a fragrant blossom that, when growing in masses, can be smelled for miles around. The heavenly fruit is packed with Vitamin C and is used for everything from juices and snack foods to cleaners and bug repellents.
One of the best places to see a real, working orange grove in person is Mixon Fruit Farm in Bradenton, Florida — about halfway between St. Petersburg to the north and Sarasota to the south.
Mixon Fruit Farm shares a portion of their citrus grove with Wildlife Inc. for a Florida Wildlife Care & Education Center — where they provide much needed land and shelter for orphaned and injured birds, animals and reptiles with the goal of rehabilitating Florida wildlife for release back into the wild.
They provide tram tours of the orange groves and wildlife refuge, host fruit festivals and events throughout the year, and have a great cafe on-site!
Central Florida Zoo
3755 US-17
Sanford, Florida
This popular zoo in Sanford (a small town between Orlando and Daytona Beach) encompasses 116 acres.
While there, you can meet 400 animals, stroll through beautiful botanical gardens, and even feed giraffes!
The Central Florida Zoo also has a Barnyard Buddies Children's Zoo, a wild collection of snakes in its Herpetarium, and the Wharton-Smith Tropical Splash Ground — all included with your admission ticket. And the parking is free.
Sunken Gardens
1825 4th Street N
St. Petersburg, Florida
Billed as the oldest living museum in St. Petersburg, Florida, Sunken Gardens is a 4-acre botanical garden that dates back to 1903 and includes more than 50,000 tropical plants in a shallow lakebed — 10 feet below sea level.
Sunken Gardens is a classic example of a roadside tourist landmark from the days of tin can tourists.
Today, it appeals to those who are looking for enjoyable, cheap Florida attractions ($10 or less) without the hassle of crowds and noise — and there's even free parking.
Coca-Cola Orlando Eye
401 International Drive #100
Orlando, Florida
One of Orlando's newest tourist attractions isn't a theme park but rather an observation wheel that takes you 400 feet into the sky.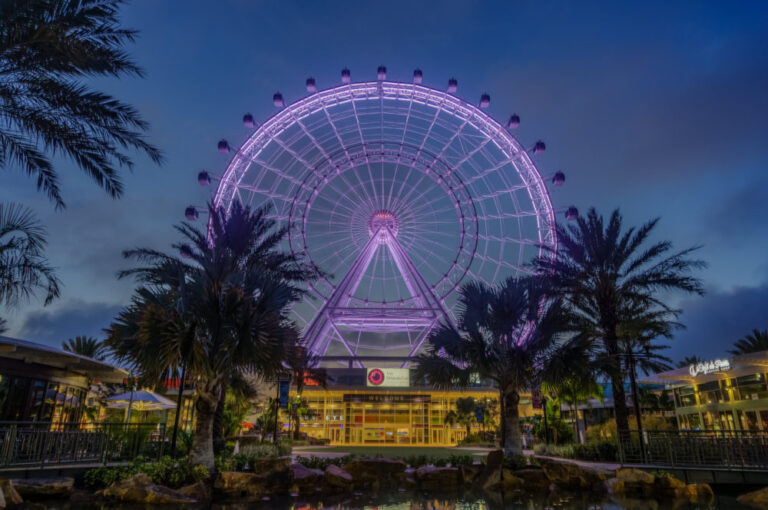 The Coca-Cola Orlando Eye is similar to the London Eye observation wheel.
It's one of the more unique and modern tourist attractions in Florida, conveniently located in the heart of the tourist mecca of Orlando.
The affordable ticket price includes parking.
Kennedy Space Center
State Road 405
Titusville, Florida
Want to experience America's space history all in one exciting place — on Florida's Space Coast?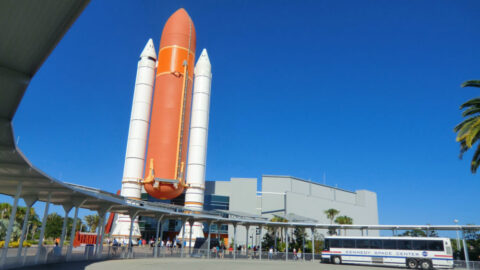 The Kennedy Space Center (home of NASA — National Aeronautics and Space Administration) is located less than 1 hour east of Orlando and less than 1 hour north of Daytona Beach.
While there, you'll have access to up-close encounters with rockets, a NASA space shuttle, and other displays of out-of-this-world technology.
If you're lucky, you may even get to watch a rocket launch!
Admission includes all of this fun stuff:
Apollo/Saturn V Center
Kennedy Space Center Bus Tour
Space Shuttle Atlantis
IMAX Theater 3D Films
Shuttle Launch Experience
Rocket Launch Viewing (when available)
Astronaut Encounter
Numerous Shows and Exhibits
Wekiwa Springs State Park 
1800 Wekiwa Circle
Apopka, Florida
Just 20 miles north of Orlando exists a slice of old Florida that you probably won't see in tourist brochures — and it's one of the most beautiful Florida attractions anywhere!
It's Wekiwa Springs State Park — a place where you can enjoy cool springs, bicycle or hike along 13 miles of trails, and enjoy kayaking & canoeing in a natural setting.
This is what real, unadulterated Florida paradise looks like.
Weeki Wachee Springs State Park
6131 Commercial Way
Spring Hill, Florida
Weeki Wachee Springs State Park is unlike any other state park in Florida — or in the United States, for that matter. It's the home of live mermaids who perform daily shows!
Weeki Wachee opened as a tourist attraction in 1947 just north of Tampa and, like a siren's song, it continues drawing droves of tourists today.
Over the years, various attractions have been added to Weeki Wachee — including an adjoining water park known as Buccaneer Bay in 1982.
Despite dwindling tourist numbers in the 1990s, Weeki Wachee survives today as a state park, and the mermaids still perform underwater shows daily!
Riverboat cruises, wildlife shows, and mermaid shows are all included with your admission.
Tampa Museum of Art
120 W. Gasparilla Plaza
Tampa, Florida
This waterfront art museum houses an array of classic and modern art. It also showcases a variety of traveling art exhibits from throughout the United States and around the world.
The Tampa Museum of Art is located in downtown Tampa along the Hillsborough River — just across the channel from the historic University of Tampa and Henry B. Plant Museum. In fact, it's the only museum in the country that is accessible by boat.
It's an enjoyable slice of culture for an affordable price.
Be sure you get a sunset photo of the silver minarets atop the Henry B. Plant Museum across the river!
The Florida Aquarium
701 Channelside Drive
Tampa, Florida
Listed as one of the top aquariums in the United States, The Florida Aquarium is a 250,000-square-foot sanctuary for more than 20,000 animals and plants from Florida and many other parts of the world.
The Florida Aquarium has several interactive zones that entertain and educate adults & kids of all ages. You'll even go on a trip through the ecosystem — as experienced by a drop of water gushing from a Florida spring, traveling all the way to the Gulf of Mexico!
My favorites are the 500,000-gallon coral reef habitat and simulated beach.
Sunshine Skyway Bridge
Interstate 275
Tampa, Florida
It's one of the most photographed and famous bridges in the United States, and it spans Tampa Bay: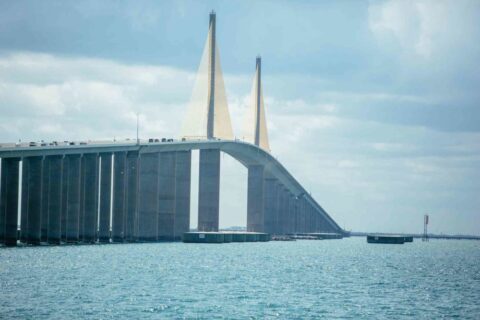 The Sunshine Skyway Bridge is part of the Interstate-275 loop that takes you through Tampa and St. Petersburg. It links the cities of St. Petersburg and Bradenton on the southern end of Tampa Bay.
This toll bridge was completed in 1987 and became one of the first cable-stayed bridges of its kind in the world.
Believe me, it's totally worth the drive!
Bok Tower Gardens
1151 Tower Boulevard
Lake Wales, Florida
This unique botanical garden is situated on top of a hill along Florida's ridge sector in the heart of the state — a little south of the midway point between Orlando and Tampa.
Bok Tower Gardens features its namesake historic Bok Tower, a 205-foot-tall carillon bell tower built by Edward Bok and his wife Mary Louise Curtis.
The tower overlooks more than 130 acres of contemplative gardens, water areas, and bird sanctuaries that were lovingly created by Frederick Law Olmstead, Jr., a famous landscape architect known for some of the nation's most beautiful parklands.
When buying your admission ticket, you can choose to tour just the gardens, or the gardens and Pinewood Estate.
Fort De Soto Park
3500 Pinellas Bayway S.
Tierra Verde, Florida
Florida parks can be really unusual! At Weeki Wachee you'll find an underwater mermaid cove, and at Fort De Soto you can stumble upon old forts and cannon batteries from the Spanish-American War.
Fort De Soto is located along the beaches of southern Pinellas County — a Gulf Coast county southwest of Tampa.
You'll enjoy scenic views of the Gulf of Mexico, as Fort De Soto is seemingly miles from the nearest condominium tower or strip mall. It's old Florida beach paradise at its best!
Admission to the beaches of Fort De Soto Park is very affordable — making this one of my favorite Florida attractions that will save you big bucks.
Spook Hill
North Wales Drive
Lake Wales, Florida
There are many strange Florida tourist attractions, but few come close to the paranormality of Spook Hill in Lake Wales — near Bok Tower Gardens, between Tampa and Orlando.
Spook Hill is a so-called gravity hill. If you park your car at the "bottom" of the hill and shift your vehicle to neutral, it will apparently roll "up" the hill. (Yep!)
So goes the Spook Hill legend…
"Many years ago an Indian village on Lake Wales was plagued by raids of a huge gator. The Chief, a great warrior, killed the gator in a battle that created a small lake. The chief was buried on the north side. Pioneer mail riders first discovered their horses laboring down hill, thus naming it 'Spook Hill.' When the road was paved, cars coasted up hill. Is this the gator seeking revenge, or the chief still trying to protect his land?"
The Mystery of Spook Hill
What do you think? The act of spirits? Cool illusion?
Spook Hill is free to visit, so check it out and decide for yourself!
Lowry Park Zoo
101 W. Sligh Avenue
Tampa, Florida
Rated the #1 Family-Friendly Zoo in the United States by Parents magazine, Lowry Park Zoo has become one of the most popular attractions in the Tampa area.
Lowry Park Zoo is a 63-acre non-profit 501(c)3 zoological facility that houses more than 1,300 animals representing hundreds of different species.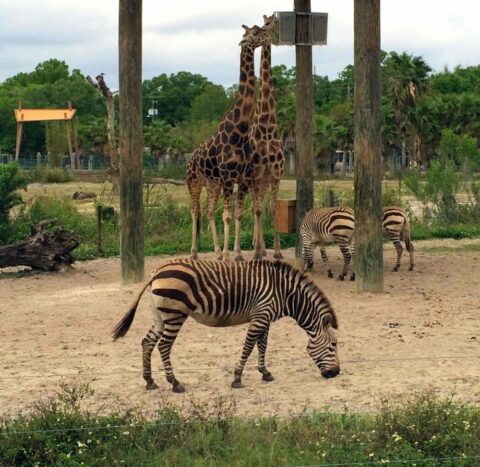 The zoo, which has several themed areas relating to different habitats around the world, offers educational presentations, conservation exhibits, and classes where young and old alike can discover the secrets and majesty of the amazing animal kingdom.
The zoo's admission rates are lower than most of the big theme parks — which makes this one of the cheap Florida attractions where you're sure to get a lot of bang for your buck.
Salvadore Dalí Museum
1 Dali Boulevard
St. Petersburg, Florida
For a hearty dose of surreal culture, there's no better place to visit in Central Florida than the Salvadore Dalí Museum in St. Petersburg.
Among Florida attractions, the Salvadore Dalí Museum is certainly one of the most unique — and it's no surprise to those who are familiar with the artist and his work.
The Salvadore Dalí Museum is the home of more than 200 oil paintings, watercolors, and drawings, as well as over 1,000 graphics and other works from the iconic Spanish painter whose colorful life spanned from the dawn of the 20th century in 1904 until the modern era in 1989.
For one low price, you get admission to all of the galleries, a free audio guide, and public tours.
Old Town USA
5770 W. Irlo Bronson Memorial Highway
Kissimmee, Florida
What happens when you combine an outdoor shopping mall with an amusement park and give it a vintage vibe?
You get Old Town USA in Kissimmee, an entertainment complex unlike any other in Florida.
At Old Town, you can whisk yourself away on the Windstorm roller coaster, fly through the air on the Wave Swinger, shop for diamonds and pearls at the jewelry shops, pick up some fun Florida gifts at the souvenir shops, beat your record score at the video arcade (… almost out of breath here), or raise a toast at any one of several restaurants and taverns. Oh, I forgot to mention the cool magic shop, too!
There are so many great things to see and do at Old Town, and admission is free — you'll just need to pay nominal fees for some of the rides and other attractions.
Did I mention the vintage car shows?
More Cheap Florida Attractions
In addition to the links I've included above, here are some resources to help you find even more things to do in Central Florida: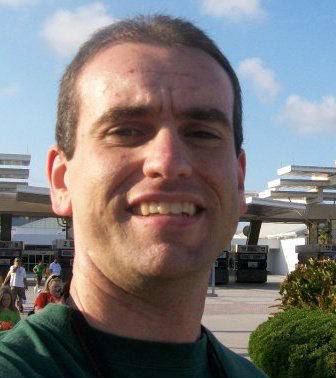 I'm a Florida native, a roller coaster junkie, and a frequent traveler. (Long road trips are my favorite.) Born and raised in Tampa, I grew up visiting Busch Gardens Tampa Bay. I authored the book Busch Gardens Tampa Bay: Images of Modern America, which details the colorful history of the Busch Gardens theme park. As a local historian, I've also written about other popular landmarks and attractions for a variety of publications. Here, on this Travel Guide, I like sharing little-known facts and fun stuff about all the places I've been — so you will have a good idea of what those places are like and what you should know before you go. I especially enjoy helping others plan fun trips… on a budget!