This post may contain affiliate links. If you buy thru these links, we may earn a commission at no additional cost to you.
---
When many think of Epcot attractions, they conjure up images of Spaceship Earth.
You know, the 180-foot-tall, silver geodesic sphere that has greeted millions of visitors since Epcot opening day on October 1, 1982.
I've visited Epcot (located at the Disney World resort near Orlando, FL) many times over the years — including back in the day when the park was called EPCOT Center.
Epcot Meaning & Background Info
In case you're wondering, Epcot is the acronym for Experimental Prototype Community Of Tomorrow — Walt Disney's 1960s-era conceptual utopian city.
While people don't live and work in EPCOT, as Walt Disney had originally envisioned with his original community plans, many Epcot attractions still somewhat hearken to Walt's original concept — including the incorporation of the latest technological breakthroughs.
Evolution was a part of Disney's original EPCOT plan. The idea that the community would change as technology changed was a major aspect of the original EPCOT concept, allowing his utopian community to keep up with the changing times. In this respect, Epcot holds also holds true to the vision Disney had. So much so, in fact, that several popular Epcot rides that were fan favorites during the 1980s and 1990s are no longer around today.
Here's a look at 7 of these popular, long-lost Epcot attractions:
#1 – Body Wars And The Wonders Of Life Pavilion
This is the ride that I desperately wanted to go on when it opened on October 19, 1989. However, at the age of 8, my parents thought I was too young to ride Body Wars — and I never actually boarded the ride. Fortunately, there are many Epcot fan blogs that discuss Body Wars, a unique attraction at the old Wonders of Life pavilion.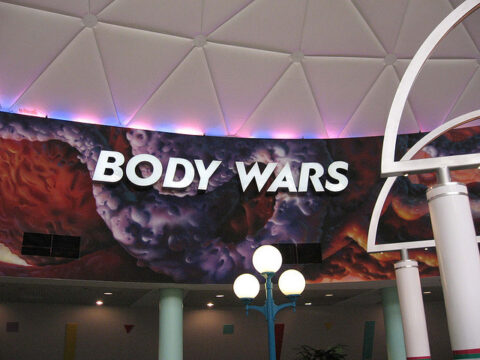 Body Wars, the main attraction at the Wonders of Life pavilion, was an early motion simulator ride that "miniaturized" guests inside a special ship called Bravo 229 — which a special crew of agents used to go inside a person's body and help protect it from possible infection caused by a common splinter.
The riders and crew were propelled through the circulatory system and even had to rescue a crew mate, all the while avoiding attack from white blood cells. Body Wars and the Wonders of Life pavilion officially closed on January 1, 2oo7.
While the Body Wars attraction and the original kiosks within the pavilion have never reopened, the structure is still used for special events.
#2 – The Living Seas
Long before Finding Nemo hit the silver screen in 2003, The Living Seas enchanted and entertained guests at Epcot.
When it opened  on January 15, 1986, The Living Seas was the largest salt water aquarium in the world — holding 5.7 million gallons of water. Epcot held that record for nearly 2 decades, until the Georgia Aquarium opened in 2005.
The Living Seas pavilion was originally sponsored by United Technologies. It offered a pre-show movie called The Sea — which educated guests about the formation of oceans.
One of my favorite parts of The Living Seas was the Hydrolator, an elevator that took guests to Sea Base Alpha. There, you could board a "seacab" and ride through the Caribbean Coral Reef Ride — which took you through an underwater tunnel for stunning views of the aquarium!
By the end of 2003, Epcot had begun infusing references to Finding Nemo, and on August 21, 2005, the ride closed for a complete transformation into The Seas with Nemo and Friends.
#3 – Captain EO
Back in 1986 when Michael Jackson was "bad" and Epcot was still the only "other" Disney World park, Captain EO became one of the most popular attractions at Epcot.
The 3D science fiction film was directed by Francis Ford Coppola and depicted Jackson as the captain of a spaceship who travels to a grim, eerie world to deliver a gift to the planet's "Supreme Leader" (played by Anjelica Huston). Along the way, Captain EO must fight irritated guards and threats from the leader, within whom Jackson sees inner beauty. To unlock that beauty, he sings to her a song called "We are Here to Change the World."
Captain EO would eventually make it to Disneyland in California, Tokyo Disneyland, and Disneyland Paris. However, by the mid 1990s, all locations had stopped playing the film for the public.
After Jackson's death in 2009, Disney resurrected the film, albeit enhanced and without some of the original 4D theater special effects. That ended in December 0f 2015.
#4 – Journey Into Imagination
Remember Dreamfinder, the wizard scientist and his lovable, purple dragon friend Figment?
The original mascots of Epcot were primarily based out of the Imagination pavilion at Disney. They enchanted many children of the 1980s and 1990s (such as myself) — as the more comical, cartoonish side of Epcot's otherwise scientific, sometimes strange realm.
Figment played many roles — though he was often seen donning a spacesuit, as he always proclaimed to dream of being an astronaut. This was a popular aspiration for children who grew up in the era of NASA space shuttle launches and a space program newly revived following a virtual hiatus after the Apollo years of the late 1960s and early 1970s.
Figment and his friend Dreamfinder essentially disappeared by 1999 after Epcot had revamped the Imagination dark ride in which the purple dragon and his human friend appeared in preparation for its Millennium Celebration. The attraction was renamed Journey into YOUR Imagination.
Complaints from park guests about Figment's absence inspired the park to reintroduce Figment — though the original was largely abandoned in favor of the newer incarnation hosted by Dr. Nigel Channing (played be Eric Idle).
#5 – Kitchen Kabaret
As a child, I hated eating my veggies, but I certainly enjoyed watching them put on a good show at Kitchen Kabaret — an audio-animitronic program that debuted with Epcot in 1982 and closed in 1994.
The colorful Kitchen Kabaret stage performance was modeled somewhat after a typical 1920s burlesque show. It took place in a kitchen, where the delectable musical talents of a diverse array of foods from across the basic food groups were displayed.
The program was replaced in 1994 by Food Rocks and in 2004 by Soarin'.
#6 – World Of Motion
World of Motion entertained and educated guests about the history — and future — of vehicular transportation.
It was one of the Epcot opening day rides and was designed by Ward Kimball — a legendary Disney animator who was noted for his visual comedy. Sight gags were scattered throughout the World of Motion ride, including a scene depicting the world's first traffic jam and a used chariot sale.
The ride, sponsored by General Motors, took guests from the invention of the wheel to Leonardo Da Vinci's attempts at flight to an imagined futuristic city called Center Core.
World of Motion closed in 1996 and was replaced by Test Track in 1999.
#7 – Horizons
Of all the old Epcot rides, there is perhaps none that generates more posthumous intrigue than the Horizons pavilion — which debuted exactly 1 year after Epcot first opened.
The Horizons exhibit was a dark ride that largely could be viewed as a futuristic take on the Carousel of Progress ride at Magic Kingdom.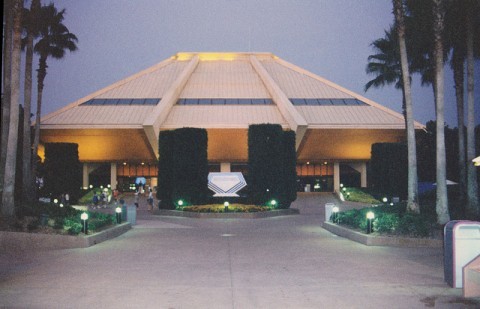 Like many of Disney's dark rides, Horizons featured an Omnimover train. It took about 700 guests per hour through scenes depicting the revolutionary breakthroughs in communication, energy, transportation, anatomy, physiology, community interaction, and our spatial relationships with the land, space, air, and sea.
The attraction lost its original sponsor, General Electric, in 1993. Horizons closed the following year, but reopened in 1995. The ride was permanently closed on January 9, 1999 without formal explanation.
The structure was demolished in July 2000 and became the first time Disney had ever completely torn down a building to construct a new attraction — which, in this case, was Mission: SPACE.
More Old Epcot Rides & Attractions
In addition to the links I've included above, here are some other resources that will make you nostalgic for many of the old rides at Epcot: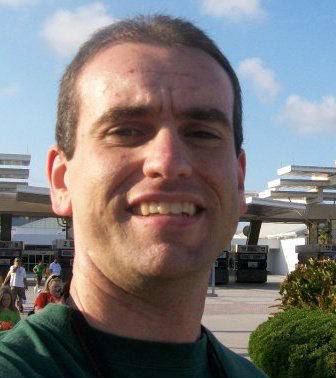 I'm a Florida native, a roller coaster junkie, and a frequent traveler. (Long road trips are my favorite.) Born and raised in Tampa, I grew up visiting Busch Gardens Tampa Bay. I authored the book Busch Gardens Tampa Bay: Images of Modern America, which details the colorful history of the Busch Gardens theme park. As a local historian, I've also written about other popular landmarks and attractions for a variety of publications. Here, on this Travel Guide, I like sharing little-known facts and fun stuff about all the places I've been — so you will have a good idea of what those places are like and what you should know before you go. I especially enjoy helping others plan fun trips… on a budget!