This post may contain affiliate links. If you buy thru these links, we may earn a commission at no additional cost to you.
---
When I was a little kid, I asked my dad what the building on the back of the nickel was.
He told me it was Monticello, which was President Thomas Jefferson's home.
It took me a few decades, but my wife and I finally made it to Monticello, which is located among the mountains near Charlottesville, Virginia.
I want to share with you some helpful tips on visiting Monticello — including what to see when you're there and some cool facts about this historic American landmark!
Why Is Monticello So Famous?
Monticello, located just southeast of Charlottesville, Virginia, was built over a period of many years from 1768 and 1809.
President Thomas Jefferson implemented several renovations to incorporate new designs and architectural styles that inspired him during his travels in Europe.
The home has about 11,000 square feet of living space.
Thomas Jefferson lived in Monticello from 1770 until his death in 1826.
Monticello, the name of which is Italian for "little mountain," is so much more than the building famously seen on the back of the nickel. (At least that's what I always knew Monticello to be prior to my first visit to this national landmark.)
I knew that Jefferson loved plants and had a garden at Monticello. But the gardens at Monticello are huge — and they seem to include at least one example of just about everything that can grow outdoors in Central Virginia! Maybe not exactly, but the gardens are vast and include edible crops, wildflowers, trees, and even a pergola covered in lovely hyacinth beans.
The gardens grow along terraces on the southern hillside of the Monticello property. And the views are just stunning — some reminded me of Tuscan vistas straight out of Italy!
Not far from the gardens is Mulberry Row — a strip not far from the main Monticello house where free workers and enslaved individuals lived and worked.
Above is an example of a cabin where enslaved individuals would have lived along Mulberry Row around the turn of the 19th century.
There are textile and metalsmith shops along the same path.
Also standing along Mulberry Row was a joinery — a woodworking shop of which only the foundation and chimney exist today.
Not too far from the gardens and industry surrounding the main home and business at Monticello is the cemetery, where Thomas Jefferson and his family are buried.
My wife and I each tossed a penny onto his grave — which symbolizes our graveside visit.
Where Is Monticello, Thomas Jefferson's Home?
For your GPS, the address for Thomas Jefferson's Monticello home is:
1050 Monticello Loop
Charlottesville, VA 22902
Monticello is certainly one of the most popular things to see and do in Virginia. And its location in the middle of the state makes it rather easy to get to — whether you're traveling along I-64, I-81, or I-95.
We were living in Roanoke, Virginia during our first visit to Monticello, making it a 2-hour drive for us — a daytrip.
But if you live further away, you should consider staying in Charlottesville — a city boasting lots of American history and itself a worthy tourist destination!
Monticello is located near Montalto, or Brown's Mountain, which is part of the Carters Mountain Range. This is near Exit 121 of I-64 — just east of the hub in Charlottesville.
My Tips For Visiting Thomas Jefferson's Monticello Home
We expected to be there for maybe two hours tops. But we didn't know there was so much to explore!
You have to pay admission to visit — but the nice thing is there are lots of unique self-guided tours, as well as tours of the inside of Monticello. There's definitely an option for everyone.
We chose the "gardens and grounds" ticket, which permitted us to tour the outside areas of the property. This in itself was easily a 4-hour jaunt for history buffs like us.
I bet if we had purchased the guided tour inside Monticello plus one or two of the other tours available, we could have easily spent an entire day there.
One of the biggest surprises of the day was enjoying an incredible and engaging history lesson by Thomas Jefferson himself — portrayed by the incredibly engaging Jefferson interpreter Bill Barker. It was such a treat to listen to his vivid presentation on Monticello, mere steps away from the famous landmark!
All this being said, here are my tips for visiting Monticello:
Wear comfortable shoes. Something we didn't realize was how much hiking up and down hills we'd encounter. I was wearing sneakers, but my wife went in flip flops, and after a half-mile trek up a gravely hillside path to Monticello, she said she wished she had worn her boots that day. I recommend wearing comfortable shoes that are supportive for walking and hiking — because you'll be doing a lot of both!
Get there early. Monticello usually opens by mid-morning, so get there when they open to avoid the huge crowds. You can also avoid the heat this way — if you happen to be visiting in the summertime, when things can get steamy and soupy at Monticello.
Prepare for bad weather. While there are plenty of indoor spaces at Monticello (including the visitor center and some of the outbuildings around Monticello), I'd classify this as an outdoor attraction. The skies were threatening on our first visit, but it never rained. Still, it wouldn't have been fun getting caught in a storm near the top of the mountain.
Consider taking a tour. There are many great interpretive tours at Monticello. We didn't take any on our visit — but given all there is to see and do, I think taking a tour or two would've allowed us to explore this place in a more organized fashion. (Not that we didn't have fun following where our noses took us!)
Allow plenty of time. We both love history, so maybe we spent a little more time exploring the grounds and gardens than someone with just a passing interest in Jefferson. But there are certainly a lot of different things to see and do at Thomas Jefferson's Monticello estate. Plan on spending at least 2 hours there — if you're just going to breeze through along the grounds and take a few photos. But a true history buff who wants to soak it all in and take some of the tours could easily spend an entire day there. So, plan accordingly.
Stage your own fun photo opp. For a really cool memory, take along a Jefferson nickel or old $2 bill — one that has both Thomas Jefferson and Monticello on it. You could hold it up in the photo angle next to Monticello and really tie some history together in your photo!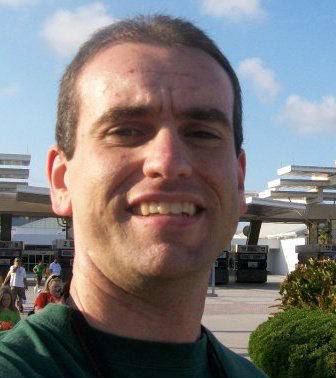 I'm a Florida native, a roller coaster junkie, and a frequent traveler. (Long road trips are my favorite.) Born and raised in Tampa, I grew up visiting Busch Gardens Tampa Bay. I authored the book Busch Gardens Tampa Bay: Images of Modern America, which details the colorful history of the Busch Gardens theme park. As a local historian, I've also written about other popular landmarks and attractions for a variety of publications. Here, on this Travel Guide, I like sharing little-known facts and fun stuff about all the places I've been — so you will have a good idea of what those places are like and what you should know before you go. I especially enjoy helping others plan fun trips… on a budget!