This post may contain affiliate links. If you buy thru these links, we may earn a commission at no additional cost to you.
---
I've been to a lot of parks in my time, but none like Natural Bridge State Park in Virginia.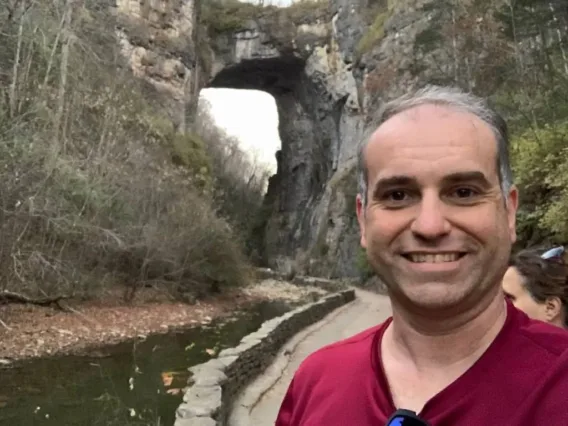 Nestled in the Blue Ridge Mountains, Natural Bridge State Park (located in the town of Natural Bridge) boasts one of the most fascinating rock formations anywhere east of the Mississippi River.
The "Natural Bridge" is a 20-story-tall rock arch that was created over thousands of years by Cedar Creek, which runs through the limestone gorge on its way to the James River.
Is Natural Bridge Really Real?
Yes! The famous arch of Natural Bridge is what geologists conclude was once the roof of a tunnel or cave that Cedar Creek flowed through.
Such underground rivers are fairly common in karst environments, which refers to areas formed by limestone. This is all pretty familiar to me, as my home state of Florida is also karst — and we have sinkholes, underground aquifers, and caves with running water.
It's hypothesized that Cedar Creek was consumed by a massive sinkhole around 1 million years ago, making it an underground river. The creek eventually advanced to the James River after eating away at the surrounding limestone deposits. This action, slow but steady over hundreds of thousands of years, is what helped create the spectacles at Natural Bridge State Park in Virginia.
Natural Bridge Fast Facts
The arch is 200 feet tall
The bridge is estimated to weigh 36,000 tons
Natural Bridge is taller than the Statue of Liberty without its pedestal, and it's taller than Niagara Falls
At Natural Bridge State Park there is perfect evidence of this by way of a "lost river," which is water flowing as an underground stream.
There's no solid conclusion as to how exactly the arch was formed. But there's no doubt about it… Natural Bridge is a striking creation of Mother Nature and is one of the most significant geological formations in the United States — right up there with the Grand Canyon in Arizona, Niagara Falls in New York, and Devil's Tower in Wyoming.
---
What's The History Behind Natural Bridge State Park?
The rocks found throughout the gorge in Natural Bridge State Park were deposited around 470 million years ago, which I remember from my college geology class was an era known as the Ordovician period.
The area was also considered sacred by the Monacan peoples, and it was later explored by European colonists.
In March 1742, frontiersman John Howard, his son, and a party of others were sent to explore Cedar Creek by then-Governer of Virginia William Gooch. Lore says George Washington surveyed the area in 1750. (An inscription of "G.W." in the wall of the arch bridge and a rock bearing the same initials and other surveyor markings is suggested as proof of this.)
In 1774, Thomas Jefferson purchased 157 acres of land that included Natural Bridge from King George III of England for the princely sum of 20 shillings. He surveyed the area and built a log cabin there as a retreat. Jefferson called the terrain "the most Sublime of nature's works."
I'd say he was right about that…
Natural Bridge has also inspired many artists of every type. Painter David Johnson worked Natural Bridge into a beautiful oil-on-canvas piece in 1860. And in his famous novel Moby Dick, author Herman Melville referred to the bridge when describing the eponymous white sperm whale, writing "But soon the fore part of him slowly rose from the water; for an instant his whole marbleized body formed a high arch, like Virginia's Natural Bridge."
My wife and I visited the park during the late afternoon but noticed lighting arrangements near the arch — with rows of bleachers facing one of the rock walls inside the massive natural formation. We figured it had to be for a light show of some kind. Turns out the night light display dates back to 1927, when the Westinghouse Company installed the original lighting equipment. Guess who was at the inaugural lighting ceremony? None other than President Calvin Coolidge, who threw the switch on for the first time.
New equipment has since replaced the 1920s lighting, but it's cool to know there's been lighting displays going on there since the Roaring '20s!
My Tips For Visiting Natural Bridge State Park
I'd first heard of Natural Bridge in reading a bit of Moby Dick in school decades ago, but I couldn't have imagined the immensity of the arch until seeing it in person.
And that's what my wife and I did while we were living in Roanoke, Virginia — about 40 miles from the park.
This state park is just off I-81 near Exits 175 and 180, and getting there is a breeze once you're off the interstate. You can also get there via US 11, which runs sort of parallel to I-81 throughout much of western Virginia.
There is a nominal admission fee for entry, but you'd probably spend double or more getting into some of the other billboard-advertised attractions in the town of Natural Bridge. The state park is definitely worth the park fee.
Before you stop by, I'd love to share some personal tips for visiting Natural Bridge State Park…
Prepare to walk! Be sure you're wearing your most supportive walking or hiking shoes. Just getting to the arch from the parking lot is a hike down several flights of irregular stairs.
There's more than just the arch. The big headliner at Natural Bridge State Park is certainly the namesake rock arch formation. But you're missing out if you only stop there! There's also Saltpeter Cave, Lost River, and Lace Falls. You're going to need to walk about 2 miles in total along trails to see these. So again — prepare to walk!
Spend at least 2 hours there. I'm not sure how quickly you walk, but if you're going to try seeing some of the major highlights at Natural Bridge State Park, you're going to need plenty of time to get around. We were able to hike along at a steady clip, but I could see others needing more time to walk from place to place. And those stairs getting down to the arch… they could be difficult for many. Don't hurt yourself trying to rush. Prepare to spend at least 2 hours here. I could imagine spending even more time here if the clock permitted.
Go to the cafe! While there are absolutely no snack bars on the long trail, the Natural Bridge State Park visitor center is pretty well stocked with snacks and drinks — and there's a nice cafe. Whether you eat there or bring your own snacks and drinks, don't hit the trail on an empty stomach!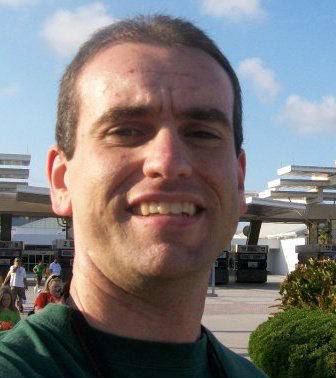 I'm a Florida native, a roller coaster junkie, and a frequent traveler. (Long road trips are my favorite.) Born and raised in Tampa, I grew up visiting Busch Gardens Tampa Bay. I authored the book Busch Gardens Tampa Bay: Images of Modern America, which details the colorful history of the Busch Gardens theme park. As a local historian, I've also written about other popular landmarks and attractions for a variety of publications. Here, on this Travel Guide, I like sharing little-known facts and fun stuff about all the places I've been — so you will have a good idea of what those places are like and what you should know before you go. I especially enjoy helping others plan fun trips… on a budget!