This post may contain affiliate links. If you buy thru these links, we may earn a commission at no additional cost to you.
---
The New River Gorge Bridge in West Virginia is one of the nation's most iconic bridges east of the Mississippi River.
The New River Gorge Bridge is one of the most famous landmarks in West Virginia.
As a Floridian (and a coin collector), I first became aware of the bridge when it appeared on the 2005 West Virginia State Quarter.
I'd been wanting to visit many of the landmarks I saw on the 50 State Quarters, but the big problem for me was I'd never gotten anywhere near West Virginia on my travels up and down the East Coast to see family in the Northeast.
On one trip in 2016 to see cousins who had moved to Dayton, Ohio, I managed to swing through the northern panhandle of West Virginia en route to the Philadelphia area. But the New River Gorge Bridge is almost smack dab in the middle of West Virginia — far from any of the highways I'd be taking and too far off the beaten path for me given my limited time off from work.
My wife and I temporarily relocated to Roanoke, Virginia for work in 2023. So, I decided it was my opportunity to finally see some landmarks that I'd never gotten to before (or were too far away from I-95 for me to visit in the past).
Among these was the New River Gorge Bridge.
Why The New River Gorge Bridge Is So Famous
There's a reason why the New River Gorge Bridge made it onto the 2005 West Virginia Quarter in the first place: it's iconic!
When the bridge opened on October 22, 1977, it became the longest single-span arch bridge in the world. It was also the highest bridge supporting a regular-use roadway. While it has since lost both titles to other bridges, it's still among the top bridges in the world — in terms of both length of its arch span and overall height.
The bridge took 3 years to construct and was one of the great architectural wonders of the modern world when it opened.
The New River Gorge Bridge also inspired Bridge Day — a single-day festival held every year since 1980 in Fayetteville, West Virginia (near where the bridge is located). The holiday takes place on the third Saturday in October, and it draws thousands of people who walk the bridge. Some even jump off the bridge with parachutes!
I missed Bridge Day on my first trek to the New River Gorge Bridge, but maybe I'll make it back there again soon to enjoy the festivities.
Where Is The New River Gorge Bridge?
The official address for your GPS is:
330 Meadow Creek Road
Meadow Bridge, WV 25976
By car, you can get to the New River Gorge Bridge from Route 19 (between Beckley and Hico) and from I-64 (between Mossy and Sandstone).
There are two visitor centers and lots of fun things to do near the bridge itself.
New River Gorge Bridge: By The Numbers
I'm not an accountant (nor did I do all that well in math class), but I do love numbers… and stats!
Here are a few numbers I found fascinating about the New River Gorge Bridge:
Number of years to build — 3
Width of the bridge, in lanes — 4
Width of the bridge, in feet — 69.3
Height of the bridge, in feet — 876
Longest span, in feet — 1,700
Year construction started — 1974
Year completed — 1977
Total length of the span, in feet — 3,030
Number of cars that cross each day — 16,000+
Cost to build the bridge in dollars — 37,000,000
How many 2005 quarters depict the New River Gorge Bridge — 726,541,609
One Big Mistake I Almost Made Getting To New River Gorge Bridge!
I grew up with cash tolls, and I always made a habit of keeping quarters in my car for this very reason.
But in 2016 I bought an E-ZPass for northeastern tolls, and I also had a Florida Sun Pass for my journeys in my home state. Between electronic toll programs and pay-by-license tolls, I had gotten out of the habit of keeping quarters around. (I don't usually carry cash anymore either.)
While I knew that my wife and I would need to pay tolls getting to the New River Gorge Bridge from our home in Roanoke, I did not expect them to be cash tolls.
However, there are just two options for paying tolls along Interstate 64 and Interstate 77 (the two routes we took to get to the bridge in West Virginia):
Now, I did have E-ZPass, but the transponder wasn't with me in the car we took to move to Virginia.
Thankfully, we had $4 cash for the first toll. But guess what?…
The next toll we encountered required exact change. Yes, my friends — exact change, as in coins. Who carried coins with them anymore on a regular basis?
Thank goodness, we happened to have 3 quarters with us to pay the 75-cent toll. Otherwise, I'm not sure what we would've done. Paid a hefty toll violation? Maybe worse…
Immediately after getting through the toll plazas, we stopped at a Sheetz gas station. I quickly withdrew some cash from the ATM, and then broke it for smaller bills and coins. That way, we knew we'd have enough of the right kinds of money to go back home the way we came. (I definitely didn't want to drive on two-lane mountain roads at night getting back home just to avoid paying a few bucks in tolls!)
My big tip here is…
If you're going to the New River Gorge Bridge, be sure that you have sufficient cash on hand and / or your car is equipped with an E-ZPass. (And double check to make sure that E-ZPass is still accepted on your route before you go — because things might change between the time I wrote this and when you're reading it.)
You might even want to bring along a handful of 2005 West Virginia Quarters with the New River Gorge Bridge design on them to pay for those tolls… Wouldn't that be appropriate?
Bonus Tip: For a unique photo moment, try holding a 2005 West Virginia quarter in your hand while photographing the New River Gorge Bridge at the same time — similar to what I did at Thomas Jefferson's Monticello home.
More Tips For Visiting New River Gorge Bridge
Crossing the bridge was a breeze — once we got past the tolling anxieties!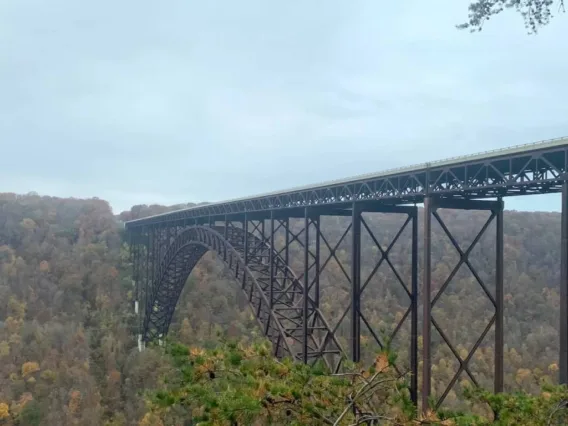 The bridge is part of U.S. 19, one of the major north-south highways that also passes through some communities not far from our Florida home.
Once we traversed the bridge, heading north, we stopped at the nearby National Park Service visitor center — so we could take a little hike down a staircase leading to an overlook near the bridge.
The views there are stunning!
Along with some incredible angles of the New River Gorge Bridge, the overlook also provides some amazing shots of the gorge and New River hundreds of feet below.
You can also see the historic Tunney Hunsaker Bridge — which was built in 1889 and was the main passage across this part of the New River Gorge until 1977.
The opening of the New River Gorge Bridge in 1977 shaved more than 95% off the time it took to get across the gorge. (The trip went from 45 minutes to just less than 1 minute!)
Talk about a feat of engineering…
The New River Gorge Bridge not only wows visitors, but it has also helped bring communities on either side of the gaping gorge much closer together.
If you ever get a chance to visit the New River Gorge Bridge, let me know what you think! (And feel free to share your photos and experiences in the Comments below.)
Fayette Station Road is one of the best places to get up close to the New River Gorge Bridge for a unique perspective.
New River Gorge Bridge Tickets
While there is NO entrance fee to enjoy the view from the top, you may be interested in purchasing New River Gorge Bridge tickets to see what the view from beneath the bridge is like.
Bridge Walk is a guided walking tour of the New River Gorge Bridge catwalk. It is led by knowledgeable local guides.
They offer one-time passes, as well as annual passes. I can only imagine what the view must be like during all of the different seasons in West Virginia!
My Other Posts About Famous Bridges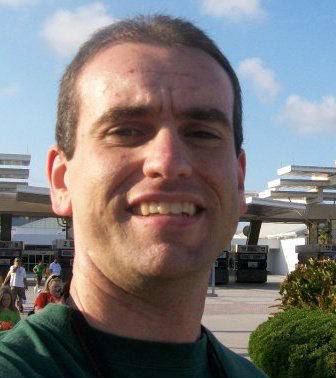 I'm a Florida native, a roller coaster junkie, and a frequent traveler. (Long road trips are my favorite.) Born and raised in Tampa, I grew up visiting Busch Gardens Tampa Bay. I authored the book Busch Gardens Tampa Bay: Images of Modern America, which details the colorful history of the Busch Gardens theme park. As a local historian, I've also written about other popular landmarks and attractions for a variety of publications. Here, on this Travel Guide, I like sharing little-known facts and fun stuff about all the places I've been — so you will have a good idea of what those places are like and what you should know before you go. I especially enjoy helping others plan fun trips… on a budget!