This post may contain affiliate links. If you buy thru these links, we may earn a commission at no additional cost to you.
---
(subtitled: "How Shopping Got Me A Free Trip To NYC")
Want to know how many door prizes I've won in my lifetime?…
Two.
A free t-shirt, and an all-expense paid trip to New York City!
The free trip to NYC was more than enough to make up for years of not winning anything!
Here's the story of how I won 2 free airline tickets, 2 nights in a hotel on Times Square, 2 tickets to a Broadway play, and more…
I Got More Than A Pair Of Shoes On THIS Shopping Trip!
A new mall was opening in Sanford, Florida (back in August 1995), and JCPenney was celebrating its grand opening by charging $5 (donation for United Way) to enter and be able to take advantage of their one-night-only sales, door prizes every 15 minutes, and a chance at the Grand Prize: A round trip for 2 sponsored by AAA.
I wasn't interested.
But I had specifically gone to this JCPenney's location because the other locations near me were sold out of a particular pair of shoes that I wanted.
Reluctantly, I paid the $5 cover charge (yeah, yeah I was helping United Way too) and went straight to the shoe department to see if they had the shoes I was after.
They did!… and they were on sale too.
Must Be Present To Win?
On my way out of the store, I was stopped by some saleslady who asked if I wanted to sign-up for various door prizes to be given away all night long.
I said: "No thanks…" because I was on my way out the door, and I didn't have any other shopping I was going to do here.
She said: "You don't have to be present to win."
Okay, okay. I signed the little 2″ x 2″ entry form & dropped it in the box. Then I poked around the store another 10 minutes or so, because they had just announced that they were about to draw a name for another door prize… a $50 JCPenney gift certificate.
I didn't win, so I left.
AAA Does More Than Help Stranded Drivers
The next day, I got a call from AAA. They told me I'd won NOT just a door prize… but the GRAND PRIZE! This letter followed a few days later.
I got to choose 2 round-trip tickets from Orlando to either NYC, Boston, or Washington, D.C… PLUS 2 nights in a hotel, transportation to & from the airport & hotel, and "a special sightseeing feature based on the city chosen".
Well worth my $5 "donation", don't you think?!…
I had 8 months in which to make my decision and book the trip.
I Took A Bite Out Of The Big Apple
On June 14, 1996, my friend Suzie and I boarded a plane to Laguardia.
(Days earlier, she flew from wherever she was living at the time to Orlando, where I was living at the time. We enjoyed some time on the beach and jet-skiing, then made our way to New York City.)
I wasn't as "into" photography back then as I am these days, so don't let the sheer lack of photos from this trip be a sign that we didn't do much or didn't have a ton of fun.
Quite the contrary…
Eyes Wide Open
Suzie and I had SO much fun exploring New York City from north to south, east to west, and everything in between.
We were your typical TOURISTS, and we enjoyed every single minute of it.
Thankfully, I'd been to NYC a number of times before (for work), but I'd never really done any of the sightseeing things before this trip. So she and I were two naive chics exploring the City with eyes wide open. What a blast!
Let Someone Else Do The Driving
Our #1 recommendation for future 1st-timers to New York City: take one of those double-decker buses around the City… and sit on the top level! (We chose the NY Apple Tours line; there are several.)
You can hop on and off as much as you like throughout the day, and you get views that cannot be matched from walking the city, or taking a cab.
We DID walk a fair amount (which was fun in and of itself!). And despite the fact that Suz and I never even stepped foot on board a cab once, (I had experienced the "NYC cab ride thing" on my previous business trips to the City), the "taxi cab" remains a lasting symbol of our trip to The Big Apple together.
Photos From New York City
You can view the photos of our good times here, along with detailed highlights of our 3-day, 2-night vacation in NYC.
Here are a couple of my scrapbook layouts from the trip…

Highlights From Our NYC Trip
They put us up at the Crowne Plaza Hotel at 49th & Broadway — just 2 blocks from Times Square and right in the HEART of the Theater District!
We got 2 free theater tickets to the show of our choice. Plus, we has such a good time at the theater that we stood in line at TKTS and purchased seats for 2 other shows too! Here's what we saw:
Grease — you know the story. This was pre-Rosie. It was a lot of fun!
Miss Saigon — a dramatic musical-slash-love-story.
How To Succeed In Business Without Really Trying — a musical comedy starring Sara Jessica Parker & Matthew Broderick.
We had lunch at the Official "All-Star Cafe" where a number of Hollywood movie stars and sports heroes were seen hanging out, and there was some big hoopla going on there that night with Arnold Schwarzenegger. It was a theme-park restaurant owned by Andre Agassi, Wayne Gretzky, Joe Montana and other sports heroes; it has since closed.
We had dinner at a famous eatery called Jekyll & Hyde. It's a horror-themed restaurant, where you dine and imbibe among the dead… literally. There's "weird stuff" going on all around you the entire time you're there.
We went to Caroline's Comedy Club — downtown New York City. What fun, but all eyes (and a couple of the comedians' jokes) were on us — the pasty white tourists from somewhere-other-than-here.
In A New York State Of Mind
Despite the way our trip ended (with the cocky bellman at our hotel deliberately breaking every one of our souvenirs!), we were able to chalk it up to the fact that he was simply "in a New York state of mind" (…you know, that how New York attitude-thing). And to make up for the bellman's poor attitude and behavior, the hotel compensated us for our losses in the end.
How?… After we had arrived back in Orlando (where I was living at the time), management at the Crowne Plaza Hotel called and asked us to describe every item that was broken and where we got it. Then they actually sent someone out to re-purchase those exact same items. They were all mailed to us in one nice big care package. AWESOME!
And we're talkin' some pretty weird stuff… They had to go back to the All Star Cafe and purchase the XL souvenir glass that their frozen margaritas were served in.
They had to go to the Comedy Club and purchase the tall glasses with "Caroline's" on them that they sold as souvenirs.

I understand that the hardest thing for them was finding the exact yellow taxi cab bank that Suzie had purchased from one of the many trinkety souvenir shops in the City. They phoned her several times: "Does it have 'this' on it?… Does it have rubber feet on the bottom? Are the windows tinted?"
Can you imagine?!… They went to great lengths to replace the exact items that their bellman had damaged.
How's that for a great first impression of New York City? And how's that for a great impression of the Crowne Plaza Hotel?!
(For the record, while completely unrelated to this trip, Jim's first impression of New York City was that it was "so clean" and everyone was "so nice"… More on that later.)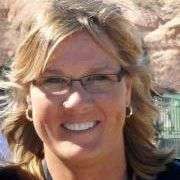 As a lifelong traveler, I like to help people find unique ways to do things that will save time & money — so I write about "outside the box" Travel Hacks that most wouldn't think of. I'm SUPER organized and I love to pack! I've lived in 6 different states (Florida, Indiana, New York, Ohio, Tennessee, and Texas) and have visited every other state in the U.S. — except Hawaii. (Can you say bucket list?) I've been on several different cruises, airplanes, and boats in my life and I currently enjoy the outdoors by bicycling, motorcycling, Jeeping, RVing, camping, or just walking my dogs. My favorite "hobby" is riding on the back of our Harley-Davidson Road Glide traveling cross country — which we usually do at least once each year. We even rode from Tennessee to Alaska once! When I'm not on the road, you will find me at the corner of Good News & Fun Times as publisher of The Fun Times Guide (32 fun & helpful websites).