This post may contain affiliate links. If you buy thru these links, we may earn a commission at no additional cost to you.
---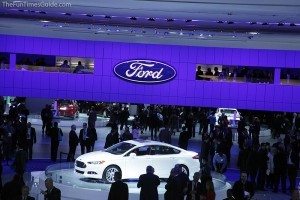 I was privileged to attend the Detroit Auto Show this year as a guest of Ford Motor Company.
I know, technically it's the North American International Auto Show (or NAIAS), but most of us call it the Detroit Auto Show or the Detroit Motor Show, right?
Ford hand-picked 146 bloggers from all over the world and invited us to attend the Auto Show… and so much more!
Ford, in partnership with ad agency Ogilvy, flew 146 "influencers," primarily bloggers, from as far away as China and Australia, to the 2012 North American International Auto Show in Detroit, Michigan, and put them up in The Henry hotel (formerly a Ritz-Carlton).  — Joel Johnson
They spent 2-1/2 days with us, sharing a slew of interesting things about the Ford brand and giving us unique access to several things behind the scenes at Ford World Headquarters.
And no, we weren't all auto writers, or even car enthusiasts. Isn't that so cool?
How did I get so lucky?
Well…
Ford knows that car lovers (and those who work in the industry) look for certain things and have their own way of talking about cars. While the rest of us — single people, married people, moms, dads, dog owners, tech geeks, etc — look for other interesting things when it comes to the vehicles we like to drive.
Those of us who blog for a living talk about cars differently, and we share that information with entirely different groups of people. Combine that with the additional time we spend online Tweeting, Facebooking, Google Plussing, YouTubing, and sharing our 2-cents via other social media sites… and this opportunity is clearly a win-win for everyone!
Check out these numbers that Scott Monty, Ford's Digital & Multimedia Communications Manager shared with us at dinner after our first day at the Detroit Motor show:
I want to share with you some statistics about the impact that you have had today … Today in the social media sphere (Google Plus, Facebook, Twitter, and so forth), we [Ford] had over 2,200 social media mentions, and the Twitter coverage has reached approximately 5 million unique followers. You guy have helped us get the word out to 5 million people today! 40% of all of the coverage today from ALL of the automakers was about Ford. (Chrysler was at 18%; GM was at 15%) We are clearly leading the pack thanks to you guys. — Scott drivingMonty
So I guess we really are "digital influencers" (as they referred to us in our invitation) and "online influencers" (as they referred to us at the Auto Show itself).
I respect Ford so much for doing this. And I am truly honored to have been included.
While Jim is writing about the Auto Show itself, my takeaways all came from the behind-the-scenes stuff that I saw and learned about Ford Motor Company.
I think others will be impressed to learn these things about Ford too…
Ford Thinks Outside The Box
A leader in corporate-level social media, Ford definitely thinks outside the box when it comes to all things media — especially with regard to social media like Twitter, Facebook, and Google Plus.
Plus, they continually strive to find fun, new ways to "reveal" their new Ford vehicles.
Like the way they revealed the 2011 Ford Explorer, for example. Leading up to the reveal, they used social media in a very unique way. Then, they ultimately revealed the 2011 Ford Explorer simultaneously in 8 cities on a single day and on the Facebook Page for Ford Explorer at the same time.
Ford Motor Company has been at the forefront of social media for some time. The Fiesta Movement, the Explorer reveal on Facebook, Doug the Spokespuppet, Ford Social (formerly known as The Ford Story) and being the first brand on Google+ all stand as examples of Ford's success that spans from clever campaigns to a daily commitment to engage. Ford played a significant part in how the automotive industry thinks about social media (and in some cases how large companies think about social media). — Scott Monty
By inviting bloggers to their reveal of the 2013 Ford Fusion at NAIS this year, Ford Motor Company was able to receive a lot of honest feedback from average, everyday people — not just auto enthusiasts for a change.
And with our ability to reach thousands of people directly (through our blogs and our own personal & professional relationships) plus millions more indirectly (through our social media connections), Ford is now on the radar of so many more potential car buyers — even if it's just in the back of their minds!
How many other Fortune 500 companies are so open-minded and transparent with their audiences?
Alan (Mulally) and the leadership team set out for this notion for transparency, for working together. Working together to try to accomplish a greater good. Working together and transparency are central to social media. People want to be included on what's going; they want to be a part of something bigger than themselves. We knew we had to transform how we told our story and we saw social media as more and more important. — Scott Monty
What I Learned About Ford Motor Company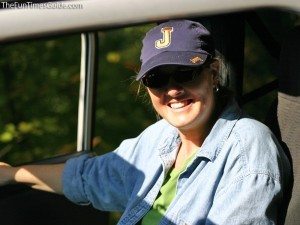 So… most of you know that I'm not really a car girl.
However, I can say without a doubt that I'm a Jeep girl.
But that's mostly just because Jeeps are so darn FUN! Inside and out. On the road and off. And the company does FUN things — like hosting worldwide geocaching adventures and sponsoring dozens of events for Jeep owners (and wannabe Jeep owners) each year. Oh sure, Jeeps are rugged, and durable, and long-lasting, and have a great resale value too. But that's the kind of stuff that Jim and other auto enthusiasts are likely to write about. Not me. I mostly just like the fun stuff.
When it comes to cars, I'm more about all the fun places you can go, all the fun add-ons and accessories you can buy, and all the fun gadgets & technology built into them.
That said, here are 11 interesting things I learned after spending 3 days behind the scenes with Ford Motor Company:
#1 – Ford is a technology company… that happens to make some really cool cars.
Jim posted that on Google Plus and Twitter during the Detroit Auto Show, and I like to think of Ford in that way too. Especially since that's the part of cars that I'm most interested in.
We are a car company, but we are working to think and act like a technology company.
— Alan Mulally
#2 – I was impressed to learn about the high-tech gadgetry included in Ford vehicles.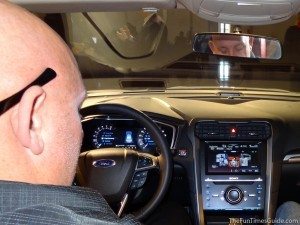 Did you know that some Ford vehicles can parallel park for you? Once you tell the car that you want to parallel park, it uses its exterior sensors to monitor how close you are to other parked vehicles and tells you precisely how far up or back to go before you take your foot off the brake and let the car do the rest! It's called Active Park Assist.
In addition, the 2013 Fusion includes the new Ford Lane Keeping System — which monitors how well you are staying in your lane and alerts you when you are driving as if you're tired.
Then there's the incredible Ford Sync and MyKey systems. Both are utilized through the vehicle's onboard message center.
Ford Sync enables voice-activated use of GPS maps & directions, phone dialing, music searching, climate control, etc. It's a $395 option and it has a subscription fee (although the first 3 years are FREE). Here's what the Ford Sync can do. By the way, My Ford Touch is the next generation of Ford Sync.
Ford MyKey enables parents to pre-program any key for their teenager. When that key is inserted into the ignition, certain driving controls turn on — like seatbelt reminders, maximum speed limits and alerts, and maximum volume controls, and traction control that limits tire spin. It's like a remote babysitter for kids when they're behind the wheel.
Both systems are Microsoft based. (Ugh!) Ford Sync works with your own smartphone via Bluetooth. For example, here's how Ford Sync works with a Droid or iPhone.
Thought: if Ford opened up some of their code, or an API, it could radically transform car tech. Think open source auto software.  — Derek Markham
#3 – Ford has a full-time fortune teller on staff.
Actually, she's a "futurist". We met her. Her name is Sheryl Connelly. She monitors trends and consumer behavior.
Basically, she predicts what drivers will want in their vehicles 5 to 10 years down the road and she uses that information to help Ford design vehicles.
This unique position requires that she focus on all things non-automotive by reaching out to thought-leaders in social, technology, economic, environment and political arenas. For the last 5 years she has served as Ford's in-house futurist, ensuring that when the company makes a product, business or strategic decision – it does so with a common assessment about the external environment and shared vision for the future.  Source
#4 – Ford seems like a fun place to work, where you're respected and rewarded for your creativity and passion.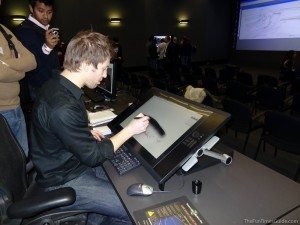 I always like hearing how people came to be in their current jobs. It was interesting to talk to the young designer whose job is to use Photoshop to "sketch out" Ford vehicles before they get to the CGI stage… before they get to the lifesize clay model stage… and before they get to the actual vehicle stage. He's been with Ford for 4 years.
When I asked what he did before this, he said he was a student. Right after he graduated, he got this job with Ford. (Cool point #1.) Then someone asked him if there was a particular part of the 2013 Ford Fusion that he felt "responsible" for. Like… "See that slight raise on the hood? I suggested that and it ended up being put on the actual car!" He said (paraphrased): "I look at the new Fusion and I feel like the entire car is a direct result of me, my sketches, my input. So I look at that car now and think… I did that!" (Cool point #2.)
I love that. Love the passion. Love the creativity. Love the honesty. Love the fact that a fresh young graduate can get such a job right out of college. Love that so many people have that same amount of input on the actual cars at Ford and have that same level of pride and joy for what they create. That's just cool. That's when it's fun to go to work! Trust me, all of the other Ford employees we met seemed to have that exact same joy and passion for their work.
#5 – I think it's hilarious how Toyota and Ford were sparring in public.
Toyota put a billboard across the Cobo Center — where the Detroit Motor Show was held — touting the Toyota Camry hybrid's 43 mpg and saying (quote): "Sorry Fusion."  However, on the first day of the Show during the unveiling of the 2013 Ford Fusion, Toyota and the rest of the world learned that the Fusion actually has best-in-class gas mileage at 47 mpg! (Sorry, Toyota.)
In fact…
The Ford Fusion is now America's most fuel efficient mid-size sedan for both hybrid and conventional gasoline models. The 4-cylinder Ford Fusion S is now certified at 34 mpg highway and 23 mpg in the city, topping the Toyota Camry and Honda Accord.  — Ford Media
And, believe it or not, the all-new Fusion Energy Plug-in Hybrid gets the equivalent of 100+ miles per gallon!
The comparisons didn't stop there. As seen in this video from the press conference we were at — where the 2013 Fusion was unveiled for the first time — Ford took some shots at the Toyota Camry and Honda Accord.
#6 – Ford does many things different/better than other automakers.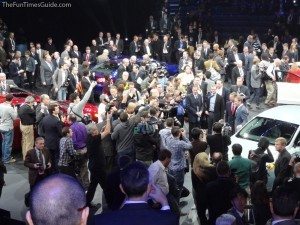 I was also reminded (by Jim) that Ford is the only car company that didn't take any money in the government bailout a few years ago when the economy took a turn for the worse.
During a time of crisis throughout the auto industry in recent years, Ford emerged as the sole American automaker in a position to survive the steepest sales downturn in decades without a government bailout. That helped the company improve its reputation and win new customers.  — New York Times
#7 – Ford is taking huge steps in the right direction by using sustainable materials to build Green cars.
I enjoyed learning about everything 'green' — from Ford's bio seats which use foam made from soy to their door assembly which utilizes these materials:
Corn-based polylactic acid upper door instead of 100% petroleum-based ABS upper door
Wood fiber reinforced polypropylene armrest bracket instead of gas or mineral reinforced polypropylene armrest bracket
Corn-based Sorona armrest fabric instead of PVC synthetic leather armrest fabric
Corn-based Sorona glass reinforced grab handle instead of nylon glass reinforced grab handle
Wood cellulose reinforced polypropylene armrest panel instead of ABS 100% petroleum based armrest panel
Wheat straw reinforced polypropylene door panel instead of 100% petroleum based door panel
Sugarcane derived polyurethane crash block instead of 100% petroleum based polypropylene
Corn-based polylactic acid map pocket instead of 100% petroleum-based ABS map pocket
#8 – I'm grateful that Ford introduced me to IGNITE.
IGNITE is kind of like TED-lite. There are IGNITE events held all across the world which feature 5-minute slideshow presentations on topics that average, everyday people are passionate about. IGNITE's motto is "Enlighten us. But make it quick!"
IGNITE is a geek event in over 100 cities worldwide. At the events Ignite presenters share their personal and professional passions, using 20 slides that auto-advance every 15 seconds for a total of just 5 minutes.  — Ignite
Ford encouraged each of us to come up with a 5-minute IGNITE presentation. About 40 of the 146 attendees wanted to do one. Due to time constraints, only 10 were selected to give their presentations after our group dinner at Ford World Headquarters.
I vividly remember 3 of those IGNITE presentations and they will probably stick with me for a long time — each for very different reasons. (Thus, the power of IGNITE.)
For example, one of the coolest things I've seen in a long, long time was Jonathan Brand's IGNITE presentation about a full-scale 1969 Mustang he built only using paper! The story behind it is truly amazing, and his paper masterpiece even tops that.
#9 – We were first to see the Driving America display at the Henry Ford Museum, among other things.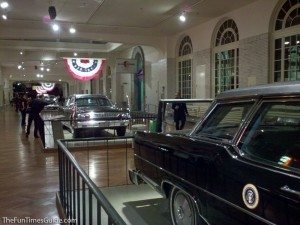 The access that we were given and the way that we were treated — from the moment we stepped off the plane in Detroit to our last private tours of Ford World Headquarters — was incredible. Personally, I have never been treated so professionally and respectfully at any other event.
Not only did Ford give us all media passes for the Detroit Auto Show (the first day, when it was only open to the media and high-level executives), they also treated us like royalty 'round the clock — before, during, and after the Show itself!
From the hotel (the Henry Hotel where the customer service was top notch) to the shuttle service (whose drivers were super sweet and helpful while shuttling us from Point A to Point B for 3 days straight) and all of the event staff (both from Ford and Ogilvy Public Relations — a world leader in PR and event management)… our entire time in Detroit was Chamber-of-Commerce-perfect and we were given anything and everything we wanted during our stay.
Here's just one example of the unique access we were given…
We were among the fortunate few who got to see the Driving America exhibit at the Henry Ford Museum (The display opens to the public on January 29th).
This was on the very first night we arrived. It was our first opportunity to meet all of the other bloggers, as well as a few key Ford employees.
They opened up the entire museum to us. We could spend as much time as we wanted and take as many pictures as we desired. Trust me, it is much more than just a Ford museum or even an auto museum. It's truly an American history museum! If you ever get a chance to visit the Henry Ford Museum, you absolutely must.
Ford Motor Company also wined and dined us before, during, and after our self-guided tour of the museum. What a great first impression!
#10 – We were first to lay eyes on the 2013 Ford Fusion.
Our press passes for NAIAS got us great seats in Joe Louis Arena — where the unveiling took place.
Here's a full-length video from the press conference we were at. It features many Ford executives and interesting facts about Ford Motor Company.
It was truly a spectacle before, during, and after they unveiled the 2013 Ford Fusion to the media!
Jim has known for awhile that he'd like to get a Ford when it's time for us to buy a new vehicle. (We currently have a 2006 Mercury Sable and a 2004 Jeep Wrangler Unlimited.) So he was eager to get behind the wheel of the 2013 Fusion — mostly to see if he would fit! He's 6'4″ so getting in & out of mid-size cars is always a challenge. But that's the class we are most interested in for our next high-mileage vehicle. The verdict: once he gets in, he feels comfortable inside. But getting in and out of the car was a little awkward for someone so tall.
#11 – Where else could so many average people get this close and personal with the key leaders of a major corporation?
The opportunities we had to mix and mingle with top-level execs from Ford Motor Company were amazing!
Each of the following spent at least 30 minutes in an intimate setting with anyone who wanted to meet them.
We could ask any questions we wanted.  And they answered them all. It was impressive how honest their answers were.
You might expect that these extremely busy execs were rushed in and out of the "meet & greets" with us, while their minds were really on the "real" business that they had on their plates during the Detroit Auto Show (and on the other days as well). But no. These were the most laid-back interactions with some of the most prestigious men and women at Ford. And they truly seemed as happy (and honored) to be there interacting with us as we were to just be in the same room with them!
Imagine how you would feel casually chatting with the CEO of Ford Motor Company about Ford stock prices. Jim ended our meeting with Alan Mulally (Ford's President and CEO) by saying, "Thanks for making Ford stock fun to own again… and smart to own again." To which Mulally replied, "Yeah can you believe just a year ago it was $1.80 a share, and now it's over $12 a share!"
We also met with a dozen or so of the lead designers at Ford Motor Company who walked us through each of these design processes at Ford Headquarters:
Would you believe that the majority of print and TV ads featuring new Ford vehicles are done using CGI images of the cars before they're even built? It's true! 
Check out Ford Social for insider info and lots of new ideas from Ford Motor Company.
My $.02
So what's my biggest takeaway from all of this?
The genuine passion — for the company, for the products, for the environment, and for the people who drive cars — was undeniably evident in each and every one of the Ford employees we met with during these 2-1/2 days.
Not only does Ford seem like a great place to work, but Ford Motor Company is clearly a great company that makes reliable vehicles that are FUN to drive.
Ever since Leo Laporte started talking on TWIT.tv about all of the Ford vehicles he's driven (which started years ago) as well as the cool things he likes about the Ford Sync and Ford My Touch systems, Ford has definitely been on Jim's radar for our next vehicle. While his eye is on which Ford to get, personally I'm just excited to see what type of unique accessories, options, and add-ons Ford will come out with next!
Global Design and Chief Creative Officer J Mays said it best. At the end of our stay, he thanked us all, acknowledging that we had asked more thought-provoking questions than traditional auto media. So there you go – social media works. — Maria Lianos-Carbone
Random Photos I Took…
Here's some of my SWAG from the Detroit Auto Show:
Thumb drives were apparently all the rage this year. The Ford keyring, Chrysler sparkplug, and Dodge dart (yes, the actual dart) were all flash drives!
SNL comedian John Lovitz was at the Detroit Auto Show being photographed with this car as I walked by:
He performed a brief stand-up routine for the Smart For-Us Concept car at the Auto Show.
It was sort of odd seeing all of these high-level execs in suits buckle their seatbelts and ride up into "the Cloud" on a Disneyesque carnival-ride contraption that was basically a 20-foot tall elevator with 12 pod-shaped seats built onto it. Once the ride reached the highest level up in "the Cloud," you watched a brief movie on a 360-degree screen which highlighted Ford's idea of the future, as far as in-car technology is concerned. You had wait in a long line to sign a photo release and a liability waivers for this 5-minute ride.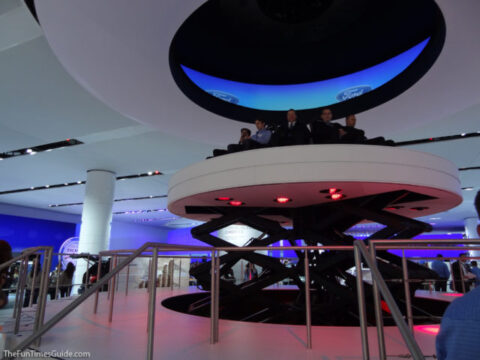 We overheard one of the workers while we were waiting in line say that this particular contraption was recently used at a Lady Gaga concert.
The dinners that Ford provided for us each night were truly amazing — both in terms of the food and the unique places where we got to go. The first night, we were given behind-the-scenes access at the Henry Ford Museum, followed by an amazing dinner and dessert buffet there. The second night, we watched the IGNITE presentations and dined in style at Ford World Headquarters.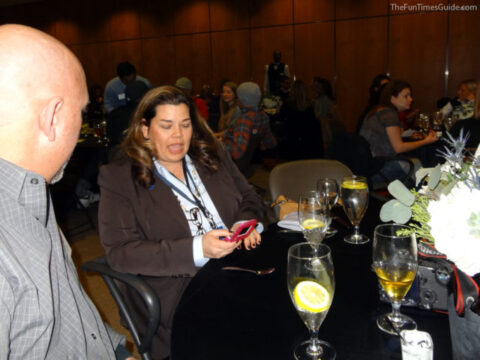 Jim and I were especially thrilled when Samantha Hoyt, Ford Fusion's Marketing Director chose to sit at our table on this night. We enjoyed talking to her about Ford Racing, the Ford Fusion, music, adult beverages, and more. She was a lot of fun.
Interesting Highlights From Other Bloggers We Met
10 Things I Learned About Car Design In Detroit – Rob from It's Nice That
The NAIAS With Ford Motor Company – Tiffany from Nature Moms Blog
Dad At A Car Show: Personality Disorder? – Clay from Dad Labs
Ford's Green Cars: Building Them Fuel Efficient, Fast and Safe – Anna from Green Talk
NAIAS Spotlight: Ford Motor Company – Curtis from Digital Dads
Single Mom Drivers: An Affair To Remember – Melysa from Late Night Parents
Get To Know The Booth Babes At The Detroit Auto Show – Travis from Business Insider
The Henry Hotel And Ford Museum Are Beautiful And Worth A Visit – Bill from Daddy Details
And Just For Fun…
Listen to Bud Light's Real Men of Genius "Detroit Pistons Basketball Fans":
https://travel.thefuntimesguide.com/files/Bud_Light_Real_Men_of_Genius_Detroit_Pistons_Basketball_Fans.mp3

t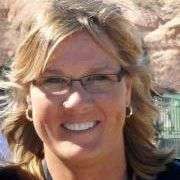 As a lifelong traveler, I like to help people find unique ways to do things that will save time & money — so I write about "outside the box" Travel Hacks that most wouldn't think of. I'm SUPER organized and I love to pack! I've lived in 6 different states (Florida, Indiana, New York, Ohio, Tennessee, and Texas) and have visited every other state in the U.S. — except Hawaii. (Can you say bucket list?) I've been on several different cruises, airplanes, and boats in my life and I currently enjoy the outdoors by bicycling, motorcycling, Jeeping, RVing, camping, or just walking my dogs. My favorite "hobby" is riding on the back of our Harley-Davidson Road Glide traveling cross country — which we usually do at least once each year. We even rode from Tennessee to Alaska once! When I'm not on the road, you will find me at the corner of Good News & Fun Times as publisher of The Fun Times Guide (32 fun & helpful websites).