This post may contain affiliate links. If you buy thru these links, we may earn a commission at no additional cost to you.
---
The Florida Citrus Tower may not be at the top of your mind when building a list of things to see and do near Orlando.
Yet, at one time, the Florida Citrus Tower was among the many now largely forgotten attractions that vacationers visiting the state built their itineraries around!
It opened in 1956 — long before Walt Disney World debuted in 1971 or even iconic Interstate 4 began opening in phases in 1959.
Back then, the Florida Citrus Tower had as many as 500,000 visitors a year from far and wide.
Where Is The Florida Citrus Tower?
The Florida Citrus Tower is located about 24 miles west of Orlando in the town of Clermont.
It's a place that looks nothing like what you've probably seen in Sunshine State tourist brochures or resort websites — which try to paint the entire state of Florida as a palm-dotted beach resort with tropical cabanas at every turn and Walt Disney World always just around the corner.
A trip to Clermont takes you through old Florida. Real Florida — with rolling hills and citrus groves accessible only by driving through stands of tall pines and cypress, and lakes and wetlands never too far out of sight.
It's that Florida you get to see in all its glory from the top of the 226-foot-tall tower!
Must see: Check out the 24/7 live view from the top of the Citrus Tower!
I recently decided to visit the Florida Citrus Tower. I grew up hearing about it, yet it always seemed too far out of the way for me. Living on the west coast of Central Florida, it wasn't really near anyplace I ever visited.
The first time in my memory ever passing by it was when I had driven to a town near Clermont to visit my cousin who had flown down to see another relative of ours. Driving back, I saw the Florida Citrus Tower along my route — but the landmark had already closed for the day. That's when I realized this wasn't as far away from my home as I initially thought.
If you're visiting the Orlando area, the drive to Clermont is quite beautiful and not that bad at all — maybe 30 minutes from the heart of Orlando. And you'll get to see a part of Florida most people from outside the state don't see anymore.
Florida Citrus Tower Fun Facts
This 22-story landmark, which stands at one of the highest points in peninsular Florida, reaches 543 feet above sea level.
On a clear day, you can see 35 miles to the horizon and view 8 Florida counties across 2,000 square miles — an area about the size of Delaware!
The tower was built using 5 million square feet of concrete and 149,000 pounds of steel.
Ranking the height of the tower against other popular landmarks, it stands taller than the Leaning Tower of Pisa in Italy (186 feet tall) and shorter than the Statue of Liberty on its pedestal in New York Harbor (305 feet tall).
Things To See & Do At The Florida Citrus Tower
So, why should you go? For the view!
Let's face it, the only way most folks these days get to see Florida from up high is either at the top of a roller coaster or from a plane.
Up in the tower…
The views from atop the Citrus Tower are stunning! They're unlike anything you can see from anyplace else in the state.
On a good day, you can see:
The city of Orlando
The sphere at Epcot
Dozens of lakes
Stretches of citrus groves
And countless other cool things that look simply stunning from 22 stories up!
While you're at the top of the tower, be sure to drop a coin into the coin drop chute and listen for it to jingle-jangle all the way doooooowwwwwwwwnnnnnnnnnnn…
Bring a book, or bring a laptop. You can stay at the top of the tower for as long as you wish during operating hours. Take advantage of the view and relax!
Down on the ground…
When you're back on the ground, be sure to poke around the gift shop downstairs at the base of the tower.
They have some really neat pieces on exhibit down there showcasing the tower's history.
Old Citrus Towers posters and artwork cover the walls of the shop, and there are display cases filled with retro maps, brochures, and other memorabilia.
A few glass-enclosed shelves show off Citrus Tower-emblazoned souvenir plates that haven't been offered for sale in decades.
The carillon equipment that operates bells playing music at periodic times throughout the day is located near the restrooms.
Before you head out the door, buy a cup of coffee and a snack to help perk up your car ride to your next Florida landmark!
Of course, there are also magnets, postcards, T-shirts, and other fun souvenirs for sale to help you remember your trip to the Florida Citrus Tower.
History Of The Florida Citrus Tower
The Citrus Tower stands just a couple blocks north of the intersection of Florida State Road 50 and United States Route 27.
In the mid-1950s, when the Citrus Tower first opened, the junction of S.R. 50 and U.S. 27 was one of the most important intersections in the state — connecting the east coast to the west coast, and the northern half of the state with the southern part.
This was also a spot located in the heart of the Florida citrus industry — which in itself was a spectacle!
Countless millions toured Florida just to see the endless miles of groves. That was, in part, why the Florida Citrus Tower was built: to give tourists unmatched views of the citrus groves.
Original plans for the tower called for a 75-foot-tall landmark, but that was eventually super-sized to the 226-foot-tall tower that visitors still enjoy today.
While now surrounded by thousands of homes, several strip malls, and many other businesses, the Florida Citrus Tower once rose proudly over millions upon millions of orange trees.
That was the real draw… To get a bird's-eye view of Florida citrus country.
These two videos from 1974 and 1981 show what it was like back when the Citrus Tower was surrounded solely by orange groves.
---
---
My Tips For Visiting The Florida Citrus Tower
You probably saw some clips in both of those 1970s and 1980s videos of tourists atop the tower and outside.
Those outdoor views were in a spot called "The Crow's Nest," and that's no longer accessible to the public. But the views from the top of the tower in the enclosed observation deck are just as stunning today as they were all those years ago!
Here are some of the notes I made during my trip to the Citrus Tower:
Tip #1 – Don't forget your binoculars!
I wish I had brought along my binoculars. Sure, they would've been a little clunky to carry along, my binoculars strapped to my neck. But there are so many things I would've been able to see from afar that appeared fuzzy with my naked eye. I'm definitely taking them on my next visit to the Citrus Tower!
Tip #2 – Bring some coins.
The coin drop is pretty neat. I mean, where else can you safely drop a coin 22 stories? I ended up exchanging some cash for coins at the main counter in the gift shop/snack bar downstairs.
Tip #3 – Plan on spending at least an hour there.
This Citrus Tower is more than just an elevator ride to the top and then a trip back down. You're going to want to spend some time looking around while you're up there. The views are simply magnificent! And, if you're like me, you're going to enjoy checking out all of the relics from the past downstairs, too.
Tip #4 – This is a great place for special events!
The Florida Citrus Tower isn't only a tourist attraction. It's a spot where locals can hold special meetings in the Community Room. And it's a great place to have a wedding, birthday party, retirement celebration, or just about any other fun event you can think of! Be sure to make reservations early.
Tip #5 – Check the website for special prices and hours.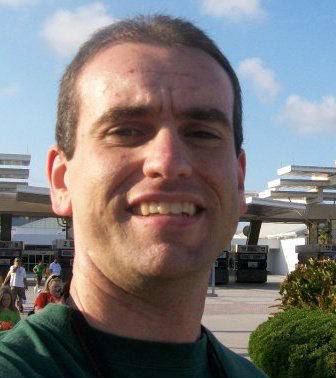 I'm a Florida native, a roller coaster junkie, and a frequent traveler. (Long road trips are my favorite.) Born and raised in Tampa, I grew up visiting Busch Gardens Tampa Bay. I authored the book Busch Gardens Tampa Bay: Images of Modern America, which details the colorful history of the Busch Gardens theme park. As a local historian, I've also written about other popular landmarks and attractions for a variety of publications. Here, on this Travel Guide, I like sharing little-known facts and fun stuff about all the places I've been — so you will have a good idea of what those places are like and what you should know before you go. I especially enjoy helping others plan fun trips… on a budget!