This post may contain affiliate links. If you buy thru these links, we may earn a commission at no additional cost to you.
---
tC'mon ladies, admit it. At least once, you've wished that you could pee standing up.
Not all the time. Just those times when nature calls and you're traveling, or outdoors, or wearing something that's super-constricting and difficult to get on & off.
Hey, if it's good enough for Jennifer Lawrence, then it's good enough for me!
Go Girl Female Urination Device & Other Pee Funnels
As Jennifer Lawrence said, the solution to the problem when you need to pee standing up is the Go Girl female urination device.
When filming the movie X-Men: Days of Future Past, they put me in a suit that is great, I just can't pee in it. So I have to pee out of what's called a Go Girl, which is a funnel. So I stand up to pee. — Jennifer Lawrence
They actually make 2 different types of female pee funnel (also called a female urinary device or a female urination device) to assist women when urinating in awkward places or in restrictive clothing:
Disposable ones — so you don't have to worry about the cleanliness factor of toting a silicone or plastic pee funnel around after you've used it.
Reusable ones — so you don't have to keep spending money on flimsy pee funnels. Just quickly rinse it off or toss it in a baggie to wash it in the shower later.
For the infrequent number of times I'd actually use one, I prefer the disposable ones. They have a smaller overall footprint, even though they still have large wide funnels — a definite plus! And they're much easier to pack — a huge bonus if you're not sure that you'd even use it. My theory: it's nice to have a female urination device handy, just in case, but it's not something that I'm likely to use very often.
That said, Go Girl is a female urination device that's been around for years and comes highly recommended. It's made of silicone and has its own reusable storage tube. It's available in a pinkish lavender color, or camo khaki.
My $.02 about the Go Girl female urination device:
Since the walls of the funnel are slightly folded (to prevent splashing), it seems a little more difficult to clean than others.
The spout is shorter than other pee funnels, so basically you're peeing right where you're standing. If you're in the woods, that means you're probably peeing on your shoes.
Since it's such a "tight squeeze" to get any funnel positioned properly against your body, I actually prefer a solid hard plastic funnel rather than a floppy, flexible one with "give". Softer funnels are more difficult to get into the exact position without getting caught on your underwear (or sweaty skin in the summertime outdoors).
Pee funnels that are very similar to Go Girl, with bonus features:
P EZ Travel Urinal – similar to the Go Girl funnel, but less expensive at about half the price. Like Go Girl, it's made of silicone but doesn't have the extra folds so it's easier to clean. The spout is also longer.
Freshette – also similar to the Go Girl, but with 6 inches of retractable tubing extending out of the spout. This lets you direct the urine away from you! Without the tube, it's pretty much identical to the Go Girl funnel (minus the folds).
Other female urination devices that I found to be really unique:
And for the DIYers out there… yes, you can make your own female urine funnel!
While it's far less ideal than a professional model (for SO many reasons), if you just don't think you'd use a female urination device unless you really had to, then my recommendation is to buy some cheap disposable ones for about $1 apiece (P-Mate and Urinelle are my favorites) or make your own from a toothpaste tube or a paper plate.
Times When It Would Be Helpful To Pee Standing Up
Personally, I can think of a number of times when a pee funnel would have been helpful while traveling:
Motorcycling — There have been plenty of cross-country motorcycle trips I've been on when I wished that I could just stop along the side of the road and take care of business quickly:
A few of my female motorcycle friends do, indeed, carry a Go Girl funnel (or a similar type of female urination device) for those inopportune times when nature calls and there's no bathroom in sight. Keep in mind, motorcycling lends itself to some rather unique destinations that are often quite a ways off the beaten path. So it makes perfect sense for myself and other female riders to include a pee funnel in our tour packs.
Other times when peeing standing up (or just not having to completely remove pants or constricting clothing) would come in handy:
In this video, you'll see lots more times when it could be helpful to pee standing up. My favorite: inside port-a-potties! Because who wants to sit in there?!?!
https://youtu.be/ilum5Rp5Elo
Trust me, I know that it could still be considered "indecent exposure" if you're caught peeing in public, as an adult. But we've all done it. And you've got to admit, it would have been better to have done it with a legit female urination device.
So, would you pee standing up if you could? Well, now you can!
Other Helpful Tips & Advice For Using A Female Urination Device
In addition to the links I've included above, here are some other resources to help you find the best female urination device: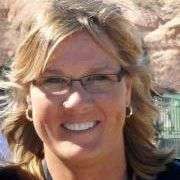 As a lifelong traveler, I like to help people find unique ways to do things that will save time & money — so I write about "outside the box" Travel Hacks that most wouldn't think of. I'm SUPER organized and I love to pack! I've lived in 6 different states (Florida, Indiana, New York, Ohio, Tennessee, and Texas) and have visited every other state in the U.S. — except Hawaii. (Can you say bucket list?) I've been on several different cruises, airplanes, and boats in my life and I currently enjoy the outdoors by bicycling, motorcycling, Jeeping, RVing, camping, or just walking my dogs. My favorite "hobby" is riding on the back of our Harley-Davidson Road Glide traveling cross country — which we usually do at least once each year. We even rode from Tennessee to Alaska once! When I'm not on the road, you will find me at the corner of Good News & Fun Times as publisher of The Fun Times Guide (32 fun & helpful websites).