This post may contain affiliate links. If you buy thru these links, we may earn a commission at no additional cost to you.
---
Planning a trip to Dahlonega, Georgia? Looking for a list of "must-do" things while you're there?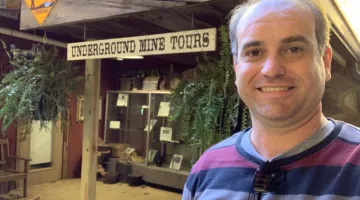 I have to admit, when I planned to stop by Dahlonega, it was for one purpose — to see the site of the Dahlonega branch of the United States Mint.
You see, I'm a historian, longtime coin collector, and editor of different coin publications. So, my goal was to pop in, see the historic site of the Dahlonega Mint, take some photos, and get back on the road.
But little Dahlonega, a town of about 7,000 people, surprised me in every positive way!
I want to tell you a bit about my trip to Dahlonega in the fall and give you a few things for the "must-do" list next time you're passing through Dahlonega…
Top Attractions In Dahlonega
My trip to Dahlonega was the last stop on a multi-day fall foliage drive through Asheville via the Blue Ridge Parkway — the iconic mountaintop roadway with a southern terminus about 110 miles north (near the town of Cherokee, North Carolina).
I expected to spend only an hour or so in Dahlonega to snap a few photos of the site of the former Dahlonega Mint, grab a bite to eat, and then move on.
But I was enchanted with the warmth of this little town in North Georgia — which seemed especially cozy on this crisp autumn morning.
Town square is anchored at the center by a stately 2-story building that formerly served as a courthouse. This landmark is one of the oldest standing courthouses in Georgia. It now serves as the Dahlonega Gold Museum.
#1 – Dahlonega Gold Museum
Northern Georgia was where the nation's first gold rush took place in the late 1820s — two decades before the more famous California Gold Rush of the late 1840s. The gold rush in northern Georgia lured thousands to the area during the late 1820s through early 1840s.
Gold mines opened throughout the region. And in the 1830s the United States Mint opened a mint facility in Dahlonega — where more than $6 million in gold coins were eventually made. Commercial gold mining activity continued in the region as recently as the early 1980s.
This long, rich gold mining history is honored at the Dahlonega Gold Museum. It's pretty hard to miss, smack dab in the middle of historic downtown Dahlonega. But if you want to put the address in your GPS, you can pin it at 1 Public Square N, Dahlonega, GA 30533.
For a nominal admission fee, you can take a trip back some two centuries to the beginning of gold mining history in Dahlonega and surrounding Lumpkin County.
The first floor showcases gold nuggets, gold mining & panning tools, and artifacts from the Dahlonega Mint — which was located about a quarter mile south at a site now occupied by Price Memorial Hall.
You'll also find a complete set of gold coins struck at the Dahlonega Mint — which operated from 1838 until 1861.
Go to the second floor to watch an educational film about local gold mining history. Where will you sit while watching the movie? In a courtroom!
Tour the second floor to see many other cool relics of the past — including the judge's quarters, jury room, and other memorabilia from the courthouse's former days as a house of law.
#2 – Price Memorial Hall
A few blocks to the south of the Dahlonega Gold Museum is the University of North Georgia Dahlonega campus. It's where you'll find Price Memorial Hall, an ornate administrative building constructed on the site of the Dahlonega Mint.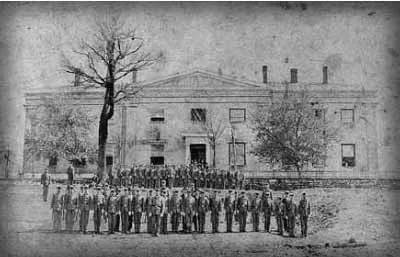 After the Civil War, the former mint building and surrounding land became North Georgia Agricultural College. Sadly, the old mint building burnt down in 1878. So, a new building was constructed on its foundation and became Price Memorial Hall. It's noted for its steeple — covered in gold leaf, as an homage to the history of the site as the former mint where gold coins were made.
A historic marker at the front of Price Memorial Hall recounts the history of the Dahlonega Mint. The building was added to the National Register of Historic Places on January 20, 1972.
You can find Price Memorial Hall at 82 College Circle, Dahlonega, Georgia 30533.
#3 – Consolidated Gold Mine
Take a trip 200 feet below ground to the bottom of Consolidated Gold Mine in Dahlonega!
This former commercial gold mine operated during the turn of the 20th century — when most of the local gold mining operations had gone underground to look for gold in hard rock and quartz deposits.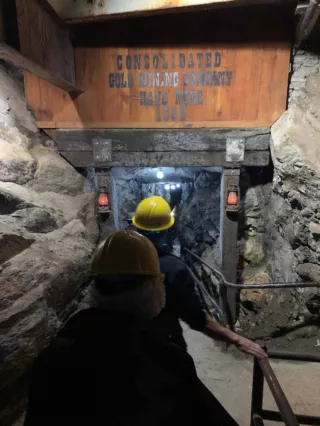 When you visit Consolidated Gold Mine, you can take a guided tour of the mining shafts and see for yourself what it was like working inside a mountain on the search for gold. There really was "gold in them thar hills."
In fact, there's still gold in the Consolidated Gold Mine today. But with the precious yellow metal in the mine concentrated in only trace amounts and the price of gold being what it is today, it's financially impractical to harvest the remaining gold in the mine.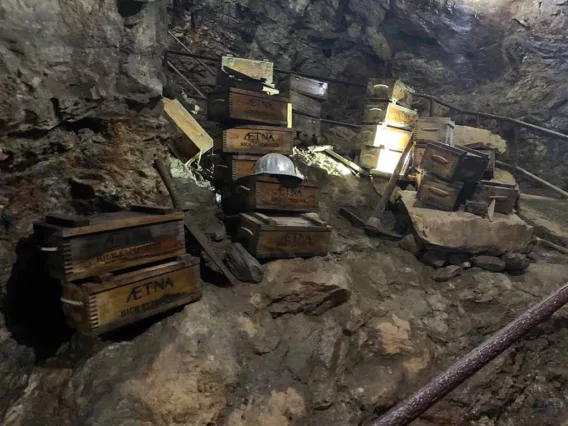 After your adventure on the Dahlonega mine tour, head back above ground to try your hand at panning for gold or gems!
My tips for visiting Consolidated Gold Mine:
Wear closed-toed shoes.
Bring a sweater — it's about 60 degrees inside the mine!
Prepare to climb ramps and many flights of stairs.
Bring documentation if you plan to be accompanied by a service animal.
Leave your strollers above ground — they're not permitted in the mine.
---
Other Things To See & Do In Dahlonega
There are many other great attractions and fun things to do in Dahlonega, GA!
Here are just a few:
Restaurants, bars, and shopping — Dahlonega town square is brimming with an eclectic array of businesses!
Festivals and events — The calendar of events in Dahlonega is chock full of fun activities in the winter, spring, summer, and fall.
Camping — OK, I confess. I stayed at the Holiday Inn Express in Dahlonega. But if you want to rough it a little more than I did, there are many fun places to go camping in Dahlonega!
Wildlife — Want some more outdoor adventure in Dahlonega? You can get up close and personal with wildlife at Chestatee Wildlife Preserve & Zoo and meet some fanciful pollinators at the Dahlonega Butterfly Farm.
Wineries — Dahlonega is located in the middle of North Georgia wine country, boasting several nearby vineyards and wine tasting rooms.
Like this post? Save it to read again later… or share with others on Pinterest!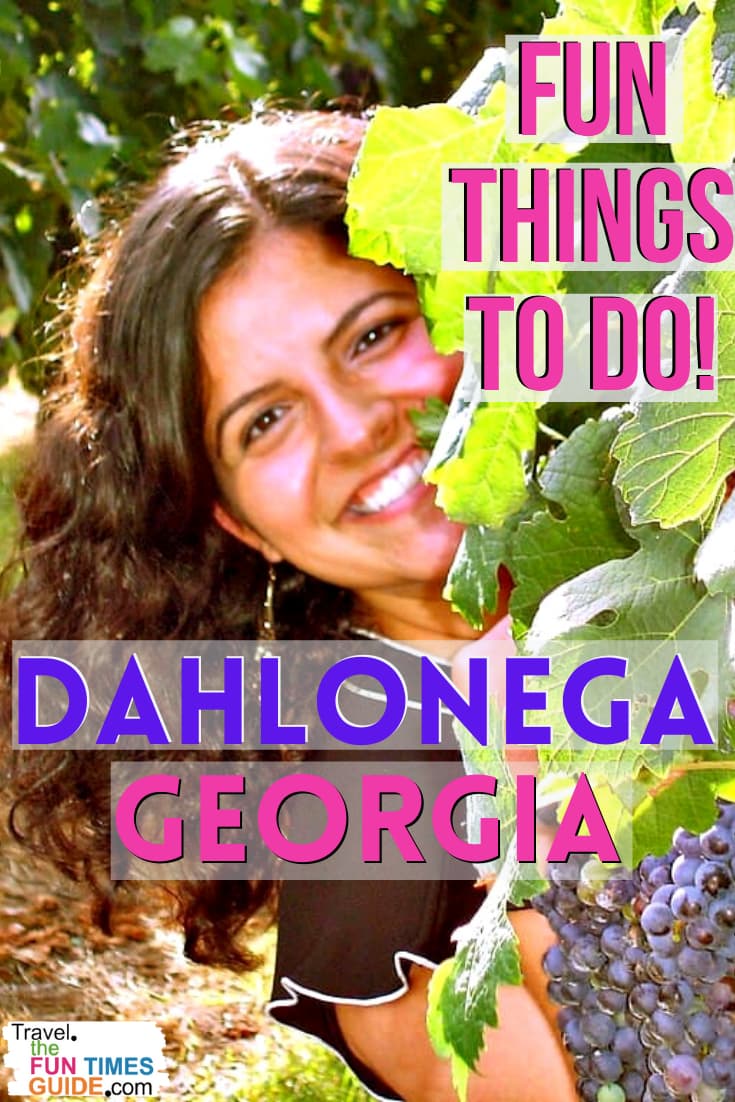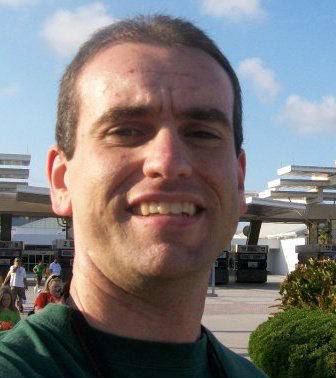 I'm a Florida native, a roller coaster junkie, and a frequent traveler. (Long road trips are my favorite.) Born and raised in Tampa, I grew up visiting Busch Gardens Tampa Bay. I authored the book Busch Gardens Tampa Bay: Images of Modern America, which details the colorful history of the Busch Gardens theme park. As a local historian, I've also written about other popular landmarks and attractions for a variety of publications. Here, on this Travel Guide, I like sharing little-known facts and fun stuff about all the places I've been — so you will have a good idea of what those places are like and what you should know before you go. I especially enjoy helping others plan fun trips… on a budget!