This post may contain affiliate links. If you buy thru these links, we may earn a commission at no additional cost to you.
---
Looking for the best cheesesteak in Philadelphia?
I have been, too. And after many visits to the Philadelphia area and many years of searching for the best cheesesteak in Philly — I've found it!
Here's what I think are the 3 best cheesesteak places in Philly…
My Search For The Best Cheesesteak In Philadelphia
Those who live in Philadelphia are lucky — they can enjoy a legit Philly cheesesteak whenever they want.
Others (like me) make culinary trips to the City of Brotherly Love as frequently as possible to taste test several different Philly cheesesteaks all in the same trek.
In my case, I've taken several trips to the Philadelphia area over many years and I've visited at least one different Philly cheesesteak place each time.
Only now… after multiple trips to Philadelphia, do I feel that I've got enough perspective to throw my opinion out there on who has the best Philly cheesesteaks.
My treks have taken me all over Center City (the "downtown" area of Philadelphia) and South Philly — where the best cheesesteaks are found.
And The Best Philly Cheesesteak In Philadelphia Is…
My vote for the best cheesesteak in Philadelphia goes to Jim's Steaks, which operates its main location in a cool art-deco building at 400 South Street — one of the funkiest avenues in Philly!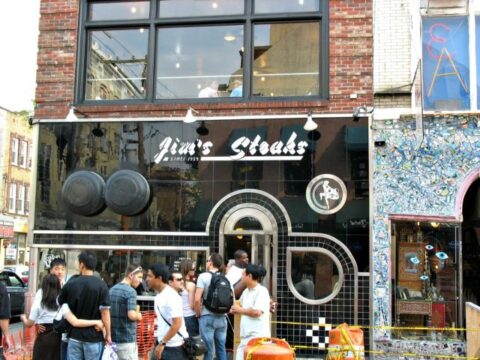 It took me a bit of asking around and a few trips to Philadelphia to find this place, but it was SOOOOO worth the wait.
Jim's Steaks was founded in 1939 and is a Philadelphia institution. The story goes that Jim and his wife Millie sold sandwiches from a window at their West Philadelphia home. Their steak hoagies became so popular that they turned their house into a restaurant called "Jim's Steaks."
That location was bought in the early 1960s by William Proetto and his brother. In 1976, Proetto opened the Jim's Steaks on South Street with Abner Silver. Today, the Silver family owns Jim's Steaks South Street while the Proettos operate 2 Jim's Steaks locations elsewhere in Philadelphia.
Jim's Philly Cheesesteaks Since 1939
I'm going to give you a heads up… You will probably have to wait in a LONG line to place your order at Jim's Steaks.
It's no surprise though — Jim's is a 5-time winner of the "Best of Philly" award from Philadelphia Magazine and is Zagat rated.
Given the crowd that you'll have to wade through to get to the counter, it's best to know what you want to order (and how to order your cheesesteak) before you get up to the counter — to help keep the line moving! (And so you can enjoy the best cheesesteak in Philadelphia a little sooner, too.)
As for me, I order my cheesesteaks with provolone cheese, onions, sweet peppers, mushrooms, oil, and vinegar. How do you like yours?
Why do I claim Jim's Steaks has the best Philly cheesesteaks?…
I like Jim's because:
The flavor of their cheesesteaks is rich and savory.
The quality of their meat is the best I've had in any cheesesteak I've eaten.
Jim's cheesesteaks are moist — not dry and chewy like I've experienced elsewhere.
Runners-Up Which Also Have Great Philly Cheesesteaks
So… Jim's Steaks definitely has the best cheesesteak in Philadelphia, but where else can you find some delicious Philly steak sandwiches in Philadelphia?
Perhaps the 2 most famous cheesesteak places in Philly are Geno's Steaks and Pat's King of Steaks in South Philly, near the Italian Market (an area of the city made famous in the Rocky movies).
These 2 "rival" cheesesteak restaurants are located directly across the street from each other — at the intersection of South 9th Street and East Passyunk Avenue.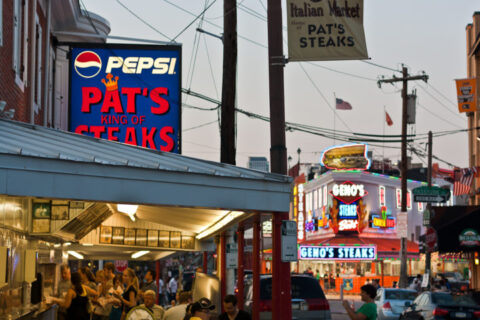 Like Jim's Steaks, Pat's King of Steaks and Geno's Steaks are Philly landmarks that draw countless hungry Philadelphians and tourists alike every day.
Pat's King of Steaks came first… Founded in 1930, Pat's is the self-proclaimed inventor of the cheesesteak.
With that claim to fame, Pat's gained a spot in the public eye as one "the" go-to restaurant for the best cheesesteak in Philadelphia. And the lines are always long whenever I'm there.
In fact, Pat's King of Steaks was the first place I ever went in Philadelphia for a "real" Philly cheesesteak.
And, yes, they're good cheesesteaks! I order mine with cheese whiz, onions, sweet peppers, oil, and vinegar. It's a great sandwich all around.
I've also gone to South Philly for a hoagie from Geno's Steaks — another Philly icon, which was founded in 1966.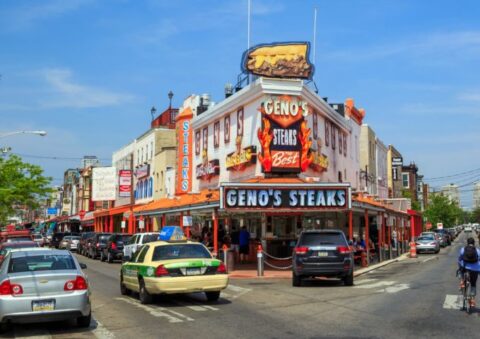 Geno's cheesesteaks are more moist in my opinion than Pat's, though I think Pat's cheesesteaks are more flavorful. Both Pat's and Geno's are definitely worth a visit.
The truth is, many locals regard Pat's and Geno's as nothing more than tourist traps — but that's not necessarily fair. Their sandwiches are good, and they've been around long enough to legitimately earn "landmark" status.
Some may disagree with me, but the hype over Pat's and Geno's is real.
If you're passing through, you should at least check them out, so you can say you've been there. Actually, I think it's pretty neat to spend a little time down at 9th and Passyunk — hopping between the 2 restaurants to taste and compare the sandwiches!
Here's a list of even more cheesesteak places in Philly to try, plus a list 14 Philadelphia neighborhoods to find good cheesesteak!
Tips For Enjoying Philly Cheesesteak In Philly
Here are some important things you need to know before ordering cheesesteak in Philadelphia:
Bring cash. Jim's, Geno's, and Pat's accept only cash. You'd better not be caught holding only plastic when the time comes to pay at the counter — or you may be in for a little shaming from people waiting in the long line behind you!
Want onions on your Philly cheesesteak? Then order it "wit'." Don't want onions? Order it "wit'out."
Like cheese whiz? Then order your sandwich "whiz wit'." 
Condiments matter. Putting ketchup on a good Philly cheesesteak is a venial sin. Slathering mustard on one is a mortal sin… Period!
A good Philly cheesesteak goes well with fries or chips. If you're going to order potato chips, there are only 2 kinds of chips you should order if you want an authentic Philly cheesesteak experience: Herr's chips or Utz chips. Both are culturally linked to the socio-culinary fabric of Philadelphia.
You're going to need lots of napkins — because good cheesesteak sandwiches can be really messy! Not only are they loaded with meat and cheese, but if you order them like I do, they're also swimming in oil and vinegar. I'm an eco-conscious individual, but I eat my Philly cheesesteaks with a mound of paper napkins nearby!
If you're not going to be in Philly, but still want to enjoy some of the best cheesesteak in Philadelphia… you can have Philly cheesesteaks delivered to you! Jim's ships their cheesesteaks all over the United States, and so do Pat's and Geno's!
Fun Facts About Philly Cheesesteaks & Hoagies
A lifelong fan of Philadelphia history and culture, I've done a good deal of research about the Philly cheesesteak and learned 3 important things:
What makes a Philly cheesesteak a Philly cheesesteak
The backstory on "hoagies" (what Philadelphians call submarine-style sandwiches)
And what should — and shouldn't — go on a real Philly cheesesteak sandwich
Hoagies vs. Cheesesteaks
The term hoagie is specific to Philadelphia nomenclature — and generally speaking, if you hear someone use this phrase to describe a sandwich, they're either from Philadelphia or have spent enough time there to pick up the local lingo.
There are a few stories about how the name "hoagie" was coined. But the most commonly accepted explanation is that during World War I (1914 through 1918), Italian immigrants working at a shipyard in an area of Philadelphia known as Hog Island brought large sandwiches made with meats, lettuce, onions, peppers, and spices for their lunches. The workers became known as "Hoggies," and that name eventually was used to describe their sandwiches, which were later known as "hoagies."
Today when people use the term "hoagie," they're often describing Italian sandwiches — though the term is often synonymous with any type of oblong-shaped hot sandwich.
Interestingly, use of the term "hoagie" drops off quickly once you get outside of Philly. In nearby places like Delaware and New York, many people describe long, hot sandwiches (such as cheesesteaks) as "grinders" and similar sandwiches served cold as "subs."
Philly Cheesesteak 101
Now, let's get talking about what goes into making Philly cheesesteaks. These are the facts:
Philly cheesesteaks are made with thinly cut ribeye meat — the signature on "traditional" cheesesteaks. However, some hoagie shops these days use other cuts with distinctive flavors. Regardless of cut, the best cheesesteaks are meaty and tender — not gristly.
There's a great debate in Philadelphia about the best cheese for a Philly cheesesteak sandwich. There are 3 kinds of cheese that most Philadelphians prefer on their cheesesteaks: cheese whiz, provolone, and American cheese. As for me, I vote for provolone hands down. Some people like swiss or pepper jack cheese — but you'll be hard pressed to find a cheesesteak sandwich shop in Philly that offers anything but whiz, prov, or American.
Amoroso hoagie rolls make a Philly cheesesteak a Philly cheesesteak! You see, Amoroso's is a famous bakery in Philadelphia that many locals say make the best hoagie rolls. Some of the best cheesesteaks in Philadelphia are made with Amoroso rolls. They're oblong in shape and have just the right texture (light and crispy on the outside, soft and delicate on the inside). Of course, you can enjoy a cheesesteak on a variety of breads — including kaiser rolls, muffins, paninis, wraps, and even hotdog or hamburger rolls. But if you want an honest-to-goodness Philly cheesesteak, it's gotta be on an Amoroso roll.
Here's a list of 10 Philly cheesesteak commandments.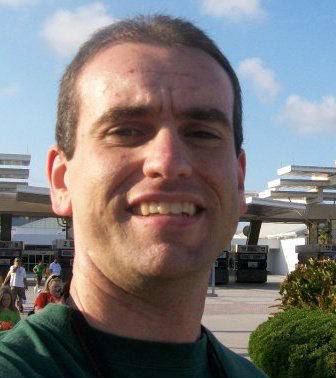 I'm a Florida native, a roller coaster junkie, and a frequent traveler. (Long road trips are my favorite.) Born and raised in Tampa, I grew up visiting Busch Gardens Tampa Bay. I authored the book Busch Gardens Tampa Bay: Images of Modern America, which details the colorful history of the Busch Gardens theme park. As a local historian, I've also written about other popular landmarks and attractions for a variety of publications. Here, on this Travel Guide, I like sharing little-known facts and fun stuff about all the places I've been — so you will have a good idea of what those places are like and what you should know before you go. I especially enjoy helping others plan fun trips… on a budget!