This post may contain affiliate links. If you buy thru these links, we may earn a commission at no additional cost to you.
---
I'm a minimalist when it comes to packing for a motorcycle road trip.
I only want to take the bare necessities… and a few things that make traveling by motorcycle even better/easier.
Of all the items we take on long-distance motorcycle trips, these are the ones that I think most people wouldn't think of.
Perhaps you'll find them helpful and worth packing as well…
#1 – A Mesh Laundry Bag
You don't want to use a traditional laundry bag… because it traps air inside making it bulky and difficult to pack around. A mesh laundry bag is filled with holes, so it's easily repositionable and squishable to fit in any space within your luggage, saddlebag, tour pack, etc. Not to mention it's less likely to hold onto odors. Still, it can be tossed into the wash whenever it lacks that "clean fresh scent."
TIP: The larger the laundry bag, the better. We have this one — it's 24×36.
#2 – Rolls Of Quarters
For laundry and vending machines. In the past, we've checked into the hotel so late after a full day of riding that vending machine snacks were our only meal. One time we didn't have any quarters, so we didn't have any meal (we were out in the boonies).
TIP: I always stop by the bank the day before our trip. If they give you a roll of quarters in the clear plastic wrapper, ask for a tubular paper wrapper instead. (They'll give 'em to you for free at any time.) The reason? Because you want to "collect" quarters the entire time you're on your motorcycle trip to ensure that you'll always have plenty. Since you'll be adding them in the same coin wrapper, you need paper (which is reusable, with ends that can be folded down), not plastic (which is a single-use wrapper). BONUS TIP: A good place to get quarters is at self-serve car washes. You can usually get up to $20 worth at a time!
#3 – Laundry Detergent Pods (or Laundry Detergent Sheets)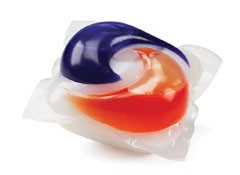 I use Kirkland (from Costco) or Tide laundry detergent pods. They both work really well, and they leave your clothes smelling fresh & clean. The laundry detergent sheets are easier to pack, but I'm not sure they clean as well.
TIP: On our last 5-1/2 week (10,000-mile) motorcycle road trip, I did laundry twice (5 medium-sized loads each time). That's $15 worth of quarters at $1.50 per load and 10 laundry detergent pods total (which I packed in a non-crushable Mrs. Dash plastic container to last the entire trip, but I might just put 'em in a freezer-type zippered plastic bag next time because I've found that they're pretty durable). Plus, $5 worth of quarters for the dryer at $1 per load. (I air-dry some things and put 2 loads in the dryer sometimes.) I do so much laundry in hotels that I bought one of these 8 ft. small & compact travel clotheslines. They're great because you don't need clothespins! (Or you could use bread bag tags.)
#4 – Wet Wipes
To wipe down TV remotes before using them in hotels, wipe hands after eating or doing bike repairs, wipe motorcycle boots clean after riding, use as toilet paper on the road, etc. Think I'm kidding about the hotel TV remotes? I'm not. Hotel remotes are dirty! (Here's more proof.)  Some people even go so far as to put the hotel remote in a zippered plastic bag or to slip the complementary shower cap over the hotel remote before touching the hotel remote control!
TIP: I buy flushable wipes because they're safe for most septic systems. My favorite: Kirkland flushable wipes from Costco. I've noticed they also sell travel-size packets of flushable wet wipes in the "travel health & beauty products" aisle at stores like Target and Walmart. However, my absolute best tip is to save all of those individual makeup remover packets that hotels leave out for you! Pack a few of them on the bike (as disposable hand towels after bike repairs, etc.) and a few in your suitcase (so you'll have them when you arrive at a new hotel room — in case they don't have the freebies there, for the reasons mentioned above).
#5 – Ibuprofen
A big bottle of fast-acting liquid gels. (Yes, they really do work fast!) I usually buy the Kirkland brand at Costco when they go on sale, but all brands work the same. As seen in the photo, I like to replace the child-proof cap with a flip-top from a bottle of vitamins. It's just quicker and easier to access that way.
TIP: The maximum dosage for adults is 800 milligrams per dose or 3200 mg per day (4 maximum doses).
#6 – Tan Towels
Only if you're semi-vain like me and prefer that your face, arms, and legs look evenly tanned after riding the motorcycle several sunny days in a row. You know… to get rid of raccoon eyes from wearing sunglasses so long, a white chin strap mark from wearing a helmet, white wrists after wearing motorcycle gloves, sleeve marks on the arms, even pale feet and ankles that have spent too many days inside boots (if you'll be wearing sandals soon). Keep in mind, we're talking about long distance motorcycle trips where you're riding for weeks — even months — at a time!
TIP: I use these at night if we're going to be staying in one location for a couple of nights and we're going out on the town (or swimming). One full body Tan Towel
 easily covers my arms, face, neck, and ankles (if wearing flip flops to go out). I use whatever's left on my legs.
#7 – Packets Of Shampoo
Shampoo packets
are much easier to travel with than bottles (of any size) — because they pack flat.
TIP: I usually take 2 WEN travel packets. They're huge! I only use a fraction of the packet each time, folding over the opened edge and clamping it shut with a small binder clip (see below). On motorcycle road trips, I actually use the hotels' free shampoo & conditioner most of the time, and only use my own shampoo to bring my hair back to a good condition every few days.
#8 – Flip Flops
They're better than sneakers, because they're easy to slip on, lightweight, and easily packable. They're also perfect for exploring nearby places whenever you're not on the bike. Plus, you can wear them in the shower (if camping), walking through the halls (in a hotel) and on the beach — since they can get wet. They take up virtually no space inside your motorcycle luggage.
TIP: Since you're wearing riding boots most of the time, you'll really appreciate wearing flip flops whenever you're walking short distances in your free time. Personally, I like Sanuk yoga mat flip flops and Jim likes Havianas.
#9 – Extra Camera Batteries
If you haven't already purchased spare batteries for your point-and-shoot camera, do it now.
TIP: I bought 2 replacement batteries for my Canon Powershot Elph — which I love, Love, LOVE! (Here's my review of the camera.) I keep the extra batteries in my pocket when we're on the bike, so I'm never without a backup. (When you snap a lot of photos in a row like I do from the back of the bike — sometimes 600+ each day — it's not unusual to go through 2 or 3 batteries a day.) Charge 'em all back up each night, and you're ready for another day of photos shot from a motorcyclist's point-of-view!
#10 – Gallon Size Zip-Closure Bags
I keep a couple of these on the motorcycle at all times — because you never know when you might poke a hole in one, or you just need an extra waterproof bag for something.
TIP: The #1 reason I recommend keeping one of these zippered plastic bags on your person at all times is: as a rain protector for your digital camera! Not only will it keep your camera (and phone) dry if it starts to sprinkle, the bag (zippered shut and folded over several times) will also keep your camera (and phone) dry in a downpour — until you can safely put it in the tourpack or saddlebag or something. A zippered bag is so small and lightweight… it stuffs away nicely in your pocket. BONUS TIP: Always keep your passport, stamps, and important papers inside a zippered plastic bag. No matter how "protected" your luggage is, things inside will get damp if it happens to rain for a long time. (Learned that the hard way. Lost an entire book of stamps.)
#11 – Durable Plastic Bags
Whenever I'm given a heavier-than-normal plastic shopping bag
, I keep it! It folds small, so it's no trouble at all to carry around with you on the bike.
TIP: I keep 'em in the front pocket of our motorcycle luggage. I use them to tote munchies that we've purchased along the way, t-shirts we've bought, or anything that just needs to make its way from the bike to the hotel room — for better packing or for consumption.
#12 – Travel Sewing Kit

For ages, I've been carrying the one that some hotel left for us next to the shampoo and lotion on the counter. I use it much more than I ever thought I would, so I'm considering buying my own travel sewing kit with heavy-duty needles (instead of the flimsy one that almost breaks every time I use it) and a needle threader. The hard part: finding one that's small enough without a bulky container that could break. This sewing kit with pre-threaded needles seems handy. I also like this one and this one for motorcycle travel.
TIP: You'll use a sewing kit more than you realize! I used mine twice on our most recent motorcycle road trip — once to sew the suspenders back on Jim's rainsuit (that he pulled off in frustration when the pant legs stuck to his rubber-soled Harley boots) and once to sew the spaghetti strap on my cami top (the adjustable "slider" is just made of plastic; it got crushed at some point, so the strap wouldn't stay up anymore). Plus, the buttons and safety pins might even save the day on future motorcycle trips!
#12 – Note Taking Items

I keep a small notepad & pen in the tourpack at all times — because it seems like the right thing to do… and the FlipNote is so darn handy. (It's a palm-sized notepad & pen with a lightweight metal cover where the pen locks the cover shut.) In addition to taking random notes throughout the trip, I use my Flip Note pad like an old school photographer: to take a picture of a handwritten note on paper then throw it away. (Example: "These next shots were taken on the XYZ Scenic Byway, July 12th" Or after the fact: "The last few shots were from the XYZ Scenic Byway.")
TIP: I do use my notepad a lot, but my favorite method of taking notes on the fly — either on the bike or not — is to use an app on my smartphone. I like GTasks (or TickTick). They're both minimalist task managers for everyday To Do Lists. I currently have 10 different "lists" stored in my GTasks app, and each list contains anywhere from 2 to 200 individual items or tasks spelled out in words or sentences. It's a cinch to jot notes and add items to a list on the fly. It syncs with every Google device that you log into.
#13 – Extra Gallon Of Gas

It wasn't until we actually ran out of gas while riding the beautiful backcountry roads of Colorado a few years ago that we decided to carry extra fuel on board with us at all times. (I hung out under a shade tree on a road that got very little traffic, while tumbleweeds blew by me, as Jim walked a mile away to get gas.)
TIP: After that experience, we immediately bought a Reda gas can. It's awesome — fits perfectly in the saddlebag! It gives us great peace of mind no matter where we are — which is helpful since we usually travel on roads that we're not familiar with.
#14 – Cargo Net

You never know when you'll need extra space to tote a box, a bag, or your helmets! A cargo net makes it possible to get just about anything from point A to point B strapped to your bike seat or tour pack.
TIP: We put our cargo net to good use on our most recent trip. Jim had to go find an RV fan for our friend whose generator stopped working in 90-degree temperatures — and he didn't have a car to go get it himself. Jim stopped at a few different auto parts stores until he found the right one, strapped it down on top of the tour pack, and the RV was fixed (temporarily).
#15 – Compression Stuff Sacks

We use 2 of them to permanently "smush" our rainsuits into a smaller shape, so they'll more easily fit in our saddlebag (along with a bunch of other stuff). But you can use them to pack anything from microfiber towels to undergarments… socks… t-shirts you buy as souvenirs… or anything else that's soft.
TIP: A stuff sack is basically a tote bag with a cinch closure on top. A compression stuff sack is a tote bag with a cinch closure on top and 4 side straps that enable you to make the bag and everything in it much smaller. Compression stuff sacks are best for motorcycle packing with limited space. Try to get a thinner gauge material rather than a thicker gauge — because you want a lightweight bag that also compresses. We've found that the thin bags have a lot of "give" to them; they stretch without tearing! They come in a multitude of sizes. BONUS TIP: Stuff sacks easily can be strapped to the bike or to your luggage (with motorcycle cargo straps or bungee cords with rubber hooks) — in the event that you need to free up space in a saddlebag.
#16 – Flavored Water Packets

We always buy bottles of ice cold water at gas stations whenever we're on long-distance motorcycle trips. I don't know about you, but I get tired of drinking plain water all the time — especially after several weeks on the road. That's why I always put a handful of flavored water packets (the ones you add to a bottle of water) in the tour pack of the motorcycle before we head out on a long trip.
TIP: Even if you pack a bunch of 'em, they're light as air and hardly take up any room at all. And with the wide variety of flavors, you'll never grow tired of plain 'ol water again!
#17 – Binder Clips

There are so many great travel uses for these things! Use the regular sized binder clips as a razor cover protector (take it from me… I cut my finger really bad reaching into the toiletry bag one time before we started using binder clips), as a money clip, as a toothpaste tube squeezer, as a keyring, and more — all described here.
TIP: I use small binder clips to keep anything that comes in a bag or packet closed after opening. I also use them to keep hotel curtains closed, to keep maps & papers together, etc.
#18 – Whipped Argan Oil

It's a moisturizer that is super hydrating and so moisturizing, without feeling greasy. We use 'regular' Argan oil in lots of different ways. The whipped Argan oil is my all-time favorite when traveling.
TIP: Whipped Argan oil works wonders on my super dry skin (face, neck, hands… even heels). And just when my face looked like it was going to start peeling after a sunburn on our recent motorcycle trip, this stuff stopped the peeling in its tracks. I've continued to buy the large size jar to refill the travel size jar each time it gets empty.
#19  Pee Funnel (For The Ladies)

I don't currently carry a pee funnel with us on the bike, but I've considered it. Hey, if it's good enough for The Hunger Game's Jennifer Lawrence, then it's good enough for me! By the way, the GoGirl motto is: "Don't take life sitting down."
TIP: Before you laugh, I'm not alone here. A pee funnel makes a lot of sense for motorcycle travel.
#20 – Detangler Hair Brush

I've found that a detangler brush works much better than a regular hair brush on ponytails that spend a lot of hours blowing in the wind. If your hair extends beyond your motorcycle helmet, then you'll wonder why you didn't get one of these sooner!
TIP: I started out using my wet brush as my motorcycle travel brush — because it's lightweight, smaller, easier to pack than most hair brushes, and I only need it to brush my wet hair after the shower. But I quickly realized that it wimped out on all the tiny knots and tangles I got after wearing a ponytail on the bike for long hours and the bristles "pushed into" the brush itself when packed inside my toiletry bag, so they became even weaker over time. Then I remembered that I had gotten my niece a Tangle Teezer for Christmas and she loves it! So I thought I'd give one a try myself. I like the Tangle Tamer best because of the longer handle (while still a compact size) and the individual bristles don't budge. They stand firm against tangles, yet they're soft enough to not cause any pain.
And finally, because I'm a minimalist when packing for a motorcycle road trip, I don't bring one of these — but I know several people who do…
BONUS #21 – Travel Power Strip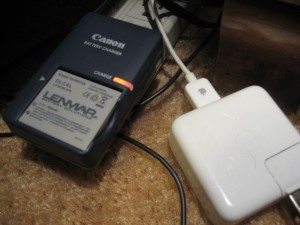 Yep, a multi-outlet power strip is a smart option when you're staying at hotels — because you seem to never have enough outlets to plug in and charge all of your gadgets. The extension cord itself brings the outlets closer to you, and these days travel power strips also have USB ports built-in. Personally, I like this one because it has a 5ft power cord, 2 AC outlets, 4 USB ports, and surge protection. And I like this one because it's small and compact with 4 AC outlets and surge protection. Either one would accommodate our needs while traveling.
TIP: You could also carry a portable power source on the bike (like we do), which can double as a power strip in your hotel room too. It doesn't have the extension cord built-in, but you'll have plenty of outlets!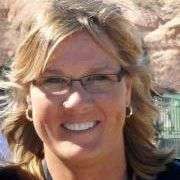 As a lifelong traveler, I like to help people find unique ways to do things that will save time & money — so I write about "outside the box" Travel Hacks that most wouldn't think of. I'm SUPER organized and I love to pack! I've lived in 6 different states (Florida, Indiana, New York, Ohio, Tennessee, and Texas) and have visited every other state in the U.S. — except Hawaii. (Can you say bucket list?) I've been on several different cruises, airplanes, and boats in my life and I currently enjoy the outdoors by bicycling, motorcycling, Jeeping, RVing, camping, or just walking my dogs. My favorite "hobby" is riding on the back of our Harley-Davidson Road Glide traveling cross country — which we usually do at least once each year. We even rode from Tennessee to Alaska once! When I'm not on the road, you will find me at the corner of Good News & Fun Times as publisher of The Fun Times Guide (32 fun & helpful websites).