This post may contain affiliate links. If you buy thru these links, we may earn a commission at no additional cost to you.
---
On our recent trip to Arizona (including Sedona and the Grand Canyon), we were talking about the Grand Canyon being one of the Seven Wonders of the World.
Turns out, it's not. The Grand Canyon is one of the Seven NATURAL Wonders of the World instead! (There is a difference.)
The Grand Canyon is a stone formation that has been carved by water, winds, seas and sands that gets more than 4 million visitors a year. It is 277 miles long, 18 miles wide and 1 mile deep.
Anyway, it looks like I'm not alone. Many people wonder about the top wonders of the world, and there's even a catch-all list of sorts called the "Top 100 Wonders of the World" that's been created — probably so people can just say that they've been to one of the Top Wonders of the World or something… Count me in!
All this "wondering" led me to consider the many places that I have been — far and wide — and I began to wonder where those places rank on the "Top 100 Wonders of the World" list.
Want to see if the places you have been appear on the Top Wonders of the World list?
Top 100 Wonders Of The World
Here are the Top 100 Wonders of the World.
Looks like I've only been to 4 of them:
Top 1000 Wonders Of The World
Okay, so I'm not quite the world traveler that I thought I was!
I had to stretch all the way to the Top 1000 Wonders of the World to find most of MY places on the list:
The Top 10 Wonders of MY World
Still, there are many cool places that I have been that most have not. (Or if they have, they haven't done them like I did them!) So here, my friends, are the "Top 10 Wonders of MY World":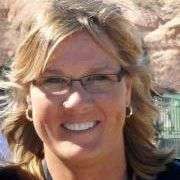 As a lifelong traveler, I like to help people find unique ways to do things that will save time & money — so I write about "outside the box" Travel Hacks that most wouldn't think of. I'm SUPER organized and I love to pack! I've lived in 6 different states (Florida, Indiana, New York, Ohio, Tennessee, and Texas) and have visited every other state in the U.S. — except Hawaii. (Can you say bucket list?) I've been on several different cruises, airplanes, and boats in my life and I currently enjoy the outdoors by bicycling, motorcycling, Jeeping, RVing, camping, or just walking my dogs. My favorite "hobby" is riding on the back of our Harley-Davidson Road Glide traveling cross country — which we usually do at least once each year. We even rode from Tennessee to Alaska once! When I'm not on the road, you will find me at the corner of Good News & Fun Times as publisher of The Fun Times Guide (32 fun & helpful websites).