This post may contain affiliate links. If you buy thru these links, we may earn a commission at no additional cost to you.
---
Jekyll Island and nearby Saint Simons Island, Georgia are two picturesque vacation spots near the state's historic southeastern city of Brunswick.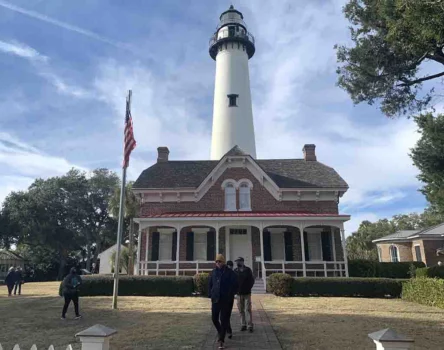 I recently took a day trip to Saint Simons Island and Jekyll Island in Georgia.
There is so much to see and do there! I've now visited 3 of the Georgia barrier island beach communities — and they're all just beautiful.
Following are my personal highlights and tips after visiting Jekyll Island and St. Simons Island.
Wondering which things you "must do" while you're there?… Start here!
Where Is Jekyll Island? How Close Is It To St. Simons Island?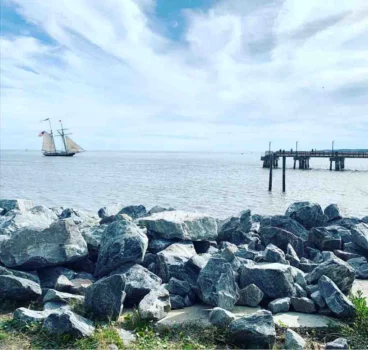 Vacation hotspots for generations, Jekyll Island and Saint Simons Island are located about 1 hour north of Jacksonville, Florida and less than 90 minutes south of Savannah, Georgia — near I-95.
Their location near Florida on the Atlantic Ocean makes them wonderful, four-season vacation destinations.
Saint Simons Island and Jekyll Island each make fantastic places to visit on their own — but one of the factors that makes them even more convenient to vacationers is their proximity to one another! They're only 15 miles apart from each other by car.
Plus, they're both connected to the neighboring city of Brunswick via causeways.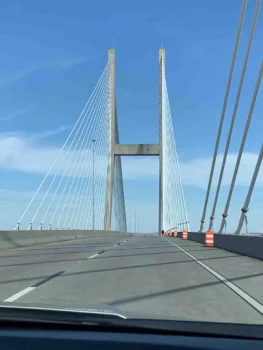 The Sidney Lanier Bridge spans the East Brunswick River — which feeds into the Atlantic Ocean and basically divides Saint Simons and Jekyll Islands from each other.
Saint Simons Island and Jekyll Island are 2 of 4 barrier islands on the Georgia shore that are collectively known as the Golden Isles. The other two islands are:
They're all within a short drive of Interstate-95 and midway between Jacksonville, Florida to the south and Savannah, Georgia to the north.
Fun Things To Do In Jekyll Island & St. Simons Island
Both Jekyll Island and Saint Simons Island are iconic tourist magnets. Though what brings people from all over the United States and beyond to these two Georgia destinations aren't theme parks and roller coasters.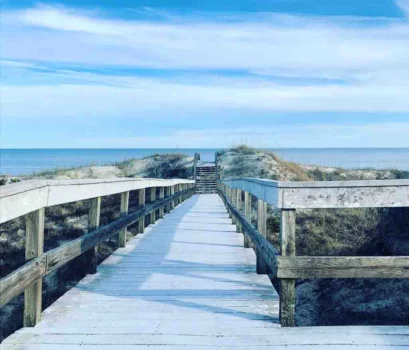 People visit these islands for their:
Sandy beaches along the Atlantic Ocean
Golf courses
Resorts
Historic landmarks
Eclectic shops, boutiques, and restaurants
Here are just a few of the many things to do in Jekyll Island and St. Simons Island, GA…
#1 – Driftwood Beach
Driftwood Beach is aptly named for the countless trees, branches, and stretches of driftwood that line the shores of northern Jekyll Island. This Jekyll Island beach is considered one of the "10 most romantic beaches" in America!
#2 – Georgia Sea Turtle Center
A fun Jekyll Island landmark in the heart of the historic district is the Georgia Sea Turtle Center. This sea turtle rehabilitation and education center is open year-round. They have lots of exhibits and interactive opportunities for all ages.
#3 – St. Simons Lighthouse & Museum
The Saint Simons Light was completed in 1872 to replace the previous lighthouse — which was destroyed in the Civil War. Yes, you can climb up the 104-foot-tall lighthouse! It is situated next to a museum honoring the colorful Saint Simons Island landmark and the surrounding community.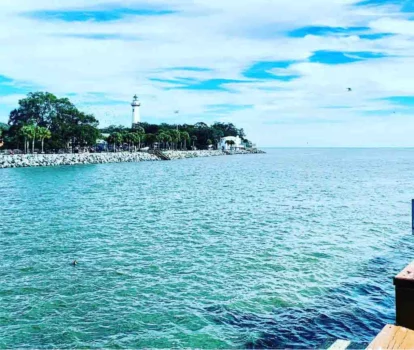 #4 – Fort Frederica National Monument
A duel between the British and the Spanish unfolded at Fort Frederica that would ultimately decide Georgia's fate. The British won, and Georgia remained one of the original 13 American colonies. Here, on St. Simons Island, you get to relive history at the Fort Frederica National Monument and see what life was like during those trying times.
#5 – Horton House
Once a grand house owned by Jekyll Island land baron Major William Horton, this fascinating relic built in 1743 stands as a reminder of the folks who once inhabited the island. The Horton House has no roof, doors, or windows… All that remains is the external structure, which is built from a type of concrete known as tabby — made from oyster shells, sand, crushed shells, and water.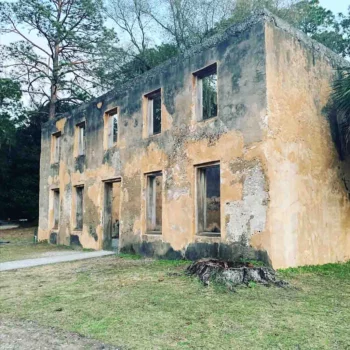 #6 – Mosaic Jekyll Island Museum
Jekyll Island was once home to some of the wealthiest people in the world, and it has certainly served as the playground for many of them, too. Do the names Rockefeller, Vanderbilt, and Pulitzer ring a bell? They, along with so many others, helped make Jekyll Island the luxurious vacation hotspot that it is today. You can learn more about the island's rich history and culture at the Mosaic Jekyll Island Museum.
#7 – Jekyll Island Historic Tours
Want to see more of this beautiful island? Check out the Jekyll Island Historic Tours & Gift Shop, which provides several kinds of family-friendly sight-seeing treks around Jekyll Island.
---
Good To Know Before You Go To Saint Simons Island & Jekyll Island, Georgia
Following are a few of my best tips and some important things you'll be glad you knew before visiting these Georgia islands:
While some of the attractions on Jekyll Island and Saint Simons Island have admission charges, there are plenty of free things to see and do there, too. On Saint Simons Island, these include Christ Church, Fort Frederica National Monument, and the fishing pier. On Jekyll Island freebies include Horton House, Driftwood Beach, and the historic district. There may be other free things, too — depending on the time of year that you decide to visit. Special events are held throughout the year on St. Simons Island and Jekyll Island.
Jekyll Island and Saint Simons Islands have their own private airports. But if you're flying in by conventional passenger jet, the nearest major airports are 1 hour to the north near Savannah and 1 hour to the south in Jacksonville.
There is a parking charge that you must pay to drive onto Jekyll Island — it's an $8 daily fee. Be sure to check current rates for the parking pass before you visit.
It's totally possible to see the most popular tourist attractions on both Saint Simons Island and Jekyll Island in just one day. However, I can't help but think that you would better enjoy everything that there is to see and do in these Georgia vacation spots if you were to dedicate at least 1 day apiece — to explore each of these two islands fully. A weekend to see both would be ideal.
There are plenty of hotels to choose from on both Jekyll Island and Saint Simons Island. However, the hotel rates can get pricey at certain times of the year. You'll find the most affordable hotels in Brunswick — which is just a short drive from either island.
Jekyll Island and Saint Simons Islands have many fun events on the calendar throughout the year. For example, the Georgia Beach Walks on Saint Simons Island are perfect any time, while Jekyll Island events like the Turtle Crawl, Shrimp & Grits Festival, and Holly Jolly Jekyll have very specific dates.
Next… see what's on my list of Fun Things To Do In Savannah Georgia!
Like this post?

Save it

to read again later… or share with others on Pinterest!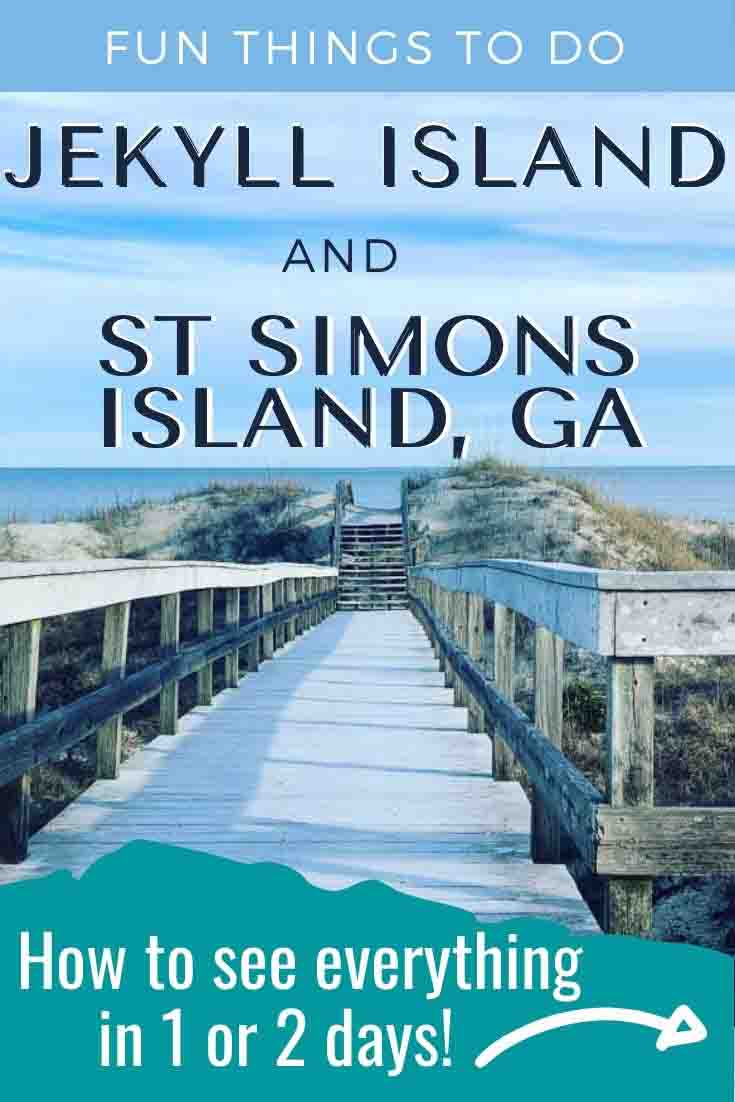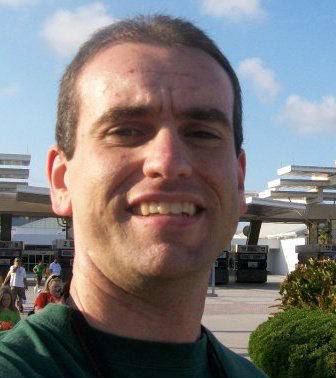 I'm a Florida native, a roller coaster junkie, and a frequent traveler. (Long road trips are my favorite.) Born and raised in Tampa, I grew up visiting Busch Gardens Tampa Bay. I authored the book Busch Gardens Tampa Bay: Images of Modern America, which details the colorful history of the Busch Gardens theme park. As a local historian, I've also written about other popular landmarks and attractions for a variety of publications. Here, on this Travel Guide, I like sharing little-known facts and fun stuff about all the places I've been — so you will have a good idea of what those places are like and what you should know before you go. I especially enjoy helping others plan fun trips… on a budget!