This post may contain affiliate links. If you buy thru these links, we may earn a commission at no additional cost to you.
---
We drove a couple hours from a racetrack in Milan, Michigan to a beach house in Stevensville, Michigan.
Our destination: Chalet on the Lake, where our friends own one of the little chalets on Lake Michigan.
This was relaxed, beachy, summertime FUN at its finest!
In fact, Jim got SO relaxed on that first night, that he was embarrassed when he realized he'd actually become… "that guy"! (…and to think, he's always commented how he never wants to be 'that guy'!)
No lie. You see, Jim rarely drinks. Or should I say, when he drinks, he sips, and never really consumes much in the end.
But as soon as we arrived at the beach house, we were both eager to start our vacation with an ice-cold adult beverage. Especially Jim. He'd worked so hard all weekend tearing down and building up that racecar, that his body finally hit a wall the moment we hit sand. He was BEAT! (and dehydrated)
That Wild Turkey & Coke was doing down really smooth. (gobble, gobble)

First, we took in a decent sunset over Lake Michigan (it had just rained, so the skies weren't the clearest), but no matter… especially to Jim who seemed to be enjoying the Turkey much more than the sunset anyway.
After taking a couple photos from the shoreline…
We headed back to the chalet where THIS became the highlight of the night:
That's right, Jim is passed out cold!
Poor guy.
I've been married to him for almost 6 years now, and I've NEVER seen him drunk. Not once. I guess he'd been saving it all up for this one night.
Jim likes to think back on this night as a testament to the fact that he's one heck of a party animal (…when he's conscious, that is.)
Day Two At The Summer Rental

Fortunately, Day Two was much less intoxicating.
We used this as an opportunity to get to know our new friends better:
Abby's sister Alison, her husband Steve, and their little boy, Evan.
Just Add Water
We also spent a good deal of time at the pool. It was quite entertaining to watch little 3-year-old Evan counting down while practicing his diving:
It wasn't at all fun busting my a#s when I slipped off the top step and straight into the shallow end of the pool. That "cheek" had a bruise the size of a grapefruit for a week!
In A League Of His Own
Later, this little leaguer taught us the proper technique and form for throwing a baseball. That was good for a few laughs…
Cornhole Games
Finally, my "friends" all wrestled me to the ground and made me agree to play a game of Cornhole. While I wasn't overly excited for this moment to arrive, I indulged the group with my stellar lack of skill, power, and aim and completed one full game of backyard bean toss! (…I mean Cornhole)
The highlights:
I think I let everyone down with my lack of enthusiasm.
And I'm not sure I even scored a point.Fortunately we quickly found something to take the attention OFF of me: Food! Neil, Abby and Alison worked hard cooking up some very tasty dishes this weekend… Thanks, guys.

Red & Orange, Green and Blue
Shiny Yellow, Purple Too
This night was topped off with one of the most beautiful sunsets I've ever seen:
In summary, here's how I spent my summer vacation:
Good friends.
Good food.
Good beach.
Good sunsets.
…And good time was had by all!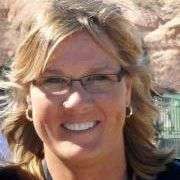 As a lifelong traveler, I like to help people find unique ways to do things that will save time & money — so I write about "outside the box" Travel Hacks that most wouldn't think of. I'm SUPER organized and I love to pack! I've lived in 6 different states (Florida, Indiana, New York, Ohio, Tennessee, and Texas) and have visited every other state in the U.S. — except Hawaii. (Can you say bucket list?) I've been on several different cruises, airplanes, and boats in my life and I currently enjoy the outdoors by bicycling, motorcycling, Jeeping, RVing, camping, or just walking my dogs. My favorite "hobby" is riding on the back of our Harley-Davidson Road Glide traveling cross country — which we usually do at least once each year. We even rode from Tennessee to Alaska once! When I'm not on the road, you will find me at the corner of Good News & Fun Times as publisher of The Fun Times Guide (32 fun & helpful websites).