It's a small world, isn't it?
Well, it has been since 1964, at least. That was the year that Disney's famous It's a Small World ride first opened.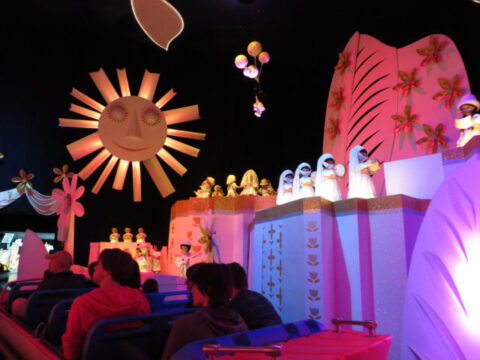 The ride has entertained 10s of millions of people over the decades, and it's one of the most beloved Disney attractions of all time.
I have taken a journey on It's a Small World more times than I can count, and invariably hear the song in my head whenever I think about the ride.
In fact, I'm literally humming it right now as I write this post! (And I bet you are now, too!) It's A Small World celebrated it's 50th anniversary in 2014.
Here are 20 It's a Small World facts to amuse your friends… no matter where in this small world they may be!
#1 – It's a Small World ride originally premiered at the 1964 World's Fair, which was held in Flushing Meadows, New York, during 1964 and 1965.
#2 – The ride was originally called PEPSI-COLA Presents WALT DISNEY'S "It's a Small World" – A Salute to UNICEF and all the World's Children.
#3 – Tickets for the ride, when it was at the World's Fair, cost 95 cents for adults and 60 cents for children.
#4 – 10 million ride tickets were sold during the 2 half-year seasons that it operated at the World's Fair, with all proceeds from the ride going to UNICEF.
#5 – After its debut at the 1964 World's Fair, the original It's a Small World was moved to Disneyland, where it opened in 1966.
#6 – The boat system used to process guests through the ride proved so efficient that it was implemented on many other Disney rides, including Pirates of the Caribbean.
#7 – The UNICEF displays and gift shop at the end of the World's Fair manifestation of It's a Small World were very popular and inspired the construction of gift shops near the exits of other rides at Disney and amusement parks throughout the United States.
#8 – The It's a Small World song plays 1,200 times during a 16-hour operating day.
#9 – It's a Small World is the most played and translated song in music history – it's estimated the song has been played around 50 million times in the last 50 years! (Note: this stat refers only to songs played in public. As you may have guessed, Happy Birthday to You has been sung many more times, but is usually not played in public because Warner/Chappell Music owns the rights to that song and charges royalties for its use.)
#10 – Amazingly, the song is the only other Disney entity since Oswald the Lucky Rabbit to remain without a Disney Corporation copyright. This helps to make the song a true gift to the world, and can be heard as a music demo on many electronic keyboards, playing in music boxes, and even blaring from ice cream trucks!
#11 – "Children of the World" was the working title for the original attraction at the New York World's Fair.
#12 – Marc Davis, a legendary Disney animator, designed the scenes and characters. His wife Alice Davis designed the costumes for the worn by the dolls.
#13 – Rolly Crump designed the toys and other figures seen on the ride.
#14 – Blaine Gibson designed and sculpted the animated dolls.
#15 – Each animated doll face is completely identical in shape and appearance, to celebrate unity among the nations and cultures celebrated on the ride.
#16 – Arrow Development, a company that became famous for flume ride and roller coaster design and construction, devised the boat design and propulsion system for the It's a Small World ride.
#17– According to internal research by Disney, 1 in 4 park guests consider It's a Small World to be a tradition.
#18 – It's a Small World appears at all 5 Disney parks:
#19 – There are at least 240 animated figures in each of the It's a Small World rides.
#20 – In 2008, the Disneyland version of the ride was refurbished, and 37 Disney characters were added to their native lands. These include:
England: which now boasts Alice and the White Rabbit from Alice in Wonderland, and Peter Pan and Tinkerbell from the movie Peter Pan
France: which is the home of Cinderella, Gus, and Jaq from Cinderella
Italy: which hosts Pinocchio and Jiminy Cricket from Pinocchio
China: which features Mulan and Mushu from Mulan
Middle East: which is where you will find Aladdin, Jasmine, and Abu from Aladdin
Africa: where Simba, Pumbaa, and Timon from The Lion King reign
South America: which hosts Donald Duck, Jose Carioca, and Panchito Pistoles as the Three Caballeros
South Seas: which floats the boat for Ariel and Flounder from The Little Mermaid, Dory and Nemo of Finding Nemo fame, and Lilo and Stitch from… you guessed it – Lilo and Stitch
The New Guinea room was transformed to North America, where Woody, Jessie, and Bullseye from Toy Story now romp about; the New Guinea props and figures found a home in the South Seas room
More Fun Disney Stuff
I'm a roller coaster junkie, a weather enthusiast, a frequent traveler, and a numismatist. My love for coins began when I was 11 years old. I primarily collect and study U.S. coins produced during the 20th century. I'm a member of the American Numismatic Association (ANA) and the Numismatic Literary Guild (NLG). I've also been studying meteorology and watching weather patterns for years. I enjoy sharing little-known facts and fun stuff about coins, weather, travel, health, food, and living green… on a budget.
...