This post may contain affiliate links. If you buy thru these links, we may earn a commission at no additional cost to you.
---
I got to attend my first NASCAR race trackside at Dover International Speedway, and it was almost completely impromptu!
I didn't originally intend to go to the Dover race. I was in Delaware checking out a major university 50 miles up the street near Wilmington for a possible run at my Ph.D.
I figured the race would be too expensive to see, tickets would be sold out, or the event too troublesome to attend — so I didn't even bother looking into buying Dover NASCAR tickets. 
But a call to my dad, who is an amateur kart racer, inspired me to check out the ticket prices on the Friday before the big Sunday race.
I ended up going to the Monster Mile at Dover International Speedway after all!…
My Best Tips For Your First NASCAR Race
Here are some things I learned after attending my first NASCAR race. I hope these tips help you enjoy your next NASCAR race, too:
#1 – Reserve Your NASCAR Race Seats Early
I bought my seat just 36 hours before the Dover NASCAR race, and I was lucky to get one of the very last seats in the front stretch.
But if I had reserved my seat several weeks earlier, I would've had a wider choice of seats.
Not that I'm complaining about the seat I had — it was in Row 14, right in front of Victory Lane. I could see virtually the entire track from where I sat, too.
But if I were reserving a seat at a larger track, say Daytona International Speedway, I may have wanted to sit much higher in the grandstands to see more of the action in the turns and backstretch.
I lucked out, but I wouldn't wait until the last minute to buy NASCAR race seats again.
#2 – Make Sure You Have Cash For Parking
I ended up having to walk 2 miles to get from my car to my seat in the grandstand, then back to my car again.
My parking spot cost $30. Cash.
If you're expecting to just kick back in your seat and watch some of the world's fastest stock car drivers spend 4 hours burning rubber for the mere price of your ticket, think again.
The admission price for your seat is just one of the factors that go into the cost of attending a NASCAR race.
For me, the parking fee represented the single-largest fee for attending the race — outside of the ticket price.
Be sure to bring enough cash to pay for parking.
Don't forget, many vendors don't accept credit cards, so if you plan on buying souvenirs, food, or other merchandise, be sure you have a little extra cash handy.
The upside? There are ATMs inside the grandstands. So as long as you bring enough cash for parking (it could be as much as $50!), then you should be good at least until you get into the gate.
#3 – Arrive Early
I love NASCAR races, but I don't have to spend the entire morning at the track pre-race to enjoy the event.
But I know several people are tailgaters, pure racing addicts, and those who simply want to get the most out of their ticket value. So, if you want to make a full day of your NASCAR experience, be sure to arrive early.
There were tons of cool things to see and do before the race, including:
Eating at all of the food trucks (I couldn't resist the Maryland crab cake food truck at the Dover race.)
Taking a selfie in front of the Miles the Monster statue (Each NASCAR track has similar posing areas.)
Shopping for souvenirs at merchandise trucks and the official NASCAR store
Playing fun, interactive games — such as corn hole
Meeting the vendors along the grandstands
Walking on the track before the race!
Also, be sure to get to your seat early. Within 30 minutes of the green flag, the line to simply check through race security and walk up into the grandstand seemed to take forever.
#4 – Avoid Tinnitus And Bring Some Earplugs
I've been to several smaller stock car races, sprint car races, and other car racing events. But never before had I been to a NASCAR race.
Golly, those NASCAR cars are loud!
You know what I thought was even louder? The track jet dryers!
WOW…. I'm not kidding — my ears were ringing within minutes of the green flag dropping. The moment the first jet blower truck hit the track to sweep off some light debris, my hands were over my ears.
Maybe it had something to do with the fact I was only in Row 14. Maybe it's the acoustics of Dover's concrete track. Perhaps it's just the sheer size of the motors and other machinery at work in a NASCAR race.
But everything at a NASCAR race after the green flag first drops represents the loudest spectator experience I've ever had. And it was great fun!
Yet, I didn't want a permanent case of tinnitus, either. So after the first caution flag came out, I walked down to the nearest souvenir truck and picked up a $2 pair of earplugs. (By the way, here's how to insert earplugs properly.)
The earplugs did the trick:
I could still hear the race (and I still felt the roar of the engines in my chest, believe me)
I enjoyed the sounds of the crowds as they ooh'ed and ah'ed as several NASCAR drivers made some exciting passes
I could clearly discern several choice words spouting from nearby spectators when their favorite driver hit the wall.
And I didn't lose my hearing in the process.
Do yourself a favor and buy earplugs. They're the best $2 I ever spent at a professional sports event!
#5 – Wear Sunglasses
As I said, I was down in Row 14. Pretty cool, because much of the exciting action happened along the front stretch less than 100 feet from my seat.
But then came that 18-car crash right in front of me. Here's official video of "the big one":
Tiny bits of cars, tires, and other things went flying into the air.
Then, out came the dudes throwing a kitty litter-like oil absorbent to help sop up the grease on the track. Then the jet dryer came along — and it blew all that grit right up into my face!
Ha ha… It was fun, and it helped make this race all the more "interactive" for me — but I'm glad I wore sunglasses, because they kept all that debris, grit, and other stuff out of my eyes.
Bonus: the heavy tinting of my sunglasses kept the glare of the sun out of my eyes all day.
#6 – Smile, You're On TV!
You do realize that the moment you step foot into any professional sports arena, you're likely to have 2 or 3 seconds of national — even international — fame, right?
There were a couple fans just a few rows down from me who were spontaneously interviewed for the pre-race TV show.
Smile and have a good time! This is a NASCAR race, and you want the whole world to see how much you're enjoying it, right?
So don't just sit there like a bump on a log. And don't go to the race wearing lewd or otherwise offensive clothing that you'd be embarrassed to have the whole world see you wearing. Who knows, maybe your boss is watching… or dear ol' Mom.
Have fun, smile if you see the camera looking your way, and — of course — cheer and shout for your favorite NASCAR drivers! They really can hear you shouting their names all the way down on the track.
A Few More Random Tips…
There are probably a ton of things I didn't think to do — or simply didn't spend money on — at the Dover race that could've further enhanced the racing experience:
You might want to bring along a portable seat cushion. Or, you could buy an official NASCAR seat cushion from a trackside vendor if you forget to bring one along. I sat on the aluminum bleachers in the grandstands. Perhaps it's my relative youth, but it didn't hurt one bit to sit on that hard metal for 4 hours. Well, actually I stood about half the time because I was too excited to sit, but still.
I noticed a lot of fans were buying NASCAR radio scanners so they could hear drivers, spotters, and other officials talking to each other. Neat, but I didn't have to opt for the radio scanner. Maybe I'll use a radio scanner in the future, but I didn't feel deprived of the overall NASCAR racing experience without one.
Finally, you'll want to dress comfortably for the weather. And if you've got NASCAR apparel, now's a good time to wear it. It was 55 degrees during the spring Dover NASCAR race. All I needed was a lightweight long-sleeved shirt. But many of my fellow NASCAR spectators were bundled up in jackets and turtlenecks. Be sure you check out the forecast ahead of time to ensure that you're comfortably dressed for sitting in the NASCAR stands for several hours.
Others' Tips For Attending NASCAR Races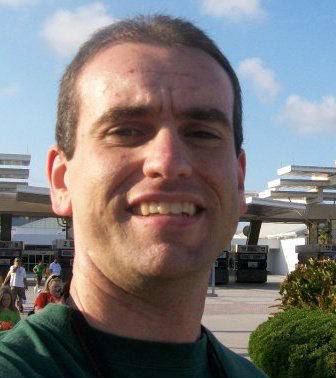 I'm a Florida native, a roller coaster junkie, and a frequent traveler. (Long road trips are my favorite.) Born and raised in Tampa, I grew up visiting Busch Gardens Tampa Bay. I authored the book Busch Gardens Tampa Bay: Images of Modern America, which details the colorful history of the Busch Gardens theme park. As a local historian, I've also written about other popular landmarks and attractions for a variety of publications. Here, on this Travel Guide, I like sharing little-known facts and fun stuff about all the places I've been — so you will have a good idea of what those places are like and what you should know before you go. I especially enjoy helping others plan fun trips… on a budget!