This post may contain affiliate links. If you buy thru these links, we may earn a commission at no additional cost to you.
---
We've ridden our motorcycle from Nashville, Tennessee to Sturgis, South Dakota several times — both for the Sturgis Motorcycle Rally, and on our own at different times of the year.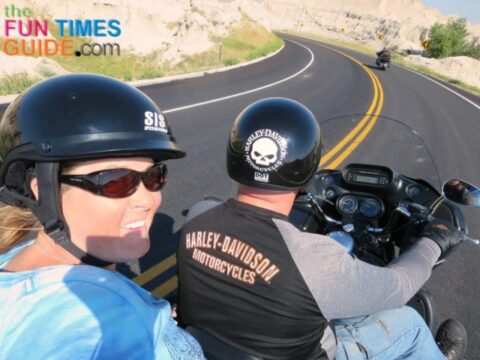 When it comes to choosing the best places to ride, these are the must-do's!
Here are my personal favorites, and the favorites of almost everyone who's ridden the Black Hills of South Dakota:
#1 – Iron Mountain Road (US 16A), Needles Highway (SD 87), Peter Norbeck Scenic Byway, and Custer State Park
This is without a doubt my all-time most memorable ride around Sturgis. The tunnels and the twisties are a lot of fun. And there are some "hidden gems" along the way — like spotting Mount Rushmore from a distance when you least expect it, amazing rock formations, and photo opportunities with wildlife.
Highlights include:
Here is the Central Hills motorcycle map.
#2 – Spearfish Canyon, Boulder Canyon, and Vanocker Canyon
This is (obviously) referred to as the Canyon Ride but technically it's called the Northern Hills Ride. Riding through tall stream-lined canyons is my favorite part of motorcycle riding — not just around Sturgis.
Highlights include:
Here is the Northern Hills motorcycle map.
#3 – Badlands and Wall Drug
We've actually extended this route all the way to Cody Wyoming and Yellowstone National Park before — but that requires some extra days.
If you're going to return back to your Sturgis hotel or campground within the same day, here are the highlights:
Badlands National Park – the cost is $10 per motorcycle for admission into the park, but it's well worth it (and good for 7 days). The wildlife you're likely to see includes: bison, bighorn sheep, prairie dogs, and black-footed ferrets.
Wall Drug Store – it's an old-timey pharmacy store in Wall, SD that has become one of the most popular roadside attractions in the United States thanks to their mile-after-mile series of billboards. But it's more than just a drug store or pharmacy, it's actually a shopping mall consisting of many different stores and a restaurant — all under one roof. Quite honestly, Wall Drug has gotten mixed reviews (from myself included) — but if you haven't been there before, then you should do it.
Here is the (SD 240) Badlands Loop motorcycle map.
#4 – Devil's Tower (…and beyond, if you've got extra days)
Located near Hulett Wyoming, Devil's Tower was the first United States National Monument — established in 1906 by President Theodore Roosevelt. (He just so happened to stay at the Franklin Hotel — pictured above — as did Babe Ruth, William Tate, and John Wayne). It's a 60-million-year-old, 867-foot butte that appeared in the 1977 movie Close Encounters of the Third Kind.
Here is the Devil's Tower Lasso motorcycle map.
Personally, I don't think I'd make a special trip from Sturgis just to go to Devil's Tower.
But if you have additional days to spend away from Sturgis, an amazing ride that we've done a few times in conjunction with Devil's Tower is Beartooth Highway in Red Lodge, Montana (5 hours away) and the nearby Chief Joseph Scenic Highway (WY 296). Beartooth always shows up on U.S. lists of the top motorcycle rides and most scenic rides in America.
And Beartooth Pass is close to Yellowstone National Park — that's another great motorcycle ride that we've done several times! It's well worth the drive.
The Best Sturgis Area Motorcycle Maps
In addition to my favorite rides mentioned above, we always grab a few routes from these motorcycle maps for Sturgis and the Black Hills area: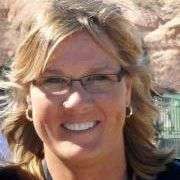 As a lifelong traveler, I like to help people find unique ways to do things that will save time & money — so I write about "outside the box" Travel Hacks that most wouldn't think of. I'm SUPER organized and I love to pack! I've lived in 6 different states (Florida, Indiana, New York, Ohio, Tennessee, and Texas) and have visited every other state in the U.S. — except Hawaii. (Can you say bucket list?) I've been on several different cruises, airplanes, and boats in my life and I currently enjoy the outdoors by bicycling, motorcycling, Jeeping, RVing, camping, or just walking my dogs. My favorite "hobby" is riding on the back of our Harley-Davidson Road Glide traveling cross country — which we usually do at least once each year. We even rode from Tennessee to Alaska once! When I'm not on the road, you will find me at the corner of Good News & Fun Times as publisher of The Fun Times Guide (32 fun & helpful websites).