This post may contain affiliate links. If you buy thru these links, we may earn a commission at no additional cost to you.
---
I've written about the games my family played in the car when I was a child.
Recently, I posed this question "What "games" do you play while driving?" in the GasBuddy forums (you get "points" just for posting questions/answers in their forum).
While some took it too seriously and didn't see the humor in my question, I did get a number of responses with interesting games that people play while driving. See below.
First, it would be helpful if we could all acknowledge one thing: Yes, we should all be paying attention to the ROAD when we're driving, rather than "playing games" — especially during rush hour traffic.
But sometimes (like on long, boring drives) you've got too much road to go and not enough to keep you going. It is those times when "driving games" come in handy.
Also, playing games in the car can be a lifesaver for parents with kids who endlessly ask, "Are we there yet?"
Here are some of the fun car games that those who responded to my question submitted:
1. "When in back to back traffic and we're not moving I play the tag game. Make up a word for each letter and find a way to mix in the numbers the space in between is considered a wild spot. Anything goes. Ex: (ucc 32b) U-ugly C-cereal C-critters with 32 B-bugs. It does get challenging."
— "MamaLinda" from Tampa
2. "I mentally compute average speed and percentage of trip completed. It keeps me aware of what's going on during long trips. At times I'll pick out a landmark up ahead and try to determine how far away it is, then use the odometer to see how accurate I was. — "mincemeat26" from Atlanta
3. "When I'm stopped in traffic I look for vanity plates. — "gvan" from Chicago
4. "See how many different out-of-state plates we could find during a trip. You could only count a state once, no matter how many times you saw plates from that state. — "Speert" from New Jersey
5. "Mincemeat — I never considered that a game but I guess it is. I do it quite often. I know that it should take me 11 minutes from when I enter The Great Swamp to when I pull into the office parking lot so I do calculations in my head against the car's clock. Same thing on longer trips or against what Yahoo Maps says it should take me."
— "Speert" from New Jersey
6. "License plate game. — "Dineh" from California
7. "Occasionally I keep track of cell phone users I see by gender. There are usually more women than men, especially in the evening. — "kjm9" from Massachusetts
8. "Slug a Bug and Bruiser Cruiser (PT Cruiser). — "Dale Jr." from Iowa
9. "We play a modern version of 'slug bug/no slug back', Focus/Poke-us, Blazer/Gazer, Equinox/Box, Neon/Pee-on, Viper/Sniper, Wrangler/Strangler. Just kidding on the last three! We make them up as we go along. Lots of laughs. — "shooshoobaby" from Detroit
10. Car Games A to Z… for Kids (Okay, I have to admit… I'm an adult, yet I frequently find myself wishing that I had the materials on hand to play the "Instant Messaging, Car Style" game!)
And here's my personal submission… I've always played the license plate game.
More Car Games & Driving Games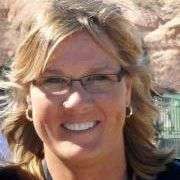 As a lifelong traveler, I like to help people find unique ways to do things that will save time & money — so I write about "outside the box" Travel Hacks that most wouldn't think of. I'm SUPER organized and I love to pack! I've lived in 6 different states (Florida, Indiana, New York, Ohio, Tennessee, and Texas) and have visited every other state in the U.S. — except Hawaii. (Can you say bucket list?) I've been on several different cruises, airplanes, and boats in my life and I currently enjoy the outdoors by bicycling, motorcycling, Jeeping, RVing, camping, or just walking my dogs. My favorite "hobby" is riding on the back of our Harley-Davidson Road Glide traveling cross country — which we usually do at least once each year. We even rode from Tennessee to Alaska once! When I'm not on the road, you will find me at the corner of Good News & Fun Times as publisher of The Fun Times Guide (32 fun & helpful websites).