This post may contain affiliate links. If you buy thru these links, we may earn a commission at no additional cost to you.
---
Yellow Springs, Ohio (YSO) is a paradise for the artist's soul.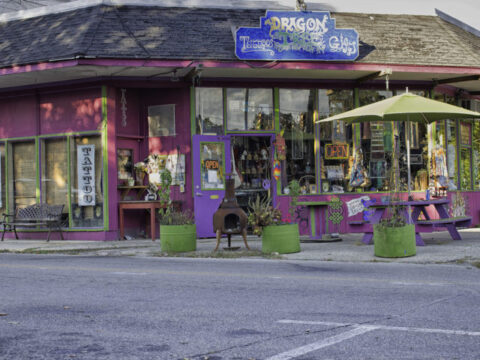 As a full-time writer, I've fallen in love with this cute, southwestern Ohio village!
Yet, I wouldn't have ever known it exists if not for some of my beloved cousins who live in the nearby Dayton area and introduced me to this little town for the first time back in 2016.
YSO Is One Of My Favorite Small Ohio Towns
Yellow Springs is a little hippie haven in the middle of rolling cornfields, woodlands, and cattle country.
It's a community that speaks to the bohemian spirit within each of us.
Many famous artists and entertainers hail from this creative enclave, including:
Actor John Lithgow
Comedian Dave Chappelle
Poet Arnold Adoff
Children's author Virginia Hamilton
While it's a relatively small place (only 3,500 people live there), it's a beehive for artists, writers, and others who want a reprieve from the big city life without leaving culture behind.
For its size, Yellow Springs, Ohio boasts an arts and literary scene reminiscent of the cultural environment found in a progressive, coastal metropolitan city. (Except, of course, the town is a day's drive from any ocean.)
A 30-minute drive from Dayton, it's hours from the artistic hubs of Philadelphia, Pittsburgh, or New York City.
There Are So Many Things To See & Do In Yellow Springs, Ohio
I've visited Yellow Springs on multiple occasions, and I'm still finding new things to see and do there!
Much of the action in town occurs along the main corridor of Xenia Avenue.
Coffee bars, bookstores, antique shops, taverns, pizza parlors, jewelers and much more call Xenia Avenue in Yellow Springs home.
These aren't your usual shops though!
For example, some of the fun places I've spied in Yellow Springs include:
A shop that sells jewelry made from spoons and forks
A vitamin outlet
A store that sells only eco-friendly merchandise
An old-fashioned toy store
And a new-fangled glass blower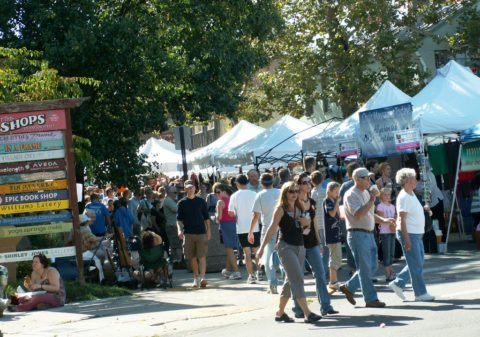 While Yellow Springs has plenty to offer foodies and shopaholics, this dynamic strip isn't only about the shops and restaurants.
The Little Art Theater on Xenia Avenue is a nonprofit cinema where independent contemporary films and well-known classics entertain crowds.
Nearby is Antioch College and Greene County Public Library.
The village is served by the Yellow Springs Art Council, Yellow Springs Kids Playhouse, and Chamber Music Yellow Springs.
Young's Jersey Dairy In Yellow Springs Is A Big Deal
On my previous visit to Yellow Springs with my cousins and fiancée, we visited Young's Jersey Dairy. It's one of the most popular attractions in the region.
We stopped by Young's Jersey Dairy during the height of the fall season, and let me tell you — that place was buzzing with fun things to do for people of all ages!
We also indulged on the delicious ice cream at Young's Jersey Dairy. I've certainly had fresh ice cream before, but I never had farm-fresh ice cream until I visited Young's Jersey Dairy. It tastes incredible!
Young's Dairy also has the Golden Jersey Inn — which seats nearly 200 people and serves up an array of home-cooked country meals for breakfast, lunch, and dinner.
Young's Jersey Dairy has putt-putt golf, dairy tours, animal petting area, and so much more!
Plus, there are many seasonal events at Young's Dairy:
A Christmas tree farm where you can cut your own Christmas tree
An Easter egg hunt in the spring
A vintage truck show in the fall
Pumpkin festivals in the fall
…Just to name a few!
Places To Stay In Yellow Springs, Ohio
As you might expect, Yellow Springs has several bed and breakfast inns. I've also checked and found plenty of cool lodging options on Airbnb in Yellow Springs. So, there are plenty of cozy places to stay in Yellow Springs, Ohio!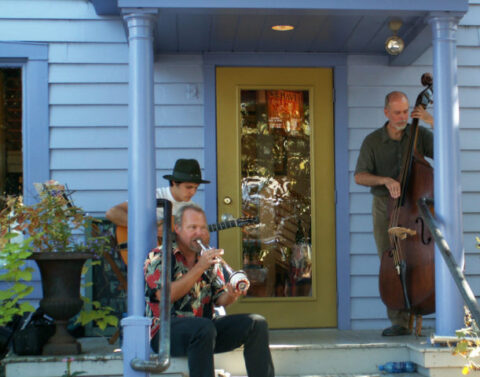 But if you prefer a more luxurious place to rest your head while staying in the area (hello, Hilton!), then you might want to check out some of the nearby hotels in Dayton, Springfield, or Xenia — they're all within a 30-minute drive of Yellow Springs.
Cabins near Yellow Springs, Ohio (especially near John Bryan State Park) are also quite popular — particularly if you will be hiking in Yellow Springs:
You're going to find that most of the lodging near Yellow Springs is reasonably priced throughout the year. I actually wasn't surprised. This hidden gem is unpretentious and inexpensive, yet it offers a wealth of invaluable opportunities for making memories and discovering the artist within.
I know I'll be visiting Yellow Springs many more times in the future.
I already have my favorite places to eat, shop, and play there — but I can't wait to explore the new things that will surely await the next time I step foot in this evolving, eccentric village on the outskirts of Dayton, Ohio.
More About Yellow Springs, Ohio
In addition to the links I've included above, here are some other resources to help you find fun things to do in Yellow Springs, Ohio: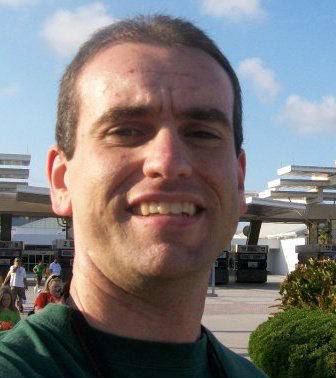 I'm a Florida native, a roller coaster junkie, and a frequent traveler. (Long road trips are my favorite.) Born and raised in Tampa, I grew up visiting Busch Gardens Tampa Bay. I authored the book Busch Gardens Tampa Bay: Images of Modern America, which details the colorful history of the Busch Gardens theme park. As a local historian, I've also written about other popular landmarks and attractions for a variety of publications. Here, on this Travel Guide, I like sharing little-known facts and fun stuff about all the places I've been — so you will have a good idea of what those places are like and what you should know before you go. I especially enjoy helping others plan fun trips… on a budget!