This post may contain affiliate links. If you buy thru these links, we may earn a commission at no additional cost to you.
---
DRIVING ODDITY #4: You Can Tell A Lot About A Person By All The "Stuff" That's On Their Car!
What messages are YOU sending with all the stickers, license plate frames, and decals on your personal vehicle?
We were behind an older lady driving a hip & cool SUV the other day. Jim was remarking about her driving skills. I was summarizing this woman's personality. He asked how I knew all that… when I pointed out all the "signs" on her car:
She was a gardener, evidenced by her personalized license plate "YRDBIRD" and the fact that she was turning into the local Nursery to buy flowers.
She was a democrat, as told by the "No W" sticker in her rear window.
She was an Auburn grad… her license plate frame said so.
She worked at Vanderbilt — because she had a Vandy parking decal on her car.
Jim and I are pretty simple, non-advertising, non-statement making kind of people. But we do have a few unique things on our cars.
Here's what & why…
On Lynnette's Car:
"Yea God!" vinyl decal in the back window. Got it at church for free. It's our pastor's favorite saying… represents all the things he's/we're thankful for in life. But you can't really read it from the outside, cuz my back window is heavily tinted. I get to enjoy it every day from the rearview mirror though!
Black license plate frame on the rear with bicyclists all around it.
On Jim's Car:
A colorful license plate (on the front) that says "IHRA Drag Racing Series" on it. Before we got him an antenna ball, it served the purpose of helping to find his car in a parking lot.
A vinyl decal of the Nashville Predators NHL hockey logo in the back window. (We're diehard hockey fans.)
A white antenna ball that's shaped like a drag racing helmet. It's all faded & looks bad, but it serves its purpose — helping us find the car in a parking lot.

On Our Jeep:
A bright yellow smiley face antenna ball. LOVE IT! I'm not one for putting much "stuff" on my car, but this thing works wonders. I love it for the practical aspect of helping me to find my car in a parking lot. (In fact, it's faded to a "lighter" bright yellow at this point, so I'm thinking of spray-painting it to rejuvenate its brightness.) I noticed a guy that had used a bright orange styrofoam fishing bobber as an antenna ball the other day. Now, what a FRUGAL idea!
A black tire cover with a big 'ol yellow smiley with an unshaven face & wearing a red, white & blue bandana around its forehead. It's a "Jeep thing!"… the Scruffy Smiley represents the Jeeper's laid-back carefree lifestyle.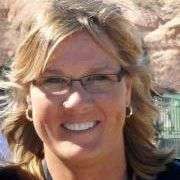 As a lifelong traveler, I like to help people find unique ways to do things that will save time & money — so I write about "outside the box" Travel Hacks that most wouldn't think of. I'm SUPER organized and I love to pack! I've lived in 6 different states (Florida, Indiana, New York, Ohio, Tennessee, and Texas) and have visited every other state in the U.S. — except Hawaii. (Can you say bucket list?) I've been on several different cruises, airplanes, and boats in my life and I currently enjoy the outdoors by bicycling, motorcycling, Jeeping, RVing, camping, or just walking my dogs. My favorite "hobby" is riding on the back of our Harley-Davidson Road Glide traveling cross country — which we usually do at least once each year. We even rode from Tennessee to Alaska once! When I'm not on the road, you will find me at the corner of Good News & Fun Times as publisher of The Fun Times Guide (32 fun & helpful websites).