This post may contain affiliate links. If you buy thru these links, we may earn a commission at no additional cost to you.
---
Jim and I went for a Sunday afternoon drive last weekend, and we happened upon the Jack Daniel's whiskey distillery in Lynchburg, Tennessee.
We figured if they'd let you take pictures, we'd check out the tour. They did! And to top it all off… their 2-hour tour is FREE!
We learned a lot of fun facts, and a unique perspective of "Jack on the Rocks"…
It would probably seem more interesting, if you have actually done the tour of the Jack Daniels Distillery, but here are some highlights from our personal tour anyway:
Jasper Newton "Jack" Daniel (born in 1850) was one of 13 kids.
He was raised by a family friend before being hired out at the age of 7 to work with Dan Call, a Lutheran minister who also owned a whiskey still. Pressured to devote his life to "lifting spirits" rather than "selling" them, Mr. Call sold his whiskey still to 13-year-old Jack.
Mr. Jack perfected the "charcoal mellowing" process at the age of 16, and registered his distillery that same year, in 1866. The Jack Daniel Distillery remains the oldest registered distillery in the country.
By 1904 (at the age of 54) Jack Daniel's "Old No. 7" was one of 20 whiskeys from around the world entered in a contest at the World's Fair. His won the Gold Medal as "the world's best whiskey".
A year later, Mr. Jack tried to open the safe in his office, but he couldn't remember the combination, so he kicked it in frustration. It broke his toe, causing infection to set in, and he eventually died (in 1911) from blood poisoning stemming from that mishap.
Mr. Jack Daniel never married or had children, but his great-grandniece Lynne Tolley is deeply involved in helping to run the Jack Daniel's distillery today. She owns Miss Mary Bobo's Boarding House (where she can often be found cooking the noontime meals), and she is an official taster at her Uncle Jack's distillery every Friday.
*Information adapted from the Jack Daniel's website, and information obtained from our tour guide, William.
UPDATE 9/28/04: Did you hear that Jack Daniel's just lowered the proof on their classic Old No. 7 sipping whiskey from 86 proof to 80 proof?… You can sign the online petition requesting Jack Daniel's to raise the proof of Jack Daniel's Black Label Whiskey back to its original status of 90 proof.
UPDATE 6/12/07: Did you hear that Jack Daniel's cave spring water might be running dry?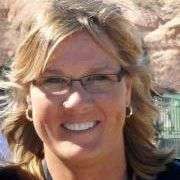 As a lifelong traveler, I like to help people find unique ways to do things that will save time & money — so I write about "outside the box" Travel Hacks that most wouldn't think of. I'm SUPER organized and I love to pack! I've lived in 6 different states (Florida, Indiana, New York, Ohio, Tennessee, and Texas) and have visited every other state in the U.S. — except Hawaii. (Can you say bucket list?) I've been on several different cruises, airplanes, and boats in my life and I currently enjoy the outdoors by bicycling, motorcycling, Jeeping, RVing, camping, or just walking my dogs. My favorite "hobby" is riding on the back of our Harley-Davidson Road Glide traveling cross country — which we usually do at least once each year. We even rode from Tennessee to Alaska once! When I'm not on the road, you will find me at the corner of Good News & Fun Times as publisher of The Fun Times Guide (32 fun & helpful websites).