This post may contain affiliate links. If you buy thru these links, we may earn a commission at no additional cost to you.
---
I recently used my first rental car.
While many people rent cars pretty frequently, I never needed to until recently. A business trip came up for me just as my car needed extensive repairs, and boom — it was time to rent a car!
I was shocked at some of the things I found out about renting a car. Stuff that, I think, many first-time car renters would never know.
Renting a car is pretty simple, but it's not like checking out a video from Redbox.
I ran into a few surprises — including at least one that was extremely inconvenient.
Read on to avoid my top 5 pitfalls of renting a car:
#1 — Some rental car companies don't allow you to cross state borders.
This was a huge shock to me.
I had never heard of not being allowed to drive a rented car over state lines. International borders, sure — I understand. I wasn't planning on driving to Canada or Mexico anyway.
But a trip from Florida to Texas and back?
Well, I learned that I'd be unable to use my rental for the trip I intended, so I had to look elsewhere — and quickly.
The lesson I learned:  Ask if you can cross domestic borders in your rented car before committing to the rental agreement.
#2 — Make sure you can return the rental car at a different location for a 1-way rental.
This wasn't a problem for me. But it was a thought that came up once I learned I couldn't cross domestic state borders with my original rental — what if I can't return the rental where I first picked it up? What if it's a 1-way rental?
Some car rental companies will let you return the vehicle at a different location than where you picked it up. Others forbid this all together.
Virtually all will charge you an extra fee for dropping the rental car off someplace other than where you picked it up.
Of course, you probably won't avoid additional charges, but you'll to want to ask each car rental company these 3 questions before renting a car that you plan to take 1-way:
Do you allow 1-way car rentals?
Are there only certain places where I can deliver the car at the end of the 1-way trip?
What is the charge for dropping the vehicle off elsewhere?
The lesson I learned:  When you need a 1-way car rental, make sure you choose a company with the lowest drop-off fees.
#3 — See if your own car insurance policy covers rental cars.
Given that I had gone years… and years… and years and never needed to rent a car, I signed up for my general auto insurance policy without rental car insurance. Or did I?
5 things you need to know BEFORE you rent a car
I didn't know for sure. I was most concerned about covering basic injury and property damage liability when I bought my car insurance policy.
I know that some car insurance policies will cover rental car damages, but I frankly didn't know if mine did or didn't.
Unfortunately, I didn't have a chance to check before renting my car. The rental transaction happened on a Sunday, and I couldn't call the insurance office to find out.
I ended up taking the rental car company's damage liability coverage policy at $22 per day for a mid-size car. That's a lot of money to needlessly spend on a car if the rental would already be covered on my regular insurance.
Thank goodness, it turns out I didn't already have rental car liability insurance, which means I wasn't wasting money on redundant coverage.
The lesson I learned:  From now on I'll know whether or not I really need the car rental company's policy when renting their vehicles. Double-check your car insurance policy ahead of time — before signing up (or not) for rental car damage coverage.
#4 — Make sure you won't get charged for the number of miles you put on the car.
Some car rental companies will charge you a mileage fee. In other words, you'll pay a small fee for the number of miles you drive over a certain threshold each day. (That threshold is usually 150 miles per day.)
Mileage caps aren't necessarily going to affect you if you're staying in town. But if you're driving a rental car the way I did this time — from Florida to Texas and back (2,000 miles roundtrip for me) — you're going to want unlimited miles.
These fees may seem small — often 15 to 20 cents per mile. But add that up times, say, 350 or 500 miles, and you're talking big bucks!
The lesson I learned:  Make sure you won't have to pay any rental car mileage fees.
#5 — Use rental car discounts.
Run a business? Are you a member of an automobile association? A college student? Maybe you're a military veteran or senior citizen?
If you said yes to any of the above, then you probably qualify for car rental discounts.
I qualified for the business account discount, and I could've also used my automobile club discount. This saved me 10% off the full price of the rental.
But could I have saved more? What if I used a travel discount website like Travelocity or Orbitz to book the rental car?
Next time I rent a car (especially if I'm not flying by the seat of my pants with an unexpected repair and a business trip to Texas), I might do a better job looking for bigger discounts.
The lesson I learned:  Use your rental car discount benefits and make sure you check travel websites before renting a car.
A Few More Tips Before You Rent A Car
In addition to the links I've included above, here are some additional resources to help you avoid any hassles when renting a car: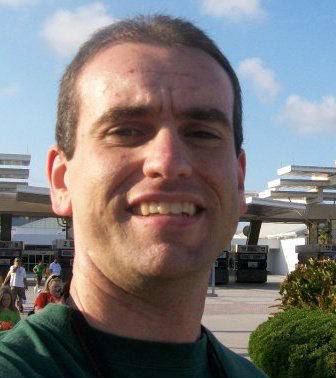 I'm a Florida native, a roller coaster junkie, and a frequent traveler. (Long road trips are my favorite.) Born and raised in Tampa, I grew up visiting Busch Gardens Tampa Bay. I authored the book Busch Gardens Tampa Bay: Images of Modern America, which details the colorful history of the Busch Gardens theme park. As a local historian, I've also written about other popular landmarks and attractions for a variety of publications. Here, on this Travel Guide, I like sharing little-known facts and fun stuff about all the places I've been — so you will have a good idea of what those places are like and what you should know before you go. I especially enjoy helping others plan fun trips… on a budget!