This post may contain affiliate links. If you buy thru these links, we may earn a commission at no additional cost to you.
---
I've always taken a lot of pictures.
So many, that my photographs now tell the story of my life in 14 scrapbooks! And whenever unique things happen to us — or around us — it's to no one's surprise that I always have my camera in hand.
These days, most of my photos are taken from the rear seat of our Harley-Davidson motorcycle.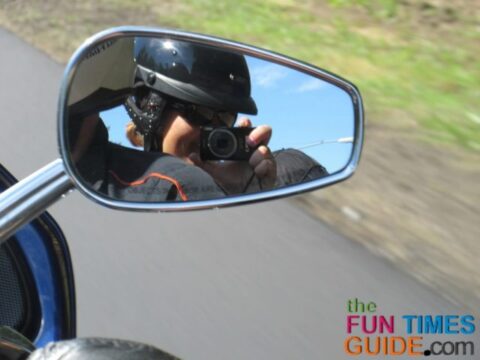 My Experience With Cameras & Motorcycling
Not counting smartphone cameras, I've owned 7 digital cameras since 2003 — the year that I made the switch from film to digital. (My first digital camera was the Kodak EasyShare 3.1 megapixal camera.)
In the past 4 years (since we started motorcycling), we've kept trading up our motorcycles in search of more comfort, more features, and more packing space for all of the long-distance motorcycle rides we take.
During that same time, I kept trying out different cameras in search of the best motorcycle camera for our long trips.
We've owned 3 motorcycles and 3 digital cameras in the past 4 years.
Each year, we put about 30,000 miles on our bike and 7,500 pictures on our camera.
Some of the coolest places we've been on our motorcycle are: Alaska, Sturgis Motorcycle Rally, Florida Keys, Route 66, Daytona Bike Week, Pike's Peak, and every state in the continental USA.
That's a lot of miles and a lot of pictures. Fortunately, I've found the best camera for motorcycling!
Features To Look For In A Motorcycle Camera
Through some trial and error, and after testing a few different cameras while motorcycling, I think these are the most important features to look for in a motorcycle camera:
Small size — a compact digital camera fits comfortably within the palm of your hand
Not too small — you don't want the buttons and viewfinder screen to be so small that you can't see what you're doing from an arm's length away (My friend had one that was so small, it was hard to operate comfortably)
Lightweight — you don't want your camera to add a lot of weight to your trip; a lightweight camera is easier to tote around in a small purse, shirt, or pants pocket when not in use
Can operate with one hand — you don't have a lot of time to plan or focus a shot when you're motorcycling, so you need to be able to just point & shoot, at the last minute
Button placement — if the buttons aren't in locations that make sense on the camera (especially when you're using the camera with only one hand), then you'll be punching the wrong ones all the time. Even worse: buttons that you keep accidentally hitting.
Quick response time — in terms of turning the camera on and taking a photo quickly; action shots require a camera with a fast processor and a quick shutter speed
Good low-light shots — action shots are never turn out well when they're taken in dim lighting, so the better the processor is, the better your low-light shots will be
Sharp photos with great colors — any camera can take good shots in natural sunlight; you want a camera that goes beyond average in terms of sharpness, colors, contrast, and exposure in all lighting conditions
All of those features — and more — are found on the Canon Powershot Elph. I've owned both the 330 HS and the 340 HS models of Canon's Elph camera. The Canon Elph is definitely the best motorcycle camera, of all the compact digital cameras I've tried.
Here's my detailed review of the Canon Powershot Elph digital camera — with many more reasons that I think it's the best small camera ever!
My Best Picture Taking Tips For Motorcyclists
If you're like me and you take pictures while you're riding on the back of a motorcycle too, following are a few of my best tips.
While you can do these things with any small camera, I can personally attest to the fact that they are all extremely easy to do with the Canon Powershot Elph:
#1 – If you're riding and waiting to get the right shot with the lens cap open, be sure to keep the camera pointed down toward your leg (rather than holding it up into the wind). Otherwise, you'll get bugs on the lens. And bug guts are hard to clean out of that tiny space! Ditto for dust and dirt.
#2 – For the best pictures taken quickly while you're moving, try to get used to using only one hand — for everything from powering the camera on & off, zooming in & out, and pressing the shutter button. With the Canon Elph camera, it's super easy to do since it's so small and lightweight.
#3 – Of course, keep the camera strap around your wrist at all times. I've found that the strap on the Canon Elph is the perfect length to wrap comfortably around my wrist — while the camera rests comfortably in the palm of my hand until I see something that I want to photograph.
#4 – For the best sunset photos, zoom in the smallest amount possible — rather than using no zoom at all. For some reason, this makes the colors appear much more colorful and vibrant.
#5 – At night or when you're not taking pictures on the bike, keep your camera safely packed in some type of bag. I keep mine in a cross-body bag (that I sometimes wear while riding) or a hip bag that attaches to the belt loops on a pair of jeans. (I have this one, and I love it.) In my opinion, the camera bag that the Canon Elph comes with is just too bulky and it only holds the camera itself. There are other thinner bags that hold a little more.
#6 – Always keep a zip-lock plastic bag on your person whenever you're using a digital camera on the motorcycle. That way, if it starts to rain, you can stuff the camera inside the bag — to protect it until you're able to stop and put the camera away.
And finally, since we're talking about cameras and motorcycles, I thought I'd share this photo where I captured a reflection of the Canon Powershot camera in my sunglasses and our Harley-Davidson motorcycle in Jim's sunglasses. It seems like an appropriate way to end this article…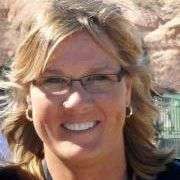 As a lifelong traveler, I like to help people find unique ways to do things that will save time & money — so I write about "outside the box" Travel Hacks that most wouldn't think of. I'm SUPER organized and I love to pack! I've lived in 6 different states (Florida, Indiana, New York, Ohio, Tennessee, and Texas) and have visited every other state in the U.S. — except Hawaii. (Can you say bucket list?) I've been on several different cruises, airplanes, and boats in my life and I currently enjoy the outdoors by bicycling, motorcycling, Jeeping, RVing, camping, or just walking my dogs. My favorite "hobby" is riding on the back of our Harley-Davidson Road Glide traveling cross country — which we usually do at least once each year. We even rode from Tennessee to Alaska once! When I'm not on the road, you will find me at the corner of Good News & Fun Times as publisher of The Fun Times Guide (32 fun & helpful websites).