This post may contain affiliate links. If you buy thru these links, we may earn a commission at no additional cost to you.
---
Recently I took a trip to the beautiful white-sand beaches of Barbados.
I planned to relax my way through my 3 weeks of Caribbean paradise by lounging on the beach, soaking up the sun and gaining a tan whilst attempting to not become a lobster.
However, once I'd arrived my plan changed completely; there was so much to explore and discover that I spent most of my time sauntering around with breathtaking views surrounding me.
Barbados may have the beaches for relaxing, but it has so much more to offer too, with some secrets I'd like to share here!
Arriving In Barbados
Firstly, I'd like to make a suggestion about travelling to Barbados.
When I went on vacation I flew to the destination, but if I was going again I would definitely arrive to the island on a Caribbean cruise.
The ocean here is packed with marine life. There are turtles, beautiful colorful fish, and so much more. Taking a cruise around the Caribbean gives many opportunities to see this marine life thriving in its natural habitat.
I would suggest having Barbados as the final port of call. There is too much to see and do here to only have a day or so to look around.
The locals are very friendly and make you feel more than welcome. Arriving on a cruise ship should give you a basic overview of what the island has to offer, but as you explore you'll find that there is so much more than meets the eye here.
Visiting For Cropover
My trip was arranged from the middle of July until the beginning of August.
I planned this so as my vacation would coincide with the wonderful Barbados carnival, known locally as Cropover, with the finale being Grand Kadooment Day.
Obviously, this is common knowledge so not one of my secrets, but it cannot go unmentioned.
The atmosphere on the island is electric during the carnival period. Everyone is excited and the already very friendly locals are more than happy to introduce you to their culture.
It's something I've never experienced before in relation to the atmosphere; do not miss it if you can be there around this time.
Places to See
I'm going to start with one of the most obvious tourist attractions on the island, simply because it is extremely impressive, and that is Harrison's Cave.
Here there are a few things I would mention:
Arrive early in the morning. There is much less of a queue and it gives you time to walk the onsite nature trails they have after the tram ride through the caves.
To reach the caves and trails you take an elevator down to a different level than the entry foyer. On exit, once you have taken the elevator back up to the entry foyer, you can no longer go back down. Be aware of this and make sure you've seen everything you wanted to see!
There is also food available here; however I would suggest visiting the roadside restaurant just outside the entrance to the car park. This offers amazing home-cooked local food that is delightful, as well as the owner being very friendly and kind too.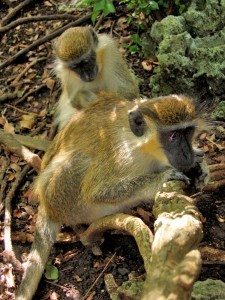 A much less common area to visit is Welchman Hall Gully.
This gully is filled with amazing examples of local flora and fauna, all of which can be viewed with a self-guided tour as information about all the plants you'll find here is offered onsite.
Whilst here I saw one other person walking the route through the gully; it felt like a completely different world, with a peaceful, natural quietness.
Another big reason that I loved this area was the ability to see green monkeys playing and feeding together.
Some feeding platforms have been built around the entrance to the gully and there are many places you can stand to watch these creatures. There are usually multiple troops of monkeys visiting here throughout the day.
Although the West coast has a lot to offer with beautiful sunsets and amazing beaches, the East coast with the Atlantic Ocean has some excellent waves for all kinds of water sports.
I'm not much of a surfer personally, but whilst here I witnessed some very impressive waves being ridden by experienced local surfers, so it is an excellent area for that.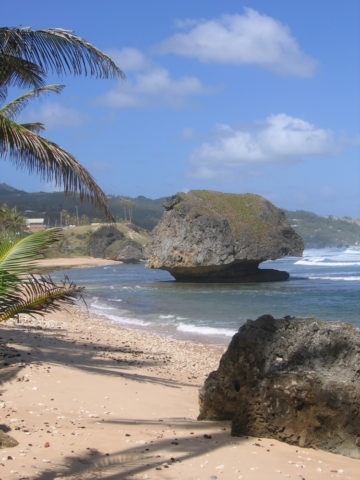 Bathsheba is a place not to be missed on the East, with its stunning rock formations it is picturesque and a complete change from the other side of the island. When visiting here I would suggest bringing some drinks, or buying some at the local stores, and relaxing for a while beside the ocean.
Whilst visiting Barbados I would suggest trying the local delicacy of flying fish, especially at Oistins fish fry on a Friday night, especially if you're looking to mingle with the locals.
Each Friday a market is set up along the edges of the eating area that sell a variety of items, both suitable for locals or tourists.
The best thing I can suggest when visiting Barbados is to jump on a bus and see where it takes you – the island is small and there are regular transport links throughout the island so getting completely lost is virtually impossible. It is one holiday I will never forget, and an area I would love to visit again!
As well as being a full-time feature writer and mother of two, Eve Pearce is an art and design aficionado who has written for numerous sites. She also enjoys travel and photography.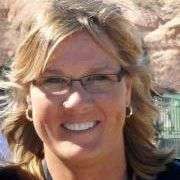 As a lifelong traveler, I like to help people find unique ways to do things that will save time & money — so I write about "outside the box" Travel Hacks that most wouldn't think of. I'm SUPER organized and I love to pack! I've lived in 6 different states (Florida, Indiana, New York, Ohio, Tennessee, and Texas) and have visited every other state in the U.S. — except Hawaii. (Can you say bucket list?) I've been on several different cruises, airplanes, and boats in my life and I currently enjoy the outdoors by bicycling, motorcycling, Jeeping, RVing, camping, or just walking my dogs. My favorite "hobby" is riding on the back of our Harley-Davidson Road Glide traveling cross country — which we usually do at least once each year. We even rode from Tennessee to Alaska once! When I'm not on the road, you will find me at the corner of Good News & Fun Times as publisher of The Fun Times Guide (32 fun & helpful websites).