This post may contain affiliate links. If you buy thru these links, we may earn a commission at no additional cost to you.
---
Because we were able to schedule a vacation immediately following the races in July, I agreed to go to Jim's IHRA event in Grand Bend, Ontario Canada.
I'm so out of the racing loop it isn't even funny…
I spent most of my time taking pictures of things I found interesting and working on my computer.
(Yep, it's hard for me to stay away, even when on vacation. Unfortunately, we didn't have Internet though.)
Anyhoo…
Here are some of the cool & unusual things I spotted at the IHRA races this time.
This should give you an idea of the type of people, etc. that you might see at a drag race:
This was my very first sight… minutes after arriving at the track for the weekend. At this point, I'd seen more than I wanted to see already.
Earplugs and headphones everywhere you look! Lots of families with kids too. It's cool watching parents (mostly dads) and their kids interact and bond at these drag racing events.
Sassy and Cammie are Rhonda's Teacup Chihuahua's. They go to all the races and they enjoy riding up front in the RV.
This is Roger (one of the photographers who goes to all the races) on his "Hardley Davidson".
Jim (and anyone who wanted to try it for free) could try out the distracted driving simulator. This was one of the "side attractions" at the race. The distractions included: talking on cellphone, text messaging, reading from a list — all while driving and dodging typical obstacles on the screen in front of you.
Jim's right… you see a lot of interesting types of golf carts and motor scooters at these races! The last one is basically a picnic table on wheels — and it has a lot of get up & go, too.
Canadian guys wear short shorts! Okay, I dug into Jim's collection of photographs and found proof that girls wear short shorts, too… and tre-chic boots!
There were dogs everywhere you looked… even riding around in golf carts. It seems like everyone takes their dog to these races. Which just made me miss mine.
And then there were the races… as viewed from the skybox seats behind the starting line. This is where all the media hangs out. We also spent a good deal of time on the track, standing right behind the starting line. Talk about loud!
And finally… ME! Yep, I actually went to a race this year.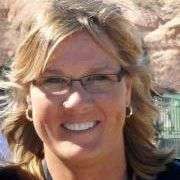 As a lifelong traveler, I like to help people find unique ways to do things that will save time & money — so I write about "outside the box" Travel Hacks that most wouldn't think of. I'm SUPER organized and I love to pack! I've lived in 6 different states (Florida, Indiana, New York, Ohio, Tennessee, and Texas) and have visited every other state in the U.S. — except Hawaii. (Can you say bucket list?) I've been on several different cruises, airplanes, and boats in my life and I currently enjoy the outdoors by bicycling, motorcycling, Jeeping, RVing, camping, or just walking my dogs. My favorite "hobby" is riding on the back of our Harley-Davidson Road Glide traveling cross country — which we usually do at least once each year. We even rode from Tennessee to Alaska once! When I'm not on the road, you will find me at the corner of Good News & Fun Times as publisher of The Fun Times Guide (32 fun & helpful websites).