This post may contain affiliate links. If you buy thru these links, we may earn a commission at no additional cost to you.
---
Choosing to vacation in the Caribbean may seem like a no brainer.
You may think that if you've seen one tropical setting, you've seen them all.  That couldn't be further from the truth.
Like each state in the U.S. or country in Europe, every island in the Caribbean has certain attributes that differentiate it from another.
Simply taking a moment to compare and contrast a handful of these tropical paradises will quickly show you how very different they are, while simultaneously giving you a better idea of which vacation spot is ideal for you on your next vacation.
Size
From the smallest island nation in the Caribbean (Saba at 5 square miles) to the largest (Cuba at 42,426 square miles), the size of an island can play a role in your decision to visit.  Typically the smaller the locale, the easier it is to get from place to place.  The island's terrain and the rules of the road should be considered before renting any type of vehicle.  Public transportation allows you to leave the driving to them!
Jamaica – Jamaica has a total area of 4,244 square miles, making it the third largest island in the Caribbean.  Rental cars, taxis, and buses are the recommended forms of transportation.  Air travel is also an option.
Puerto Rico – Puerto Rico has a total area of 3,515 square miles.  Rental cars and publicos (a bus and taxi hybrid) are recommended.  Air travel is also an option.
St. Thomas – St. Thomas has a total area of 31.24 square miles and is part of the larger United States Virgin Islands.  Buses, taxis, and ferries are recommended.
Grenada – Grenada has a total area of 132.8 square miles.  Rental cars, buses, and taxis are recommended.
St. Kitts – St. Kitts has a total area of 64.9 square miles.  Rental cars, buses, and taxis are recommended.
Dominica – Dominica has a total area of 290 square miles.  Rental car, buses, and taxis are recommended.
Lodging
Sure, there are choices of hotels to stay at no matter where you vacation, but there is no denying that some hotels are better than others.  And there is more to consider than star rating.  For example, are you interested in all-inclusive travel?  Do you prefer to go at your own pace?  Or is an eco-friendly lodging option important to you?  Some islands specialize in one type of lodging over the others.
Jamaica – Jamaica is the birth place of the all-inclusive resort, and no place on earth knows how to treat you to an all-inclusive experience like Jamaica does.  Other lodging options are still available, however, including standard hotels, rental apartments, and even campgrounds (which can be hard to come by in the Caribbean).
Puerto Rico – Variety is the spice of life in Puerto Rico.  Everything from luxury resorts (with all-inclusive options) to cabins in the woods are available, with an option to fit every budget and style.
St. Thomas – A large variety of hotels and resorts are found throughout St. Thomas from along the coast to mountain villas.  Locally owned inns and guest houses should not be overlooked.
Grenada – Grenada is one of the top eco-tourism spots in the Caribbean.  There are free camp sites as well as several lodges that are known to be eco-friendly.  On the opposite end of the spectrum, there are also ritzy resorts and standard hotel chains.
St. Kitts – St. Kitts is known for unique hotel properties either carved out of old plantation houses or which have unique architecture.  Though your typical hotels do exist, it is the kitschy ones that are usually the most intriguing.
Dominica – Dominica is not only a top eco-tourism locale, but the country works hard to control development in order to keep the terrain as unspoiled as possible.  This means there are not many sprawling resorts.  Rather, there are more quaint inns surrounded by natural tropical scenery.
Beaches
Let's not pretend that any island you visit in the Caribbean will disappoint you in the beach department (except maybe Saba, which technically has no beaches), but there is a difference in the sands and waters that each island harbors.  Your vision of the perfect beach may well dictate which spot you choose as your vacation destination.
Jamaica – Jamaica is known for so many beautiful beaches that it is hard to pinpoint one above all.  Seven Mile Beach, Doctor's Cave Beach, and Treasure Island Beach are just a few.  Be aware that nude sunbathing is allowed on several of Jamaica's beaches.
Puerto Rico – Beaches along the northwest coast of Puerto Rico (like Rincon) are popular among surfers, while Culebra and Flamenco Beach are said to be among the most beautiful.  The island participates in a flag system which identifies beach quality.
St. Thomas – Magen's Bay Beach is one of the most frequently visited beaches on St. Thomas. However, the beaches that line the shore are all powdered with white sand and feature emerald green to aquamarine waters that are relatively calm.  It's hard to go wrong when choosing one of this island's beaches.
Grenada – Grenada is not necessarily known for its beaches.  The coastline is typically rocky and difficult to navigate sans shoes, but there are a few diamonds in the rough, including Grand Anse Beach.
St. Kitts – While other islands offer variety in the form of size and surf, on St. Kitts it's all about color.  Beaches on this island range from black and volcanic to tan and coral-ridden to soft and powdery white.
Dominica – Dominica is known for its black sand beaches comprised of volcanic matter.  The best beaches, like Toucari Beach, are known to be along the northwestern shores.
Attractions and Activities
When you aren't beach hopping, you may want to participate in a few activities and take in a few important sites.  This may even be more important to you than lounging on the shore.  Each island  is known for its own set of attractions and activities.
Jamaica – Jamaica has produced a number of important icons including Bob Marley and James Bond, so it makes sense that the homes of these famous names (and their creators) as well as museums are dedicated to them.  Casinos and natural wonders such as the Blue Mountains are also popular here.
Puerto Rico – Because Puerto Rico is one of the few places in the United States where gambling is legal, casinos are plentiful.  Trips to bioluminescent bays or club hopping are common pastimes as well, but most visitors spend their time touring the historic landmarks of Old San Juan.
St. Thomas – Charlotte Amalie on St. Thomas is known for having some of the best duty free shopping around, and many visitors make sure to stock up on high quality goods while visiting.  Other interesting pastimes include visiting Coral World Ocean Park and the Butterfly Garden.
Grenada – Natural sites such as the Seven Sisters Waterfall and the Grand Etang National Park reign supreme here.  Those visiting the island for more than nature typically enjoy tours of the rum distillery and the spice factories.
St. Kitts – Guided tours are even more fun when exploring the island's natural landmarks on horseback or ATV's.   Mt. Liamuiga, a dormant volcano, is frequently visited by vacationers, as are the historic landmarks and beautiful gardens.
Dominica – With 290 square miles of forested land on Dominica, it is easy to see why eco-tourists flock to this island.  National parks such as Morne Diablotin and forest reserves are the winners here, though marine reserves like Soufrierre Scott's Head Marine Reserve make great options as well.
Food
Experience the distinct Caribbean culinary styles while traveling and have each meal be as enjoyable as the last.  While it is possible to stick to comfort foods from back home, why not branch out and sample local fare?  Consider the island specialties that are available.
Jamaica – Jamaica's national dish is Ackee and Swordfish, but the island nation is also known for jerk seasoning and dishes that reflect Indian and West African cooking.
Puerto Rico – Puerto Rico's local style of cooking is called comida criolla, and it combines numerous international cooking styles including Spanish and African as well as local Taino traditions.
St. Thomas – International fare (especially your typically American-style dishes) reign supreme in St. Thomas, and you can't go wrong with fresh caught seafood.
Grenada – Grenada is known as the "Spice Island," and culinary masterpieces here focus more on how they are seasoned over how they are prepared.  If treating your tongue to a variety of new flavor combinations sounds favorable to you, you will likely enjoy dining out here.
St. Kitts – Seafood, roasted meats, and barbecue play an important role in the main dishes of St. Kitts, so you can be sure that each meal will be wholesome and hearty.
Dominica – Dominica chefs love to create dishes by utilizing what the land has to offer.  This yields a range of options from experiencing the most delectable tropical fruit salad you'll ever taste, to enjoying some baked rodent.  You never know what you'll get when you choose a local specialty.
Our guest contributor, Danielle Hamill, writes for Interactive Internet Websites, Inc. which hosts a network of Caribbean travel guide sites, including caribbean-guide.info.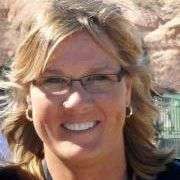 As a lifelong traveler, I like to help people find unique ways to do things that will save time & money — so I write about "outside the box" Travel Hacks that most wouldn't think of. I'm SUPER organized and I love to pack! I've lived in 6 different states (Florida, Indiana, New York, Ohio, Tennessee, and Texas) and have visited every other state in the U.S. — except Hawaii. (Can you say bucket list?) I've been on several different cruises, airplanes, and boats in my life and I currently enjoy the outdoors by bicycling, motorcycling, Jeeping, RVing, camping, or just walking my dogs. My favorite "hobby" is riding on the back of our Harley-Davidson Road Glide traveling cross country — which we usually do at least once each year. We even rode from Tennessee to Alaska once! When I'm not on the road, you will find me at the corner of Good News & Fun Times as publisher of The Fun Times Guide (32 fun & helpful websites).